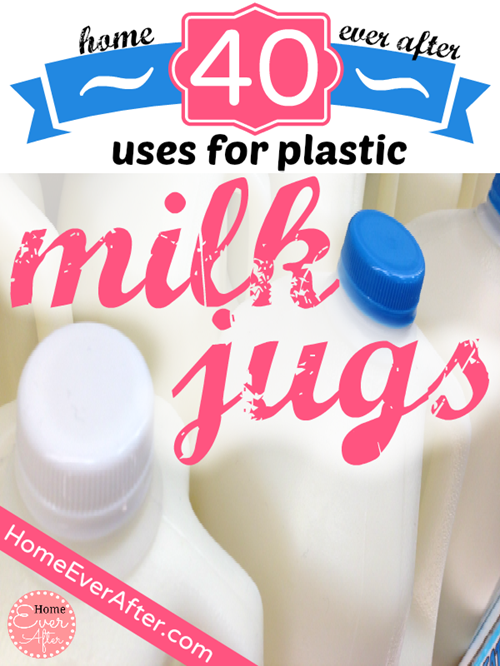 Plastic milk jugs / milk containers have many uses after their primary function of holding milk is over. As milk container week comes to a close, we're left to recap the many creative uses for milk containers!
If this list isn't enough for you, I've made an even bigger one! Here is my 99 More Uses for Plastic Milk Jugs & DIY Milk Jug Projects!
40 Uses for Plastic Milk Jugs
1. Utensil holders in the kitchen (cut off the tops to make a wide opening).
2. Plastic paper dolls that won't tear. Decorate them with permanent markers.
4. Princess crowns: just cut and decorate. You can even glue on gems from the craft store.
5. Valentine card holders decorated with tissue paper squares.
6. Toy parachutes. Cut off the top of the milk jug, leaving only the round part of the bottom. Attach strings and your kids' toys can wear the parachute.
7. Grocery bag holder/dispenser.
8. Kids' bubble blowing wands.
9. Pretend Olympic gold medals for your kids to play with. Color them, even glue on gold glitter if you want, then thread onto a ribbon so they can wear their gold medals.
10. Storage for grains, rice, oats, beans, popcorn.
12. Kids' snow scooper.
13. Junk drawer organizers. Use the bottoms of the jugs as trays to keep small items sorted.
14. Milk jug classroom candy holder.
15. Play money for your children. Cut out rectangles for bills and circles for coins, then decorate.
16. Milk jug mobile.
17. Ninja turtle mask.
18. Luminaries – Lights for the sides of your walkway (use sand inside to hold mini LED lights, flashlights or candles).
19. Milk jug Christmas sleigh.
20. Milk jug mummy candy bowls.
22. Family mail box center. Cut the tops off of milk jugs, then lay them all on their sides and fasten together to form a row of mail boxes where each family member can get mail.
23. Milk jug igloo.
24. Craft containers.
25. CD or DVD holder.
28. Kid's fort. Fasten or glue the milk jugs together to fashion walls and leave the top of the fort open.
29. Milk jug pteranodon flying dinosaur.
30. Milk jug magazine organizer.
31. Fill with water and use as weights outdoors to hold down the corners of plastic sheeting/tarps.
32. Kids' toy Indian headdress.
33. Milk jug stick donkey or horse.
34. Mats for kids' artwork. Cut out a rectangle, paint it, and glue the art into the middle.
35. Hand weights – just fill with water (remember that 1 gallon of water=8 pounds).
36. Pantry storage for small items like seasoning mixes and condiment packets.
37. Day of the dead luminaries.
38. Milk jug garland.
39. Baby bottle brush holder – Use a half gallon jug to keep your bottle brush clean and upright next to the sink!
40. Lego storage (cut a hole just big enough to reach in without getting stuck).
If you still need more inspiration, read 99 More Uses for Plastic Milk Jugs & DIY Milk Jug Projects!