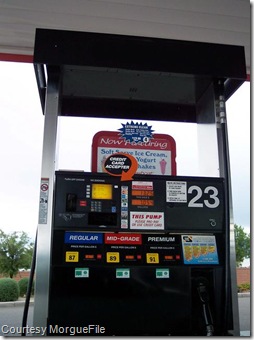 While carpooling, walking, and public transportation can take the sting out of frequent fuel fill-ups, sometimes we can't get out of having to drive our cars. The tips below will help you get the best fuel economy when driving is a must:
1. Clean out your car! We know keeping it clean is a good habit, but it also saves you money. Unneeded items add weight to your car, and extra weight takes extra fuel to move. Get everything out that doesn't need to go with you (trash, clutter, hockey gear from last year). It's 2 for 1: you get a clean, clutter-free car that is more fuel efficient!
2. Roll up your windows. Open windows at higher speeds create more drag, making your car use more fuel to drive the same speed. Use AC when driving faster, and keep the windows up. Turn off the AC and roll down the windows when driving at slow speeds around town or idling at intersections.
3. Don't idle your car. Unless you live in Alaska like me, you can probably get away with not idling your car except at stoplights! Remember, idling = 0 (Zero) mpg!
4. Check your tire inflation once a month. Inflate to the number found in your car (on the inside of the driver's door or in your owner's manual), NOT to the numbers printed on your tires – those are the maximums the tires can handle, not the optimal for your car! Underinflated tires not only lower gas mileage and shorten the tires' lifespan, but are dangerous as well. According to the National Highway Traffic Safety Administration, underinflated tires can cause tread separation and blowouts.
5. Remove extras on the outside of your car. Anything not being used needs to come off: luggage rack, ski rack, bike rack (and bike!).
6. Drive consistently. Driving smoothly without slamming on the brakes and quick acceleration will give you the best mileage.
7. Use cruise control. On flat roads, use the cruise. In the hills, skip it and let the natural momentum down the hill help propel you back up.
8. Drive a more fuel efficient vehicle. When it's time to purchase your next vehicle, make sure fuel economy helps make your decision.
9. Plan your driving route ahead of time so you don't retrace your route.
10. Switch from flags to magnets. Don't put flags on your car- they create more drag. Opt for a magnetic ribbon instead to show your patriotism!
11. Only fill your tank half full. Gasoline weighs approximately 6 pounds per gallon. So filling a 20 gallon tank only halfway = 60 extra pounds you're not paying to drive around!
12. Remove the snow and ice, since they add extra weight to your vehicle. Snow can weigh up to 62 pounds per cubic foot!
13. Check for the lowest fuel prices. Put GasBuddy.com on your desktop and check it before you leave the house to get fuel.
We originally published "13 Tips to Save Money on Fuel" on Home Ever After on March 20, 2008.