When I was in Chicago on my last trip to Kraft, I spent some time walking on Michigan Avenue for Christmas shopping.  I happened upon a family bathroom in the Nordstrom mall, The Shops at North Bridge, which had the most perfect family bathroom I've ever seen. 
Inside, there was a stall with a closing door, so a dad or mom could take opposite-gendered older kids into the bathroom and they could still have privacy.  But the best part was so great that I had to take a picture.  Yes, I took a picture of the toilets.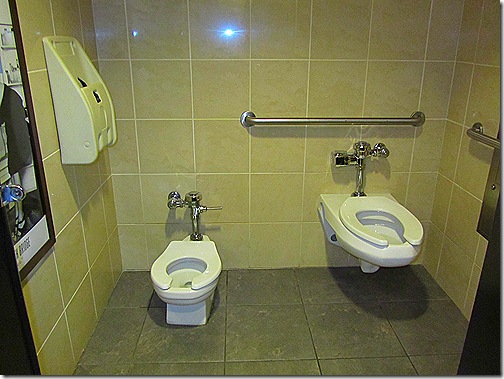 How great is that? -  a double toilet stall, with one toilet being a standard size and one being a tiny kindergarten sized flushing potty.  I love it.  Plus, a wall seat for a smaller toddler so you can go and not have to worry about them crawling around on the floor. I wish the stores in Alaska would invest in some more functional family bathrooms for us with larger families!   
Get more Wordless Wednesday at WordlessWednesday.com and 5 Minutes 4 Mom.