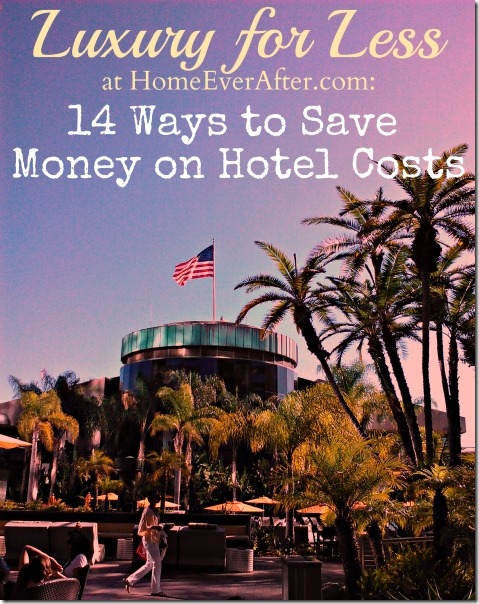 Of course you want to live a luxurious life, but we don't all have the resources available to take luxe vacation getaways at the drop of a hat.  Lucky for you, it's easy to have luxury for less when you apply our ways to save on hotel costs!
Some are basic, some are advanced, but there's sure to be at least one tip below that you can use on your next trip to save money on hotel costs.  Hotels can be expensive, and there's no reason to overspend on your hotel room when you want to have plenty of vacation budget for seeing the sights and experiencing the local hot spots while you're there. 
Luxury for Less: 14 Ways to Save Money on Hotel Costs
1.  Use rewards points to book free or discounted hotel rooms: If you belong to any popular hotel loyalty programs, you'll want to keep an eye on your rewards points to see when you qualify for free or deeply discounted hotel stays.  popular programs to check out are Starwood Preferred Guest, Marriott Rewards, and Hilton Honors.
2. Don't travel during peak times (Spring Break, holidays, during convention times in certain cities).
3. Ask for discounts: Check online booking companies such as Hotels.com, Travelocity, Expedia, Orbitz and Priceline for prices. Then call the hotel directly and ask them for a discounted rate. Find out if they offer discounts for membership with AAA, AARP, corporate, military, or Sam's Club.
4. Amenities: When choosing your hotels, look for hotel amenities that will serve as free entertainment (swimming pools, fitness rooms, basketball courts, tennis courts). If your kids like to do those things anyway, it will keep them occupied when the thought of heading to one more mall or museum for the day makes you cringe!
5. Kids stay free: Some hotels charge extra for extra people in the room. Look for a hotel with a "kids stay free" deal, or ask your hotel for a comparable deal.
6. Cash discount: Some smaller hotels will offer you discounted rates if you pay up front in cash.
7. Check-in day: Research the price difference for your hotel between checking in on Friday and Monday. You may get a better price by checking in Monday to avoid the busy weekend vacationers (when prices are higher).
8. Free parking: Look for hotels that offer free parking if you plan on having a rental car.
9. Coupon codes: Search online for coupon codes for your selected hotels. It could take 10- 20% off your online purchase price!
10. Consider hotel package deals: The hotel you have your eye on may have packages which bundle discounted attractions at the hotel or coupons for their restaurants.
11. Kitchenettes / refrigerators: Especially if you are traveling with children, having a kitchenette where you can keep snacks and prepare quick meals (such as PB&Js) will save you from having to go out every time someone is hungry.
Bring along snacks or get some quick food items from a local store to keep in the room's refrigerator. Don't forget the drinks (juice boxes, soda, bottled water)!  The in-room provisions can be expensive and vending machines are no better. Having a refrigerator in-room definitely saves on money!
12. Beware Phone Charges: Most hotels charge to use the phone in your room. Ask what the phone charges are when you check in. For a quick discount, use your cell phone instead! If you're going to be calling long distance and don't have a cell phone, bring along a prepaid phone calling card and use a payphone (yes, they still exist!).
13.  Tape the mini bar / snack fridge shut:  If you have children staying in the hotel with you, keeping little fingers out of the snacks in the hotel-provided munchies will save you serious coin.  To make your point to your kids (or spouse) that no one is to splurge on the $4 pack of M&Ms, bring a roll of blue painter's tape and tape the entire door or cabinet shut.  You'll see if it's been broken, and it's more of a visual deterrent anyway.
14.  Find a roommate: Whether your hotel stay is for a conference or a single girls' Las Vegas getaway, finding a friend or coworker to share your room can seriously slash your hotel budget.  many hotels will even split the bill between both people in the computer so that you don't have to worry about calculating portions and paying each other back the right amount.
Save on hotel costs with our 14 ways to save at the hotel and take a luxurious vacation on a budget!
We originally published "14 Ways to Save Money on Hotel Costs" on Home Ever After on March 19, 2008.