At one time or another, most homemakers wish we were better housekeepers.  Maybe we wish our houses were cleaner, less cluttered, more organized, or just simpler to maintain.  It's true that part of being a great homemaker is creating a comfortable, inviting home that your family enjoys coming back to.
However, the cleaning aspect of homemaking has to be kept realistic.  Good housekeeping doesn't have to take over your life.  These great housekeeping tips will get you started on the road towards been a better housekeeper while letting you spend less time cleaning!
13 Ways to Be a Better Housekeeper
1.  Do a little everyday.  Don't wait for that big spring cleaning or the day when your house has gotten so bad that massive decluttering is your only choice.  Pace yourself by scheduling small cleaning tasks throughout the week.
2.  Find the most efficient way.  Often, we waste time when cleaning by walking back and forth, recovering the same ground, going to get cleaning items we forgot, etc. Make a plan ahead of time – our cleaning checklists are great efficiency tools.
3. Clean from top to bottom.  By starting at the top of a room (changing light bulbs, cleaning counters, etc.) and working towards the bottom (sweeping the floor, vacuuming), you'll use the power of gravity to drive the dirt downwards.  This will allow you to work smarter by cleaning each surface only once.
4.  Delegate.  All family members are capable of helping out with housekeeping in some way.  Make sure kids are assigned cleaning chores that equal their age and ability.  Toddlers can help put their toys away, grade schoolers can clean their rooms and do their laundry, and teens can take on bigger chores such as maintaining the pantry.  Husbands are often eager to help but just don't know how you want things done.  Good communication can work wonders towards making sure that everyone does their share.
5.  Use the right tools.  It's easy to be a better housekeeper when you have the right tools to use.  If your current tools make you work harder or make the task take a long time, consider investing in supplies that will make your cleaning easier.  There are many housekeeping tools available such as multipurpose spray cleaners, lightweight vacuums and steam cleaners, and disinfecting wipes that can be used for more than one task and save you time and money.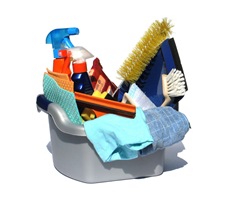 6.  Set up a cleaning cart or caddy.  By having all the supplies you need already in hand when you go into a room to clean it, you'll reduce the chance of having to run back and forth to get things you forgot.  Some supplies to include in a cleaning cart are trash bags, sponges, rubber gloves, and a container for items that belong elsewhere in the house.
7.  Use an apron, for crying out loud!  Having extra pockets handy to hold supplies you use all the time is a great idea.  You can also use the pockets to hold out-of-place items you find until you can put them back in their homes.
8.  Organize your home using good Home Systems.  Having basic systems in place, such as room cleaning checklists, a donation station, the return station, and others will make much less work for you in the long run.  Expectations will be clear and people will know where things go and how to complete jobs, not to mention that the clutter in your house will go down significantly!
9.  Simplify your life.  It's no secret that we can write a simple equation to explain this truth: Items + Maintenance = Time Requirement.  Decluttering your home and minimizing the sheer number of things you have can do wonders for towards reducing your housekeeping and cleaning time spent.
10.  Use creative storage solutions.  Large storage containers that look nice make cleaning up easy, fast, and beautify your home at the same time!  Think of storage ottomans for blankets, steamer trunks for linens or pantry/Food Storage, and pretty wicker baskets to hold small items.  Switch to large toy boxes or even laundry baskets for young children's toys -these make it easy for kids to put away their own toys.  Hamper tip: laundry baskets with lids will always make of room look cleaner, since you won't see the dirty clothes sticking out the top!
11.  Let go of perfectionism.  Every task doesn't have to be done perfectly, and often when you delegate tasks to other family members the job will get done differently than if you did it yourself.  If the job has been completed well enough, resist the urge to redo it so that it's the way you normally do it!
12.  Realize you can't do it all.  Prioritize the tasks that are most important and let the other ones go.  There's only so much time in the day, and if cleaning is taking up all of it the time you have to spend with your family will suffer.
13.  Get great tips online.  There are many great resources about cleaning efficiently online -use them!  As always, Home Ever After is a great resource for cleaning and housekeeping tips.
Photos courtesy of stock.xchng.