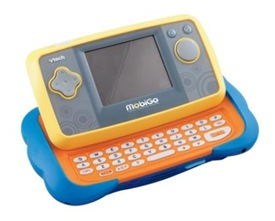 This week I got to try out the cool new handheld device for kids called the MobiGo Touch Learning System from VTech.  In case you're considering buying one of these new touch screen portables for your child, I'll tell you the pros and cons below.
What is a MobiGo?
MobiGo has become THE word around my house this past weekend!  First of all, it's just a fun word to say (we pronounce it mo-bee-go).  Second, this game system is captivating enough to keep your child dead silent for long periods of time.  Trust me- we had to take it away from both of our children at about the 30 minute mark.
The VTech MobiGo (pictured at left) is a handheld game system with a touch screen and a full Qwerty keyboard built in.  Not all the games use the keyboard, however; some games only use the touch screen for activities. You insert a game cartridge in the top of the device and the system speaks to you to give directions for what to do next.
The MobiGo is very easy for even young children to use without help.  We tested the MobiGo with my almost 3 year old son, Truett, and my 10 year old daughter, Hannah.  The product is recommended for ages 3-8.
My Impression of the VTech MobiGo
With regard to the educational games, the MobiGo is not at all what I thought it was going to be.  I hoped to be able to endorse this product as a learning tool for homeschool families.  I envisioned flashcard drills for math practice, hangman, spelling and vocabulary words for reading and English.  I haven't seen the additional game cartridges (which must be purchased separately for $19.99 each), but going on the basic Touch & Learn game pack, I can't issue a recommendation for homeschoolers. Here's why:
The game cartridge that comes with the MobiGo has 6 games on it.  It seems that although some of the games may incorporate letters and math, they're not really learning programs at all.
My daughter was observant enough to remark that the games don't teach you anything.  If you don't know how to do the skill being used (like filling in number patterns), the game doesn't provide any teaching as to how you complete number patterns or a tutorial to go with the game.  If you know the skill, you can play the game.  If you don't know the skill, you have to play a different game.
The learning games are more educational than say, Super Mario Brothers for Nintendo DS, that much is true.  While they do encourage use of skills like observation, hand-eye coordination and problem solving, so does Mario.  So does World of Warcraft, for that matter.  But that doesn't mean I let my 3 year old play it!
I actually played all of the MobiGo included games myself before writing this review.
Space Challenge: This is the number pattern game, which is useful as long as your child already knows how to make number patterns.  Its problems are fill in the blank style, such as 1,2,__, and 2,4,___, and 5,4,___.  If my 3 year old had the skills to play it (which he doesn't), the game moves far too fast to keep up with.  If you get the answer wrong, nothing happens.  There is no feedback that would let a child know if they're playing it right or wrong.
Shooting Gallery: This game uses the keyboard.  When you see a duck with a letter on it, press the same letter on the keyboard to shoot down the duck.  The game speeds up and gets more difficult as you play.  Again, it doesn't offer enough time for my 3 year old to see the letter on the screen and try to match it up with the same letter on the keyboard.
Fantastic Forest: In this game you trace lines on the touch screen to make objects.  I don't see much educational value in this game.  Purely as a game, it didn't seem fun either.  After you draw the appropriate lines, it describes the shape you just made without even saying the name of the shape (instead of "You drew a square" it says "You made an elevator).  I think this game is just to show off the touch screen capability of the MobiGo.
Wild Fun: Find the animal that looks different.  This is a fun game and forces some critical observation.
Ice Escape: A touch screen maze with a cute penguin – not much to it.
Music Maestro: Touch the correct spot on the screen when a music note falls down.  Is this their version of Guitar Hero for handheld?  Fun for kids, but they're not learning anything on this one either.
Some Good Points of the MobiGo
Adjustable backlight can make the screen brighter or darker.
Adjustable volume can keep the noise down.
Accepts headphones for silent play (however, see the downside of the headphones below in the bad points).
You can download games and prizes from the VTech website by connecting MobiGo to your computer.
Portable and nice setup with the pop-up screen.
Low price point (compared to other devices) at only $59.99.
Great hardware for a small price.
Some Bad Points of the MobiGo
Although the MobiGo has many great features, VTech makes you pay extra to buy the necessary items to use some of these great features.
No headphones: Although it accepts headphones to offer silent play, the MobiGo doesn't come with headphones.
No plug-in: The MobiGo is supposed to be able to plug into the wall so you don't have to use AA batteries.  Unfortunately, the plug in AC/DC adaptor doesn't come with MobiGo – it's sold separately!
Doesn't come with batteries: Requires 4 AA batteries to get started, and they are not included.
No wrist strap: The instructions show where the wrist strap fastener is, but then remind us that the wrist strap is also sold separately.
Short play time on batteries. Using name brand fresh AA batteries, our MobiGo only lasted 2 hours before flashing the low battery indicator.  And with no plug in provided, that doesn't make for a very good value.
No pause option on the touch screen. The pause button is a hard button next to the touch screen, but it doesn't even use the universal symbol for "Pause", so I had a hard time finding how to pause the gameplay.
Keyboard. It was very hard to figure out how to get the keyboard to come out.
Recommendation
Both of my kids loved the MobiGo, but kids will love any mindless game as long as it keeps them entertained!  The only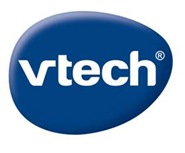 other video game system our kids have is the VTech Leapster, a handheld which is fine as long as you keep in mind that its just another video game system.  If you're buying this product with the consolation that your kids will be glued to an electronic device that's at least educational and teaching them something, I feel you'd be fooling yourself.
Now that our testing period for the product review is over, my kids won't get more than 15 minutes at a time on this device, if they remember it and ask to play.  I prefer not to have my children "occupied" and "out of my hair" at the expense of them being glued to video games for long amounts of time.  In the car, Hannah was completely focused on the MobiGo and completely checked out of the family conversation that took place.  I like my kids present in the moment and engaged in the real world around them.
The MobiGo is a handheld game system, pure and simple.  The hardware is great and the setup is very cool and convenient.  Now, I'd just like to see the real educational software that makes the MobiGo into the "Touch Learning System" they package and advertise it to be.  That would make me treat it differently than just another video game system.
Where to Buy The VTech MobiGo
Click here to buy MobiGo at Amazon for about $59.99 + free super saver shipping.  For more information on MobiGo, check out VTech's website.
Disclaimer: In compliance with the FTC Guides, updated 10/5/09, this article has material connections.  IS World Media (ISWM) received no fees for the writing or publication.  This article is a product review conducted by Danelle Ice and is her honest opinion.  The VTech MobiGo was provided to ISWM at no cost by VTech to facilitate the review process. MobiGo graphic and VTech logo used with permission by VTech Electronics North America, LLC. This post contains affiliate links and readers may assume that HomeEverAfter.com receives compensation when affiliate links are used.