Is your home ready for spring yet?  Spring is here for some of us already, and approaching for the rest.  If you could use a little nudge in the right direction to get your home ready for spring with a little spring decorating update and other helpful reminders, you've come to the right place!  Print out this helpful list of 13 ways to let spring into your home now and work on them a little at a time.
1.  Open the windows and doors and let in the fresh air. Air out your home, even if only for a few minutes (if you're still experiencing colder weather).
2.  Bring home a bouquet of fresh springy flowers from the store. Grocery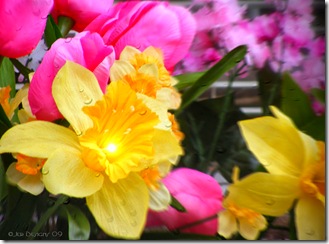 stores and mass retailers like Walmart have inexpensive mixed bouquets that you can bring home without breaking the budget for a quick pick-me-up.
3.  Set out some brightly colored silk floral arrangements. Not into fresh flowers?  Silk flowers can be used over and over again, and stored when the season is over.  (Plus you can even wash them in the dishwasher- how's that for convenience?!)  Put a bouquet of silk flowers on your desk, dining room table, or even in your bathroom to add a hint of spring.
4.  Change the mats in your picture frames. This widely overlooked little trick can do volumes to update your decor for the changing season.  Change out dark colored mats in your photo frames for pastels and whites for a spring decorating touch.
5.  Change your menu plan to include lighter recipes. If you've been making thick stews and hearty winter soups for a while, it's time to perk up your menu plan with spring recipes!  Go for lighter soups, fresh fruits and vegetables, and delicious salads.
6.  Change candles and air fresheners to spring scents. If you still have spice, pumpkin, evergreen, and other winter and holiday scents lingering, it's time to pack them away!  Replace these with light, floral scents to add a spring touch.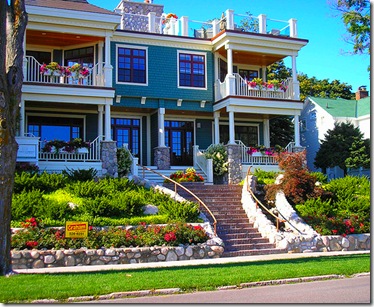 7.  Declutter for your garage sale now. Get the kids involved in decluttering as you do your spring cleaning.  Box up all unneeded items to sell at garage sales you may have this summer.
8.  Repaint your walls. Even if you're not wild about color, a fresh coat of white paint on clean walls can give you a great basis for your spring decorating.
9.  Pack away the winter outerwear and gear and unpack the spring items: windbreakers, flip flops and sandals, shorts and tank tops are ready to come out of storage.
10.  Update your wardrobe. Unpack last spring and summer's clothing and bring it back to your closet.  Make sure to box up your sweaters and other heavy winter clothes for next year.
11.  Change your shower curtain. Choose a new brightly colored shower curtain to update your bathroom's decor for spring.  A rainforest, luxurious beach, or palm trees shower curtain design can instantly transport you to summer weather as you wait for the temperatures to rise!
12.  Give your couches and recliners a spring update with slipcovers. A slipcover can create the illusion of new furniture in an instant.  Go for a light, airy color to brighten up your space for spring.
13.  Switch out throw rugs and throw pillows. In dens, bedrooms, living rooms, and bathrooms, little accents of color can perk up your decor with minimal expense and fuss.  Opt for pretty floral colors of throw pillows and rugs to use throughout the house.
Check out our spring tablescapes while you're here. 13 Ways to Let Spring Into Your Home Today! was originally published on Home Ever After on April 8, 2009. Spring house photo by laudu.  Spring flowers photo by Јerry.