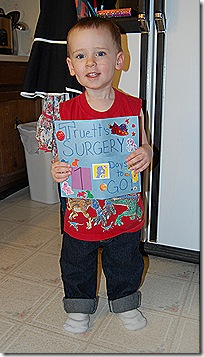 Truett is home from surgery, recovering well, and almost back to normal.  Remember when I told you about Truett having surgery to cut his tongue tie?  It went perfectly and he's healing up at home now. 
Thanks to all the prayers from our wonderful friends in the blogworld, on twitter, and on facebook!  Here is the photo trail that shows our day at Truett's surgery.
At left:  Truett Ice-Simmons the morning before going to the hospital.  He was in love with his surgery countdown and even wanted to take it with him to the hospital (so we did).
Allergic to latex, he is scheduled for the first surgery time slot of the day.  Surgery was set for 7:30am, but Truett had to wake up at 5:30am to drink 8 ounces of juice.  The schedule made for very tired parents by the end of the day!
At 7am, we left in separate cars so I could pump and feed the baby, then met Michael and Truett at the hospital.  When I got there, Truett was already dressed in his special hospital jammies: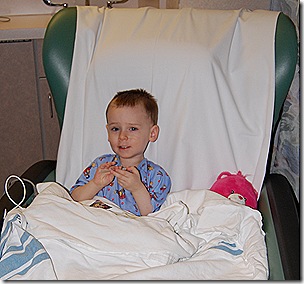 He was bundled up in his warm blankies and hooked up to the monitor already.  He decided to show off for the camera by "raising the roof", his new favorite dance move: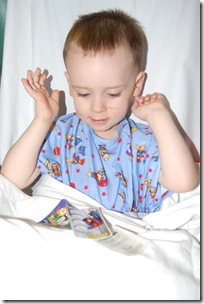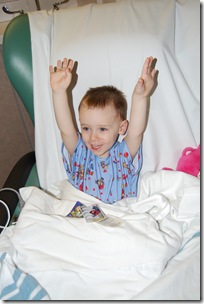 Another fantastic surgery idea we came up with was the invention of "Surgery Bear".  We got a new carebear and introduced it to Truett as Surgery Bear, a toy who only goes with kids when they have surgery at the hospital.  It worked like a charm.  Here's my little guy with Surgery Bear: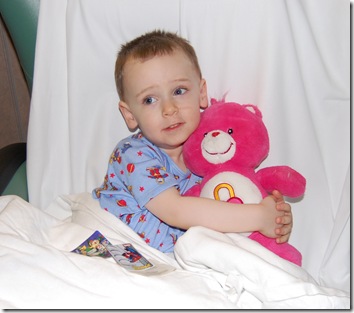 At left: Daddy waits patiently for the doctor to arrive and we wrangle with the hospital about the modifications we made to our consent forms while Truett sings.
Finally, it's time to go.  Truett gets loaded up into the special surgery wagon: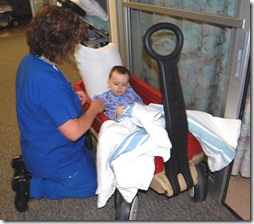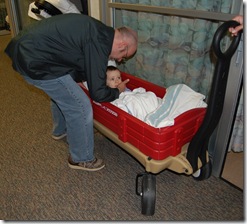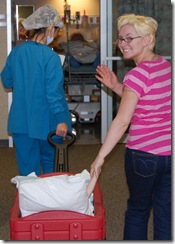 I walked with Truett to the double doors, but then it was time for me to go back to the room and wait.  Michael went to get us some coffees (decaf for me, regular for him), and I watched the Trinity Broadcasting Network on TV.  What a great idea to have cable TV in the room! 
I also prayed for Truett and a little boy across the hall who was going in for surgery next.  Unlike Truett, he was NOT excited for surgery and was hysterical.
At 8:40am, Dr. Kim popped into the room to tell me the surgery was done.  Truett did great, and was in the recovery room.  Finally, they brought him to us in the room.  He was feeling pretty poorly and cried a lot.  He said, "I hurting", and took turns wanting to cuddle with mom and cuddle with dad: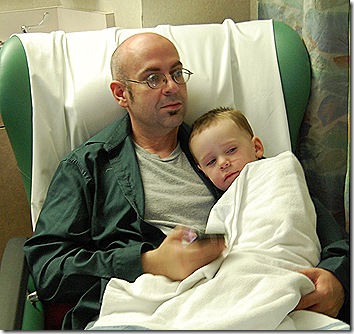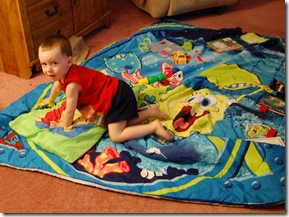 After an hour, we were allowed to go home.  He got set up with some rented kid DVDs and his favorite SpongeBob blankie to rest on.  Eating was hard for the first day, and he mostly ate yogurt and drank juice. He even refused the popsicle at the hospital!
His tongue is a little sore, but today his energy is back and he's been running around playing.  Truett is still excited about his surgery, and thought it was great fun. 
We don't think he even links the soreness of his tongue to the surgery at the hospital at all.  He's insisted that we still do the surgery countdown, but in reverse: "My surgery was 2 days ago!"