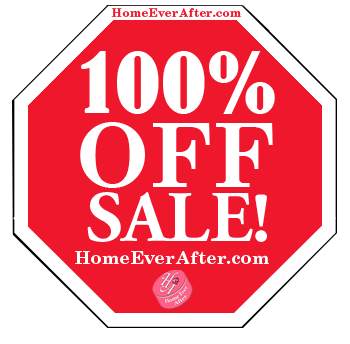 Why pay for things you can get for free? Using Home Ever After's tips, you may never have to purchase these things again! At the core of frugal living is learning to use our available resources wisely.
We all know a smaller shopping list means smaller grocery and household expense bills. Many of the tips below refer to freebies and samples; subscribe to Home Ever After to be notified of available deals weekly for FREE!
13 Things You Can Get for Free
1. Toothpaste.  There are so many toothpaste samples out there that you could never use them up before more became available!  Toothpaste is one of those products that frequently goes on sale and, combined with coupons, can be gotten for FREE or for just a few cents.
2.  Movie rentals.  Use Redbox rental kiosks if they are available in your area.  Every time you visit a Redbox kiosk,  look at our up-to-date list of Redbox codes first good for free Redbox movies!  Also, local libraries usually have a decent selection of DVDs and Blu-ray movies to borrow for free.
3. Books. Bookstores can be tempting with all those crisp new books, but will you really read them more than once? Books are one of the easiest things to get for free.  Borrow books from the library for free and save your house from more clutter.  Trade old paperbacks in your local library's exchange program for new (to you) books.  If you read digital books on your ebook reader, get free Kindle books from Amazon.
4. Shampoo & conditioner.  Shampoo and conditioner are widely available in sample form.  Combine sales with coupons to buy them free or nearly free.  If you have a traveler in the family, make use of the hotel travel size shampoo and conditioners.  If you don't use them (or only use a little) while on your trip, take them home with you.  Waste not, want not!
5. Magazines.  With so many free offers online, it's easy to find some magazine that will appeal to your interests without paying a subscription fee. Find a friend to trade old magazines with and get a fresh batch of reading material for free.  We share free magazine deals all the time on Home Ever After.
6. Lotions, bodywashes and perfumes.  A little sample requesting goes a long way with these products.  If you receive bath and body gift packs as presents, you'll be sure to have a large stockpile.
7. Rubber bands.  Save the rubber bands that come from the grocery store to hold your produce together. Examples: radishes, spinach, asparagus, greens and many more.
8. Trash bags.  Use your large stockpiles of plastic grocery bags to line your small trash cans and diaper pails.
9. Gift bags and wrapping paper.  Keep gift bags you receive to reuse for your gift giving.  Also, get creative by using newspaper, aluminum foil or brown paper from grocery bags as free wrapping paper.
10. Toothbrushes.  Cleanings at your dentist's office mean free toothbrushes and floss at each visit.  How fast can you wear out a toothbrush, really?!  Coupons combined with sales often provide free toothbrushes as well.
11. Envelopes.  Reuse the return envelopes from bills and junk mail for mailing your own correspondence. Why buy more envelopes while throwing available ones in the trash?
12. Storage containers for food staples.  Here are 40 cool ways to use those free empty milk jugs!
13. Straws, napkins, and condiments.  When you get fast food (which we all do sometimes), save the extra condiment packets to use later.  Chinese restaurants often overload you with soy sauce packets in your takeout, so why not save them to use in cooking?
We originally published "Top 13 Free Things to Stop Paying For Now" on Home Ever After on May 16, 2008.  This post contains affiliate links and readers may assume that HomeEverAfter.com receives compensation when our referral links are used.