Nothing says Valentine's Day like red velvet desserts for your romantic treat!  Here are the top 10 red velvet dessert recipes by Betty Crocker that are Valentine's Day themed.
There really is a red velvet something in here for everyone, no matter what your favorite kind of desserts are.  Included are red velvet cupcakes, red velvet whoopie pies, a red velvet layer cake, red velvet brownies, and even a red velvet cheesecake!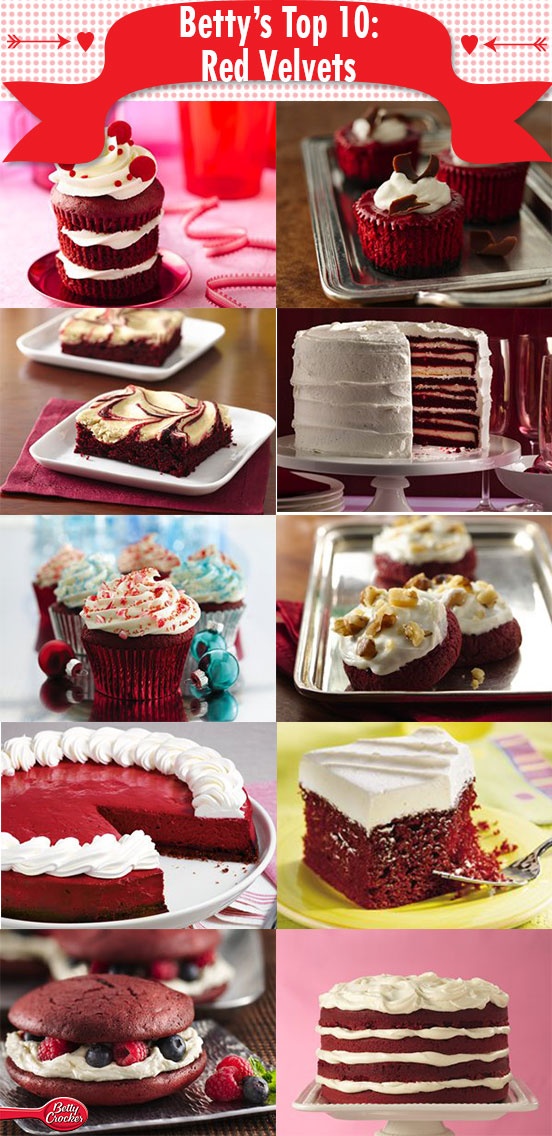 If you're ambitious and want to make any of these red velvet Valentine's Day recipes by Betty Crocker, just click the picture above or choose your favorite below!
Top 10 Red Velvet Valentine's Day Dessert Recipes
1.  Red velvet triple-stacked cupcakes recipe
2.  Mini red velvet cheesecakes recipe
3.  Red velvet espresso and cream swirled brownies recipe
4. 18 layer red velvet cake recipe
5.   Red velvet cupcakes with cream cheese filling and frosting recipe
6.  Red velvet rich and creamy cookies recipe
7.  Red velvet cheesecake recipe
8.  Easy red velvet cake recipe
9.  Red velvet whoopie pies recipe
10.  Red velvet torte with white truffle frosting recipe
Yum!  There you have 10 wonderful ideas for your dessert course this Valentine's Day: the top 10 red velvet recipes.  Have you made a red velvet dessert before?  What did you think?  Let us know in the comments below!