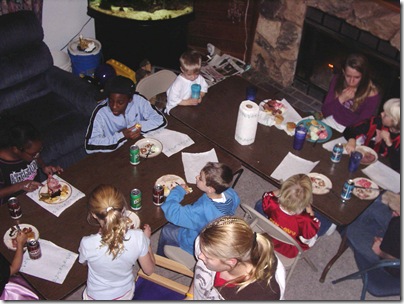 If you're like me, you probably looked at the calendar sometime this week and asked, "Thanksgiving is next week?  How did the month go by so fast?"  That's right, Thanksgiving is next week already, but that doesn't mean it's time to kick it into the high-stress, high-gear, faster-than-the-speed-of-life mentality to start off the holiday season!
At left, you can see a shot of the kids' tables at our family Thanksgiving a few years ago.  This only pictured some of the children and their tables were downstairs – now imagine all the adults upstairs!  A packed house, tons of people, chaos, food… you get the idea. 
It can be easy to get wrapped up in making the preparations – so wrapped up, in fact, that you ignore the people who are there to see you, not just eat your food!
It reminds me of the biblical story of 2 sisters named Martha and Mary (you can read the whole story in Luke 10:38-41).  Mary sat with the guests and visited, while Martha did all the work in the kitchen of getting a meal ready.  Martha was so preoccupied with preparing food for her unexpected visitors (one of whom was Jesus) that all she did was work the whole time they were there.  Mary, on the other hand, knew that it was more important to spend time with them than to serve the finest meal they had ever had! 
When Martha complained to Jesus, "Don't you care that my sister has left me to do the work by myself?  Tell her to help me!", he replied, "Martha, Martha…you are worried and upset about many things, but only one thing is needed. Mary has chosen what is better, and it will not be taken away from her." – Luke 10:40-41
Don't be a Martha!  Choose what is better – to keep in mind the reason for the day.  Remember the most important thing: Thanksgiving is NOT about food.  Even if Thanksgiving dinner is at your house and you have tons of family coming in from out of town, the point of the day is spending time with your loved ones and be grateful for all the wonderful things in your life.  Your family will not care if the food you prepare or the table you set for Thanksgiving is the best you've ever done in your life!  Give your guests the gift of your presence and let them know that you are thankful for them being there with you.
It's important to keep things in perspective in order to maintain your own peace and sanity on what, for many people, is an incredibly stressful day.  Choose what is better and stop hustling and bustling to get every detail perfect.  Happy Thanksgiving!