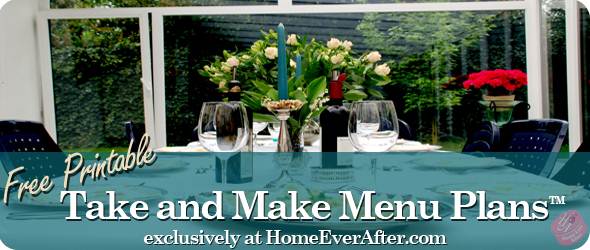 Our menu plan this week features recipes from our other favorite celebrity homemaker, Martha Stewart! Her recipes may be easy to prepare, but are a little more exotic sounding than regular dinner menu fare. Tap into your adventurous side this fall and try out these new Martha Stewart dinner recipes. 
Our free printable Take and Make Menu Plans contain everything you need for an entire week's dinners and all you have to do is the shopping and cooking! Print out the menu plan each Sunday, which includes:
A printable grocery shopping list of ingredients.  Print out the list, check off what you already have on hand, then take your shopping list to the store.
A dinner meal for each day. Click the name of the meal to print the recipe and directions.
---
Take And Make Menu Plan #1:
Martha Stewart Dinner Recipes
Menu is planned for a family of 4.  Please adjust ingredients and recipes up to accommodate extra people.
Printable Grocery Shopping List:  Click the button below to view, download or print the shopping list. Grocery shopping checklist is divided into sections by type of food to make your shopping trip faster.

Dinner Menu Plan with Recipes:
Monday
Dinner:  Martha Stewart's Grilled Chicken Sandwiches with Mustard. Light and fresh, but with a twist, this grilled chicken sandwich is perfect for summer.
Tuesday
Dinner:  Martha Stewart's Grilled Chicken Tostadas. This recipe is a great summer version of the Tex-Mex favorite.
Wednesday
Dinner:  Martha Stewart's Chicken Fried Rice with Bok Choy. Feel free to substitute fresh greens from your garden or farmer's market in place of the bok choy.
Thursday
Dinner:  Martha Stewart's Pork Chop with Pineapple Salsa. Homemade pineapple salsa is a sure-fire way to lighten up the dinner time staple, the pork chop.
Friday
Dinner:  Martha Stewart's Rigatoni with Spiced Meat Sauce. Makes 4 servings.
Saturday
Dinner:   Martha Stewart's Open-Faced Egg and Tomato Sandwich. Only makes 2 servings, so take care to adjust the ingredients for your family.
Sunday
Dinner: Leftover Love. Spread out a buffet table of all the leftovers from the week's meals.  This means a day-off for the chef!
---
Print out our other Take and Make Menu Plans or check out other menu plans at
Menu Plan Monday.