Our tablescape today is a beautiful Oriental garden summer flair table setting.  The square plates and stir fry meal added to this tablescape give it the perfect summery Oriental feel for something different.
This frugal tablescape was put together from table items bought at Fred Meyer (also called Kroger stores on the West coast).  The peach floral tablecloth is flocked vinyl, so it is easy to wipe clean.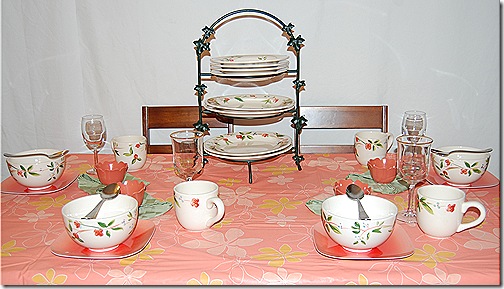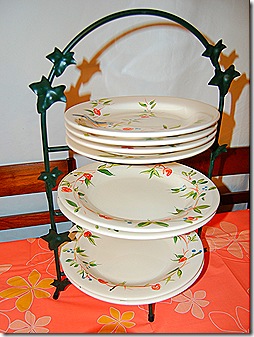 The green ivy plate rack serves as the centerpiece for this unusual table scape.  It holds the larger plates from this dish set that were not used in these place settings, but were nonetheless beautiful on the table.
This frugal centerpiece plate rack was picked up at a garage sale for a mere $3!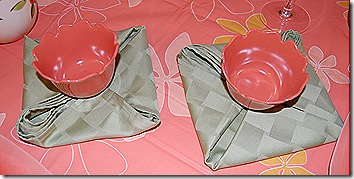 The "flowers" on the table are actually small plastic bowls placed on folded green cloth napkins (which serve as the "leaves").  The leaf napkins are easy to fold; simply fold your cloth napkin into a square and turn it over, so the wrong side faces up.  Secure with a small bowl or glass to create the flower effect.
Below, you can see the before and after pictures of this place setting.  At left, ready to be served.  At right, the flower bowl becomes a home for a white rice snowball and the Oriental garden vegetables make a delicious stir fry. 
You will note also our unusual placement of the napkins and spoons in this place setting.  Our utensils become part of the picture, as the spoons sit atop the bowls!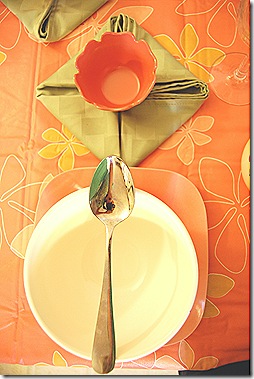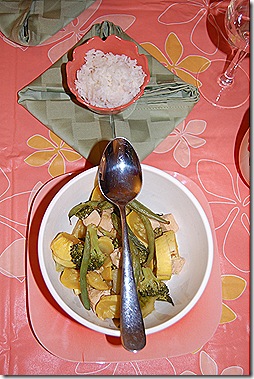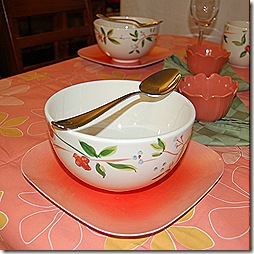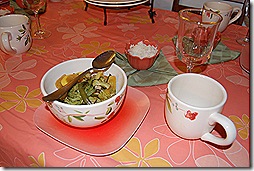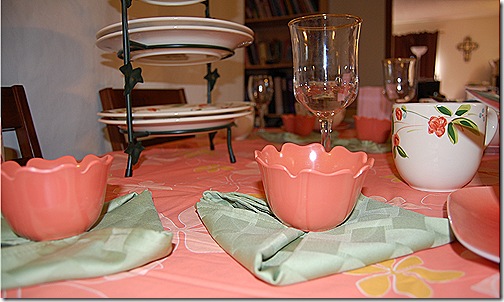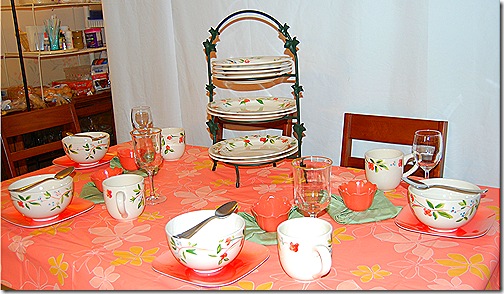 Find more Tablescape Thursday at Between Naps on the Porch, Works for Me Wednesday at We are That Family, and Homemaker Mondays at 11th Heaven.