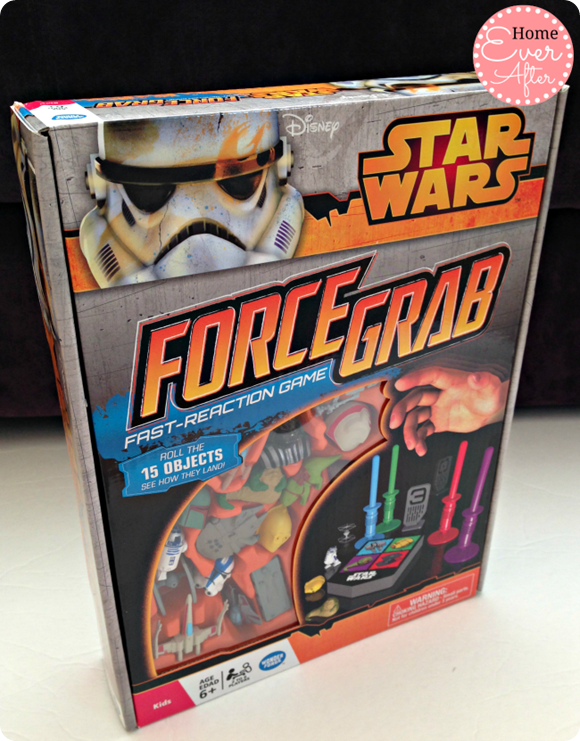 The Star Wars Force Grab game made it into the hands of my son and husband for testing and I've got the scoop on this fast-reaction game for Christmas.  The Star Wars Force Grab game has 15 Star Wars miniatures from the original Star Wars trilogy and even if they don't want to play the game, your fans will want the toys out of Force Grab for their collection.  Buy the Star Wars Force Grab game at Amazon.
Review: Star Wars Force Grab Game
Star Wars Force Grab is designed for adults and kids aged 6 years old and up.  2 to 6 players can play the game at one time.  The first time we played Force Grab, the game setup took less than 1 minute.
The game play moves very quickly and you have to pay attention to details and be fast to grab either a light saber, 3 marker, or 0 marker based on how the pieces land.  You want to match the pieces to the pictures on the Star Wars placards to score points.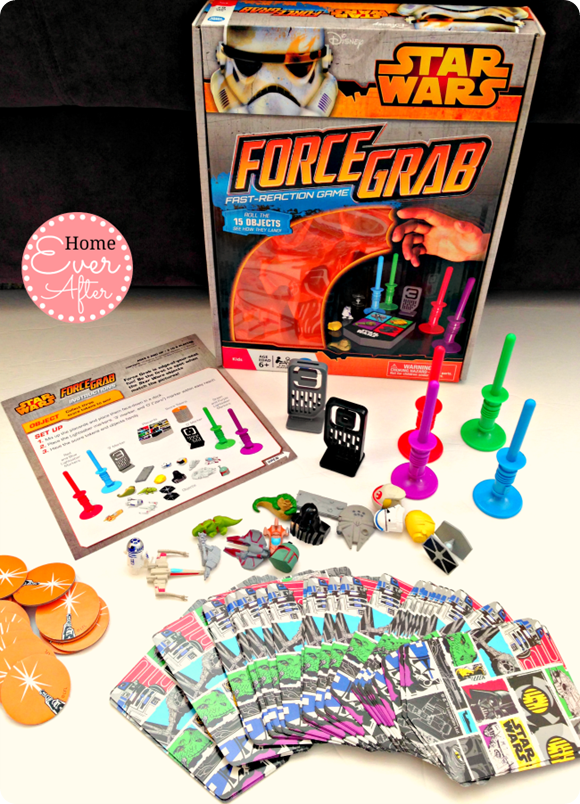 Star Wars Force Grab Game: The Good
Advanced Rules:  If you've played the game with the base rules and it's too easy, you can switch to playing the advanced rules.  These offer some interesting variations to make the game harder, including the "push your luck" bonus roll, taking 2 lightsabers for double scoring, and combo call-outs to memorize phrases and call them out when they match the pieces.
Game Pieces Double as Toys: The Star Wars miniatures make fun toys that your kids will want to play with outside of the game.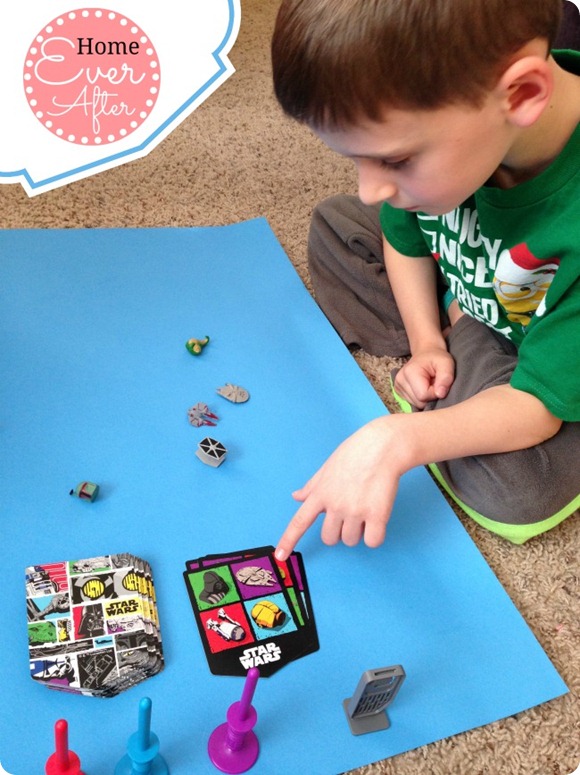 Star Wars Force Grab Game: The Bad
Confusing Pieces:  Some of the Star Wars miniature pieces look so much alike on the top and bottom that it's almost impossible to tell which side is which.  In a game where you must identify the direction a miniature is facing quickly and grab for scoring markers based on its position, not being able to tell which side of a piece is facing up can mean choosing wrong and losing the round.
Several of the ships look exactly the same on the top and underneath side with the exception of a tiny light blue painted windshield.  Make sure to closely examine all the miniatures before playing the game and help all of the other players determine these distinguishing marks to avoid mistakes and hurt feelings.
No Rolling Cup:  Due to the fact that there are so many pieces, it would be easier to roll them out onto the table if the game included a cup for rolling.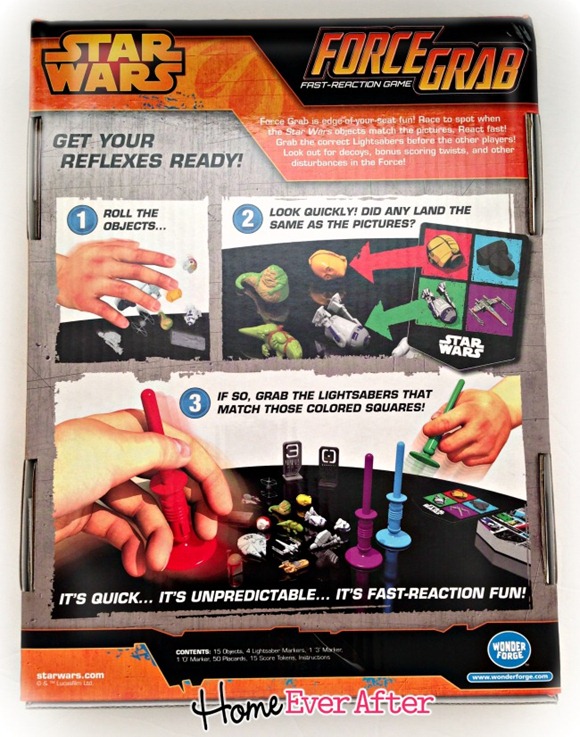 Star Wars Force Grab Game: Take It or Leave It
Take It:  The game is fast and is not for people who aren't Star Wars fans.  In fact, this game is easier for adults who are dedicated fans and know details about the characters and ships from Star Wars.  My husband could identify small details on the miniatures that I couldn't, which cost me points.  I'd say Force Grab is more of a game for adults than kids.
With that being said, the Star Wars miniatures make Force Grab a must-buy, even if you're only buying it to get the toys for your collection.
Where to Buy Star Wars Force Grab Game
Buy the Star Wars Force Grab game at Amazon.  You can also find Star Wars Force Grab for purchase at a store near you that sells family board games.
—
Disclaimer:   This post contains affiliate links and readers may assume that HomeEverAfter.com receives compensation when my referral links are used. IS World Media (ISWM) received no fees for the writing or publication of this article.  This article is a product review written by Danelle Ice and is her honest opinion.  The game was provided to ISWM at no cost by Wonder Forge to facilitate the review process.