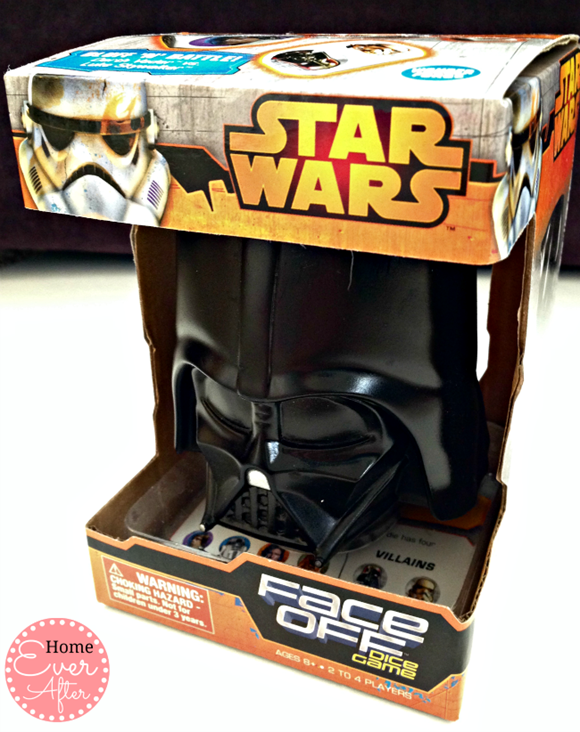 If you're looking for an inexpensive Christmas gift for the Star Wars fan in your house this holiday season,  the Star Wars Face Off dice game is your perfect choice.  This new game from Wonder Forge is sure to be a hit, even if you only buy it for the collectible two-faced game cup.  Keep reading to learn the good and bad of the Star Wars Face Off dice game.  Buy the Star Wars Face Off Dice game at Amazon.
Review: Star Wars Face Off Dice Game
Star Wars Face Off dice game is designed for older kids and adults aged 8 years and up.  The game is designed to be played by 2 to 4 players, but I don't see any reason you couldn't play it with as many people as you want.  The score is kept on a separate piece of plain paper, so you could just add extra columns for extra players.
Star Wars Face Off dice game comes inside a 2-sided plastic cup.  One half of the cup is a Darth Vader face, the other half is a Luke Skywalker face.  It has a plastic lid that fits into the top to make it a portable game. 
Face Off comes with 5 dice that contain faces of heroes and villains from the original Star Wars trilogy.  The heroes on the dice are Luke Skywalker, R2-D2, Han Solo, and Chewbacca.  The villains on the dice are Darth Vader and Stormtroopers.  When rolling the dice, you choose to play heroes or villains and attempt to roll all of the dice in scoring combinations similar to Yahtzee.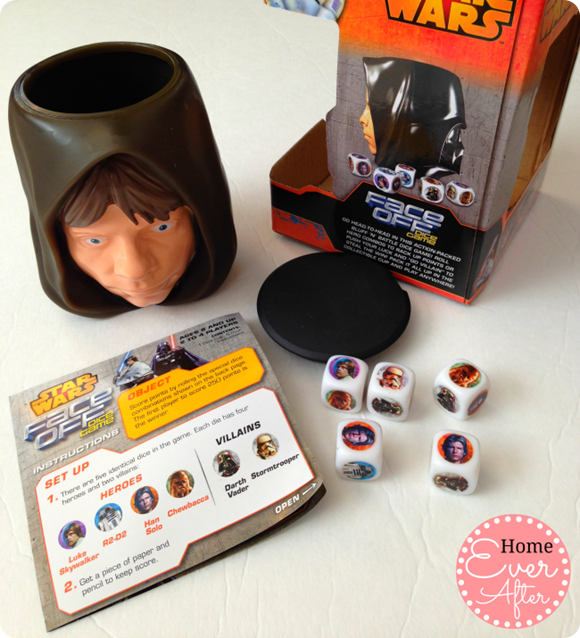 Star Wars Face Off Dice Game: The Good
Great Price:  The price of Star Wars Face Off is under $10, and a very reasonable price for the game, considering it comes with the collectible cup.
Heroes Easier than Villains:  Since there are 4 heroes on the dice and only 2 villains, it's a lot easier to make good combinations of heroes.  If you choose heroes, you can keep rolling to make a better scoring combo.  With villains, you only get to re-roll once.
Star Wars Face Off Dice Game: The Bad
Lip Inside Cup Keeps Dice From Coming Out:  Inside the cup, a plastic ledge keeps the dice from coming out when you attempt to pour them out.  The dice get stuck on it and you have to re-shake the cup and pour again to get the dice to come out.
Confusing Game Play for Bluffing:  Even though the game is appropriate for ages 8 and up, my son could not understand the concept of bluffing.  When you choose to play the villain dice, you have to bluff (it's harder to score points with the villains but they award higher points).  I don't know at what age the concept of bluffing will be easier for kids to understand, but my son chose to play without bluffing.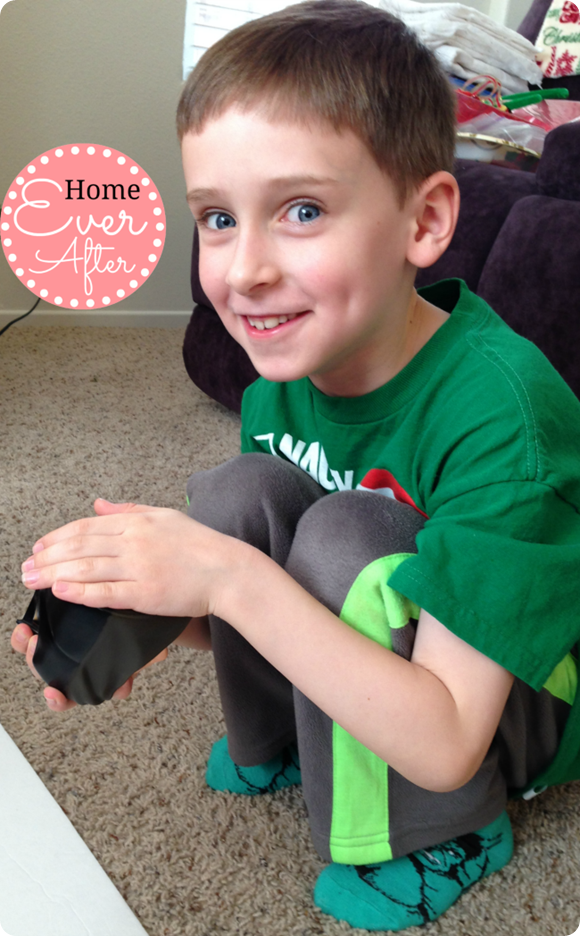 Star Wars Face Off Dice Game: Take It or Leave It
Take It:  The game was really fun for my son and husband.  Even though I'm a Star Wars fan, it wasn't my favorite game.  I think Star Wars Face Off dice game would be more fun if the game play was straightforward like Yahtzee, without the bluffing component. 
The cup is the real highlight of this game.  I can definitely picture myself buying multiple boxes of the Star Wars Face Off dice game to give as gifts to Star Wars fans for the cup.  My husband and my son would both love to have the 2-sided cup for a pencil cup on their desks!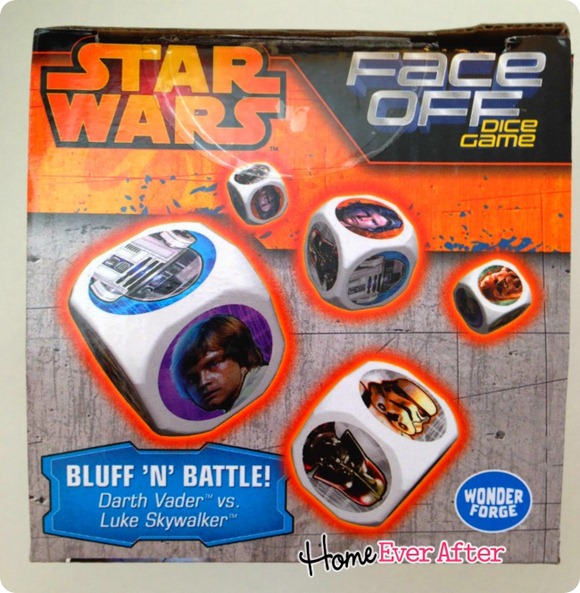 Where to Buy Star Wars Face Off Dice Game
Buy the Star Wars Face Off Dice game at Amazon.  You can also find the Star Wars Face Off Dice game for purchase at a store near you that sells family board and dice games.
—
Disclaimer:   This post contains affiliate links and readers may assume that HomeEverAfter.com receives compensation when my referral links are used. IS World Media (ISWM) received no fees for the writing or publication of this article.  This article is a product review written by Danelle Ice and is her honest opinion.  The game was provided to ISWM at no cost by Wonder Forge to facilitate the review process.