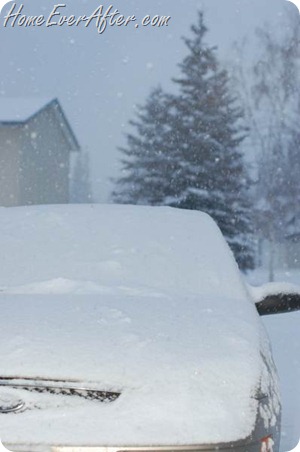 Life in Alaska is much different than anywhere else (except Antarctica, of course, but no one tries to live a normal life there).  Our poor frozen car (pictured at left) finally started yesterday after we had it plugged in for hours.
Have you ever wondered what our limited daylight looks like in Alaska?  It's only light for 4 hours a day right now, and the light looks like the dreary gray ice fog you see in these pictures.  Not unlike a Tim Burton movie, I must say.  Maybe he should move here – he'd love it!
Some days blogging is hard.  Some days living is hard.  Some days all you can blog about is what you see around you.  That is the snapshot of our life.
Snapshot of Our Life: January 17, 2012
Where are we?  We're still in Fairbanks, Alaska.
What is the temperature?   Cold!  It's 37 below and no warm up predicted in the 3 day forecast.
What did we do today?  Flash and I have been waiting for it to warm up so we could go do some business errands.  Unfortunately, it's been 2 weeks of this weather and we couldn't wait anymore. So we bundled up the kids and headed out to do the errands.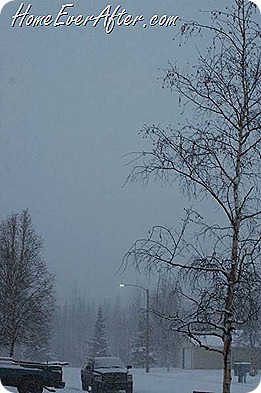 When we got to the bank, it was dark and freezing cold, but we had to haul everybody inside because we both needed to sign for a new account.  The kids were restless, crying, whining, and bored.  Don't get me wrong – they were really well behaved for their allotted time of behavior.  The woman helping us took so long for everything that we were there for an hour and a half.  There's no way I expect the kids to stay occupied and quiet for that long!
Truett crawled under her desk and cracked his head so loudly on the desk that it seemed to echo through the whole bank!  He had a giant lump on the top of his head after that and cried a lot.  Then he stuck his fingers under the cubicle dividers and found a penny.  I'm glad he didn't get his fingers stuck under there, but he was just glad to be a penny richer!
Seven wouldn't keep her boots or socks on in the bank.  She'd take them off and throw them over and over again.  It was quite obvious that the employee didn't have children as she laughed nervously and (I'm sure) wished someone else had gotten our transaction!
When we had to run (as fast as I could sprint pushing 2 babies in a double stroller) all the way from the doors to the car in almost 40 below temperatures, my face was frozen.  The girls' faces were mottled red and white and they were cold to the bone.  Tears were streaming from Seven's eyes even though she wasn't crying – it was just the cold making them water.
We buckled everyone in as fast as we could and Flash dismantled the double stroller and packed it in to the car while I started the car and wished it would get warm faster.  Seven wouldn't leave her mittens on and was yelling to me, "Fingers cold! Fingers cold!"
This is our street in the afternoon: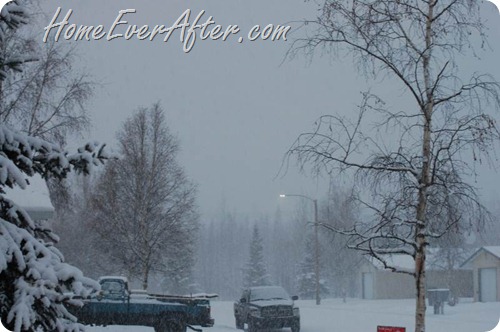 How was I frugal today? We planned a splurge for our outing of McDonald's since we were out and had coupons to use. Michael went through the drive through to use our meal deal coupon while I went inside to get our free chicken McBites with a coupon that came in the mail. I was surprised when they rang up the freebie that it would have cost $2.40! I'm so frugal that I looked through the recycling bin at the post office and found another set of McDonald's coupons that someone had thrown away. So you guessed it – we've got one more freebie for a rainy (I mean snowy) day.
How am I feeling today?  I feel better knowing that we won't have to take the kids out for any cold weather errands hopefully until this cold spell breaks.  I'm a little down that I didn't work out today and ate McDonald's as a splurge.
What does our living room look like?  It's clean and neat, as it usually is.  We make the kids put away all the toys before they leave the room to do anything else.  Today I arranged the floor cushions into 'stairs' so the babies could climb up them.
What is planned for tomorrow?  Tomorrow is the SOPA blackout, so a lot of websites will be shut down for the protest.  We'll do work for clients, but not much else can be done until Thursday.