It's the daily life that gets lost and forgotten over the years.  I want to remember these in-between times, not only for the little memories that might not seem significant now, but to be able to have these stories to share with our kids in the years to come.
Some days blogging is hard.  Some days living is hard.  Some days all you can blog about is what you see around you.  That is the snapshot of our life.
Snapshot of Our Life: January 16, 2012
Where are we?  We're living in Fairbanks, Alaska in the first house we ever bought.  We are moving away and planning to sell the house soon.
What is the temperature?   The temperature in Fairbanks is 40 below zero today.  It's been between 35 below and 50 below for weeks straight.  I'm cold and I just want it to warm up.   It's cold and dark every single day…  Every morning we all guess the temperature before we check it.  Truett sings a song called "40 below, temperature low".  You guessed it- those are the only words in the song!
I took a picture of the thermometer on our front porch yesterday.  It's hard to see through the snow and ice fog: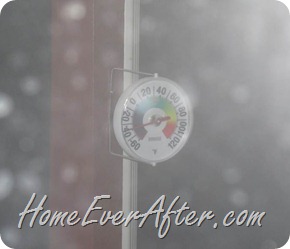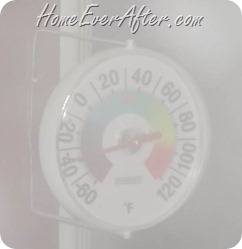 What did I do today?  Today was a holiday (MLK day) so most businesses were closed.  We stayed home and I posted items for sale on Craigslist to get ready for our move.  Grandma Carolyn (Flash's mom) came over to visit tonight and bring Seven a birthday present.  Here I am with the kids (time for a touch up on the old roots, I know!).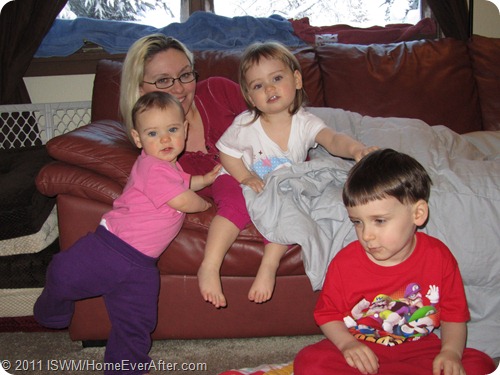 How am I feeling today?  I feel down today.  There are only 4 hours of daylight each day and I'm really feeling the Seasonal Affective Disorder (SAD) this winter.  I'm tired and not feeling well.  Plus, we called Hannah today and that always makes things a little sadder… lots of crying.  She dumped us.  She dumped our family.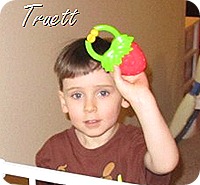 Poor little Truett talked to her tonight too.  He asked Hannah why she didn't have a "date" with him.  He used to ask her on a date, which to him meant she would walk down the hallway with him, holding hands, and play a board game together in his room.  The last time he asked her (the week before she left us), she told him no.
After we got off the phone tonight he cried and cried in his room and asked me why she didn't want to come back.  He asked me why she didn't want to be part of our family anymore.   He's still crying in his bed now, and it's been 2 hours since we hung up.
What does our living room look like?  The floor cushions get reconfigured every day for loads of fun (today they were just for sitting, but some days they are a train track, some days they're stacked up into "stairs" for climbing).  The supergate around the perimeter still keeps the babies from messing with the baseboard heaters.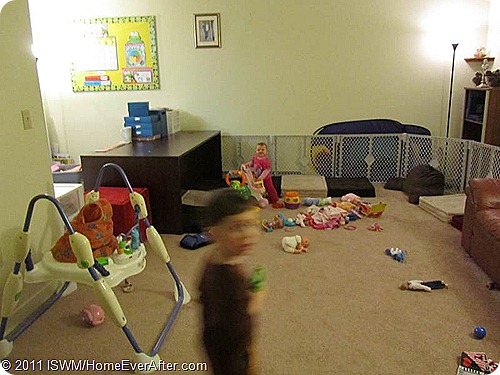 What did the kids do today?  They visited with Grandma when she came over.  Seven opened her presents (a shirt, glittery skirt, and super fancy dress) and modeled them all for us!  Truett was wearing his Scooby Doo shirt for the second day in a row.  We should have just bought him 7 Scooby shirts and left the wardrobe at that!
Prynne is trying to walk.  She stands up with her toy stroller and pushes it along, walking while holding on across the whole living room.  Prynne also "drives her car", or walks in her walker in the kitchen.  Unfortunately for our cabinets, she can only drive in reverse!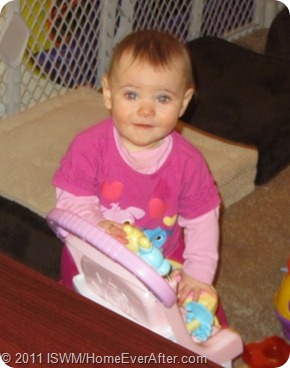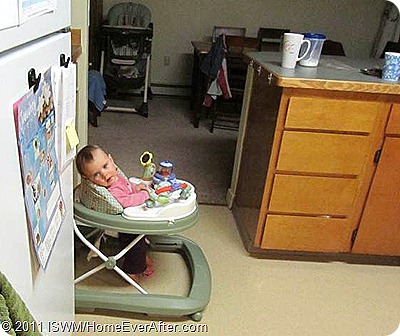 Seven is daring and practices her balance and somersaults, even on uneven ground.  I love those polka dotted tights!  They're so cute I wish she could wear them every day!  The windows are also completely iced up, which is why you can see towels in every window sill.  Seven's talking is better every day.  Her favorite sayings are, "Hep you,  Daddy", "ope it peese" (open it please),  and "meeeeeee?!?!"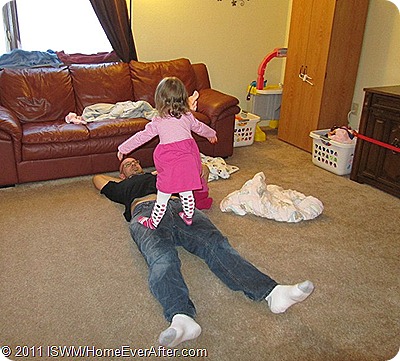 All three of the kids are able to play together now.  It's fascinating to watch.  Today, all 3 were playing in the toy tent: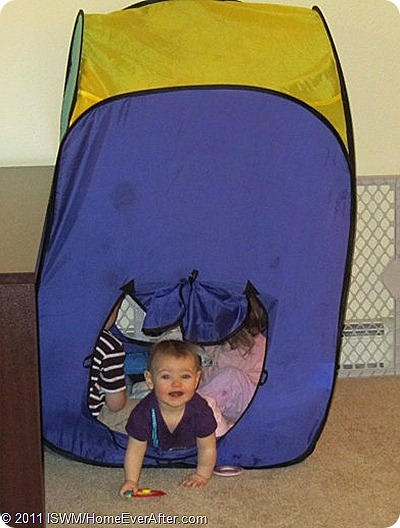 What is planned for tomorrow?  I plan to get up early and pray a little harder.  A little hard work and prayer never hurt anyone!