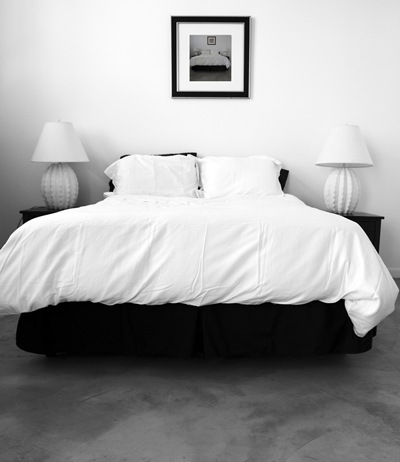 Save Money on Heating Fuel Overnight
While brainstorming ways to save money on heating fuel costs this winter, one of the ideas that my husband and I came up with was to lower our thermostat at night while the family is sleeping.
We'd have to make an initial investment by purchasing new bedding and warm sleepwear, but would recover the money invested in fuel savings.  But would we really save money on heating fuel?
The answer is yes, and you can too.  Let's break down the rationale behind bulking up to cut down.
SAVE MORE: 5 Things You Can Do Right Now to Live a Frugal Life
Is Bedding Really an Investment?
You may be wondering, "Is it a good move to spend money on bedding and warm sleepwear in the hopes of saving on heating costs?"  You bet!
The money spent on these supplies is a one-time investment, meaning you pay one time and you have something permanently.  Money spent on heating is not a one-time expense, but a recurring expense.
SAVE MORE: 13 Ways to Save Energy and Cut Utility Bills
That means if you pay to have heat today, you have heat today only.  If you don't pay tomorrow, you don't have heat tomorrow.  With this in mind, we can see that making a one-time investment now in warmer supplies will allow you to lower your heating costs forever. What a winning equation!
Invest:  "To put (money) to use, by purchase or expenditure, in something offering potential profitable returns, as interest, income, or appreciation in value."

-Dictionary.com Unabridged (v 1.1). Random House, Inc.
Learning What Our Parents Figured Out About Heating Costs
This isn't the first time people have been concerned about saving on heating costs, and we can learn a lot from looking back about 30 years in the history books.  During the oil crisis of the 1970s, families were using similar strategies to reduce their use of heating fuel.  President Carter spoke publicly about reducing thermostat temperatures.
Zolton Cohen at HowStuffWorks wrote a great article about this very subject called "How to Conserve Energy at Home".  In it he said,
"Because space heating constitutes the largest energy expenditure in many homes, even a little conservation of heating fuel goes a long way toward achieving a lower utility bill. Dialing down the thermostat one degree during the winter can result in about 1 to 3 percent less fuel use, and a similar reduction in your heating bill."
1% to 3% may not seem like much of a savings for sacrificing 1 degree of heat, but remember that the price of heating oil is currently $4 per gallon and is estimated to reach $7 per gallon mid-winter!  This outrageous heating fuel price is forcing hundreds of families where I live (in Alaska) to sell their homes and move to warmer locations.  It's a matter of survival; they simply can't afford heating fuel any longer.
SAVE MORE: Top Energy Wasters in Your Home
With that in mind, every degree people can sacrifice will return great savings in energy costs and will definitely be worth it!
Zohan continued,
"A furnace or boiler has to maintain a differential in temperature between the inside of the house and the outdoors in order for the house to feel comfortable. On cold days that difference can be as much as 50 to 60 degrees (say, 20 outside and 70 inside). Any time the differential can be reduced, even by a degree or two, the heating system comes on less often, less fuel is burned, and savings result. The downside of turning down a thermostat, of course, is that the house is cooler. But Carter had a solution for that — simply slip on a sweater. That makes sense, too. Instead of turning up the heat to increase the overall warmth in the huge volume of space inside the house, you can simply increase your personal insulation to help retain body heat.

"Though dialing down might seem a hardship at first, after a while your body will adjust to the "new normal" house temperature and wearing sweaters and socks inside will become a part of everyday life."
The Ice-Simmons Family Turns Down the Heat
To put this strategy into action,  my family would have to do certain things before implementation:
Buy additional comforters and blankets for everyone's beds

Buy and switch to flannel sheets

Buy warmer socks and pajamas for all family members

Teach toddler son to sleep under a blanket (he squirms around the toddler bed all night)

Convince daughter to sleep under covers (she doesn't like to make her bed in the morning, so she tries to sleep on top of the covers!)

Convince family to sleep wearing socks
After completing the six steps listed above, we would be able to gradually turn down the thermostat at night to save on heating fuel.  So yesterday I went to Walmart, armed with a budget of $200 and determined to come home with warm blankets for every bed.
SAVE MORE: Top 13 Free Things to Stop Paying For Now!
Bedding Supplies Needed to Save on Heating Fuel  
The blankets and comforters were very reasonably priced, allowing me to come in under budget.  A down alternative blanket was the choice for mom and dad's bed; cost: $33.
For my daughter's blankets, I chose a comforter in queen size for her twin bed.  A queen comforter can be folded in half to exactly fit the width of a twin-size bed.  Effectively, for the $29 the comforter cost, she got two layers of blanket.
The same strategy was followed for our toddler son, with a $29 twin size Batman comforter wrapped around and underneath his toddler bed mattress.  Flannel sheets were also reasonably priced at approximately $20 per set.
I didn't purchase any pajamas or socks that day, since I'm planning to catch the next sleepwear sale for flannel PJs for the family.  It helps to keep an eye out at the thrift store for kids' warm sleepwear as well.
I'll be watching for girls' flannel pajamas and footed sleepers for toddlers at our local Value Village, hoping to add a few extra sets of pajamas to the kids' jammies drawers.  As fast as kids grow, you should never be afraid to shop second-hand for children's clothing.
SAVE MORE: How to Save 90% on Kids Clothes
All in all, we spent approximately $140 dollars on winter bedding for a family of four.  Not too shabby.  I anticipate spending another $30-$40 on heavyweight pajamas and socks, making our total expenditure $200.  We slept in our newly-insulated beds last night, and the whole family gave rave reviews!
Our thermometer went down 3 degrees last night, and everyone was warmer in their beds than on a normal night.  We were warmer even though the house was colder!
The "investment" made in warm blankets and sleepwear for your family is an expense you can feel good about.  Know that you will see those dollars come back to you almost immediately in the heating savings you'll realize.
Warm blankets can be a good investment when you reduce your thermostat to save money on heating fuel overnight!
Reader, Suzi "PlainSister" wrote in:

"We heat and cook with wood, no backup, and do not heat our bedrooms at all. We have found that the fleece blankets with the longer nap used as sheets increase the warmth considerably, much better than flannel.

We also use a down/feather blanket over it and sleep warm and comfy. The down alternative blanket works well when the temps are not so cold at night.

We also live in the mountains between 6 and 7 thousand feet, so the nights are pretty chilly year round and the fleece for sheets works for every season. It is so much cheaper to live as we do rather than have to buy propane.

We live in an area that can get snowed in for months and there would be no way for the propane trucks to get in to fill tanks."
Photos courtesy of stock.xchng.