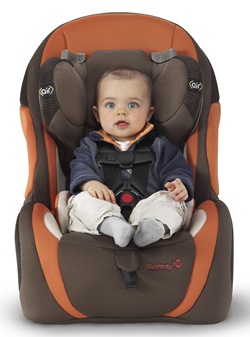 On my trip to BlogHer in Chicago this summer, I was able to meet with representatives from Safety 1st and check out their newest release in carseat technology, the Safety 1st Complete Air convertible car seat with Air Protect.  I was really wowed by the safety advances and was eager to try this for my own toddler, now 27 months old, and on the newborn girl I'm expecting in January.
Since the car seat is a convertible that moves from rear-facing for newborns and infants to forward-facing for toddlers, there will be no problem with me using it for both children.
Safety 1st was kind enough to send me a Complete Air carseat (in Harvest orange and brown, just like the one pictured at right) to try out for myself so I could share my thoughts with you all. 
I've been using this carseat for a month now, and it has seen some real-life durability issues (such as the stomach flu).  Thankfully, however, there was no accident that forced us to test out the safety features of the Air Protect cushions.
Here's what I thought about using the Safety 1st Complete Air Convertible Car Seat over the last month:
New Air Protect Technology
What's new in this baby, infant and toddler carseat is the Air Protect technology – in other words, it has air pillows on either side of the baby's head to help protect against injury in a side impact collision.
Keep in mind that these air pillows aren't airbags in the traditional sense of the word.  They don't "deploy" as the airbags in a vehicle do.  These are "air cushions" rather, which absorb shock on either side of the baby's head in the event of an accident.
Click here to see the video of the crash test and learn about how the air cushions work.
This carseat looks very different because of the air cushion piece that appears on either side of baby's head.  It appears to be a more secure fit and really doesn't leave much room for movement from side to side, which of course is the goal in reducing head trauma in case of an accident.  The pillows aren't restrictive, though, and my son is still able to turn his head to look at and talk to his older sister in the bucket seat next to his.
Why Side Impact Protection is Important
"In a side impact crash, there is an average of just eight inches of steel protecting children in the back seat. Side impact collisions are among the deadliest type of collision for children, accounting for one in three child crash fatalities, nearly all of which are caused by head trauma."

                            – Safety 1st website, The Impact of Side Impact
With the possible injury to a baby that can result from a side impact crash, it's definitely worth the extra peace of mind from a parent's perspective to have any extra protection possible.  Why use a carseat that doesn't offer the extra protection when the technology is now available and so affordable?  It doesn't make sense to me to go without.  I may be a hardcore frugal mom, but I will never cut corners when it comes to my children's safety.
Other Features I Liked
The Safety 1st Complete Air carseat has a 5 point harness, which is easy for an adult to buckle and unbuckle, but wasn't easy for my toddler to figure out.  The car seat also has a removable plastic cup holder that attaches to the left side of the car seat.  When we first opened the box, we thought the cup holder wouldn't fit on the carseat in our minivan.  It seemed that the piece would stick out too far and touch the sliding door.  However, it fit on the carseat just fine, leaving plenty of room between the cup holder and the door.
Is the Complete Air Carseat Easy to Install?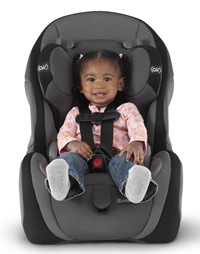 The Safety 1st Complete Air carseat was very easy to install in our vehicle.  My husband installed it in our Grand Caravan the first time, and I installed it a second time to see how easy it was for a smaller person to put in alone.  I'm 5'1", and maneuvering large items, such as baby car seat systems, can be difficult when you're my size (and pregnant!). 
The simple, step by step instructions in the user manual explain how to install the carseat 1 of 2 ways: either using the LATCH system, if your car has it, or the traditional way with a seatbelt.  Our minivan does have the LATCH system, so that is what we used to connect the Air Protect car seat.  This was my first time with LATCH, since our previous car didn't have it, and that technology seems a much more secure way to fasten a baby car seat.  With LATCH, you are actually securing the carseat to metal brackets on the floor of the car and bolted into the car's chair.
Installation Videos: For extra help, Safety 1st provides installation videos on their site that show exactly how to install the carseat in 4 different ways:  rear-facing LATCH, forward-facing LATCH, rear-facing seatbelt, and forward-facing seatbelt.  You can watch the installation videos here or read the installation tips here with illustrations.  Their website even provides a downloadable pdf of the user manual right on the installation page in case you lose yours! 
What I really love is that they go the extra mile.  In case you still have questions about getting your carseat put in properly, they have an email and 800 number ready for you on the site.
Is the Complete Air Carseat Easy to Adjust?
This is an important question for parents, because getting the proper fit with the car seat's safety harness is crucial to it protecting your little one in case of an accident.  With many baby car seats, the release tab (in the middle front of the base) can be very hard to use.  In order to tighten the straps, you pull the strap under the release tab.  To loosen, you first engage the release tab, then pull the harness straps out for extra room. 
The Complete Air's release tab is very easy to operate, and I had no trouble getting it to work quickly. This is a very important feature to me since I live in the very cold state of Alaska.  Depending on the weather, my son may have a thin coat on one day, and a heavy coat with snowpants the next.  Being able to adjust the harness quickly and easily, especially when I'm standing outside in the below zero temperatures, is key.
Does the Complete Air Carseat Stand Up to Wear & Tear?
Fortunately, I was also able to test out the Complete Air car seat's real world durability to see how well it stands up to  a tough toddler.  My son had the stomach flu -not once, but twice- since we installed the Safety 1st car seat.  He threw up on the car seat a lot, and it was a widespread vomit that covered a great deal of the seat.  The affected areas included the air cushion head piece, the removable cushion that wraps around the hip area, the cover, the sides, and more. 
As a germophobe, I insist on cleaning most things with antibacterial cleaner, such as 409 spray or Lysol cleaner.  The car seat was no exception.  The removable cushion I was able to put in the washing machine and dryer, and it came out as good as new.  For the other parts that were still attached to the chair, I sprayed it down with 409 and scrubbed it with a damp cloth.  A few spritzes with Febreze fabric refresher were able to take out the leftover odor and the carseat was like new again!  I don't know if the fabric was treated to be colorfast, and I honestly didn't know what would happen to the fabric when I doused it with cleaner.  However, I was pleasantly surprised at the durability and how well it stood up to heavy duty cleaning twice in such a short time period.
The dark colors of the fabric are also great for camouflaging stains from juice spills or snack accidents which your toddler may have. 
In a Nutshell
Overall, I was very happy with the quality and features of the new Safety 1st Complete Air convertible car seat.  The affordable price and crash-tested technology combine to make this car seat the only viable option when purchasing a new car seat for your baby or toddler. 
You can find the Complete Air carseat in Babies R Us, Toys R Us, and other leading stores across the country.  If your favorite store isn't carrying it yet, call their buyer or manager and ask why.  Our babies deserve the extra protection!  I really feel this technology is such a breakthrough that it will mirror the standard integration of airbags into vehicles, and that before long, all car seats will be required to feature Air Protect technology. 
My only request is that Safety 1st incorporate the Air Protect technology into a newborn carseat carrier with a handle and a base.  These are so handy and convenient for newborns and young infants, and I'd love to see the convenience merged with the new safety feature.
The Safety 1st Complete Air convertible car seat is hereby awarded the Home Ever After Quality Seal of Approval!    
–
Safety 1st and Air Protect graphics and logos used with permission by the Safety 1st company.
Disclaimer:  In compliance with the FTC Guides, updated 10/5/09, this article has material connections.  IS World Media (ISWM) received no fees for the writing or publication.  This article is a product review conducted by Danelle Ice and is her honest opinion.  The Safety 1st Air Protect carseat was provided to ISWM at no cost by Safety 1st to facilitate the review process.  ISWM does not endorse the company mentioned above.
We cannot make claims as to the typical results users should expect from this product, as we are trying it for the first time and have no way of knowing other users' experiences.  All claims as the the safety features and the carseat's technology are in reference to Safety 1st's own research and claims and can be found here: http://airprotect.safety1st.com/about.php and http://airprotect.safety1st.com/sideimpact.php.