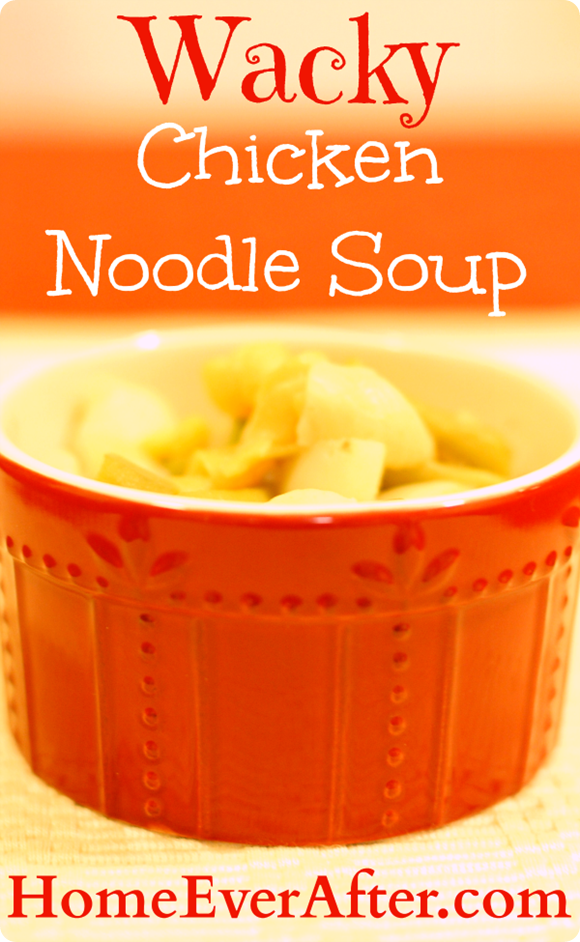 Wacky Chicken Noodle Soup Recipe
Do you ever find yourself wondering what to do with bits of broken pasta that have ended up at the bottom of the spaghetti, macaroni noodles, and other pasta containers?   I created this homemade chicken noodle soup recipe to help make use of these leftover pasta noodles that often get thrown away for lack of a good purpose: Wacky Chicken Noodle Soup!
The name "wacky chicken noodle" comes from the fact that the directions call for Wacky Mac, a brand of veggie pasta noodles that are all different colors, types, shapes and sizes.  Of course, this means your kids will love them because they look so crazy!
If you don't have or want to use Wacky Mac in your chicken noodle soup recipe, you can use the leftover bits of pasta you have or just mix several types of pasta (some bow tie noodles, macaroni noodles, large and small pasta shells, linguine, etc.).
The Wacky Chicken Noodle Soup recipe is an exclusive Home Ever After recipe crafted by Danelle Ice.
Ingredients
1 chicken breast, cooked and cubed
2 small potatoes, peeled and cubed
1 cup frozen okra
2 cups of uncooked Wacky Mac colored pasta (or any mix of leftover uncooked pasta noodles)
4 cups chicken broth
2 cups water
1 15oz. can of corn
Directions for Wacky Chicken Noodle Soup
Fill a stockpot with potatoes, okra, pasta, and corn.
Add broth and water and set heat to high.
Bring the contents to a boil, then reduce to medium heat.
Add chicken breast pieces and stir well.
Cook over medium heat until pasta and potatoes are tender, stirring frequently.
Salt to taste, then remove from stove.
Let the soup sit for 2-3 minutes before serving.
This Wacky Chicken Noodle soup recipe goes great with homemade biscuits cut into fun shapes with cookie cutters!
We originally published our Wacky Chicken Noodle Soup Recipe on Home Ever After on November 30, 2011.