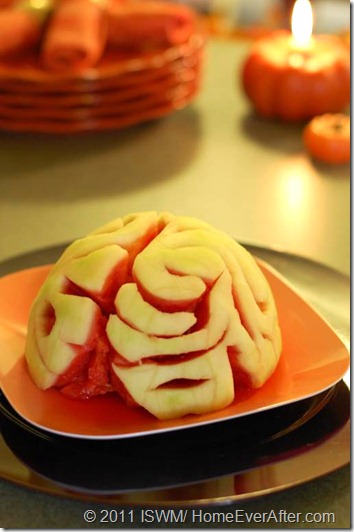 The Watermelon Brain recipe is sure to scare your kids' friends to the bone when they come over for this year's Halloween party!  Be known as the parent that creates the creepiest Halloween foods around by putting together an entire menu of our scary Halloween foods. 
If you think the watermelon brain is way too hard to make, don't worry!  Below, we show you how to make a Halloween watermelon brain carving with our easy to follow step by step instructions. 
In fact, if you can carve a pumpkin into a jack o lantern, you can carve a watermelon brain, because it's a much easier material to work with.
Watch this too:  How to Carve a Halloween Pumpkin into a Jack o Lantern
Where Did the Halloween Watermelon Brain Come From?
The idea of the Halloween watermelon brain has bounced from Halloween party to haunted house to Halloween school carnival from year to year, but the real personalization comes from how you design it and what kind of setting you put it in.
Use your imagination to make the spooky scene appropriate for the setting, but don't shy away from a Dr. Demented lab with scattered body parts or a Frankenstein scene with a big green monster lying in wait for his "brain" transplant!
Think outside the box and get wild with this creepy Halloween recipe! 
We put our Halloween melon brain in a Halloween / harvest setting with orange and purple, and it makes a great centerpiece for a Halloween dinner party.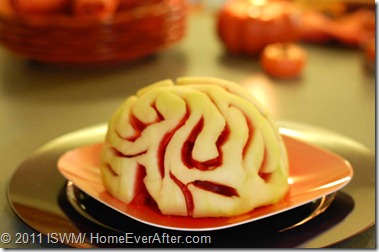 You'll need very few ingredients and tools to make this scary Halloween watermelon brain. In fact, your biggest investment in this spooky project will be the time to design your brain and make it look as real as possible while carving.  Be sure to print out a picture of a real brain before you start so you can make your Halloween carving look as real as possible.
Ingredients for the Halloween Watermelon Brain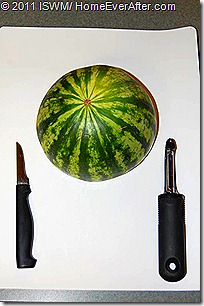 1. Personal size seedless watermelon
2. Potato (or vegetable) peeler
3. Small paring knife (the smaller and sharper, the better)
Directions: How to Make a Halloween Watermelon Brain
1.  Start with a personal size seedless  watermelon. 

Cut it in half so that you have a flat bottom and enough round top to look like the finished brain.

2.  Peel all of the green rind off of the watermelon.  To leave it looking greener, only peel off the top layer. 

For a whiter or more transparent brain, peel off several layers.

3.  Clear all of the shavings into the trash can so you can start carving your watermelon brain masterpiece!

4.  Carve a straight line down the middle of the melon from front to back to be the divider between the 2 brain hemispheres. 

Be sure to make the line wide enough that you can see the separation.

5.  Start carving curving, squiggly lines along your watermelon brain to create the coils of the brain material.  Eww!

The curvier your lines are, the better.  Make the channels deep and wide so that you can see into the pink part of the watermelon (this makes the "brain" look even scarier in the dark with candles nearby).

6.  Finally, you have your finished Halloween watermelon brain!

Now comes the really fun part of deciding how you want to present it.
See?  I told you the Halloween watermelon brain carving was as easy as all that.  Now enjoy your freaky festivities and don't forget to take plenty of pictures of your melon brain before your guests devour it!  If you can't wait to cook more of our disgustingly horrible Halloween munchies, read our full list of Halloween recipes here: Scariest Creepy Halloween Food Recipes.
Love printable recipes? Find more at Tasty Tuesday, Tempt my Tummy Tuesdays, and 11th Heaven!