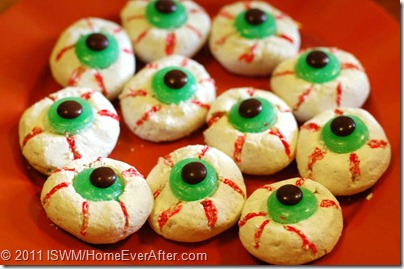 The Halloween Green Monster Eyeballs recipe (made from delicious sweet mini donuts) will delight your children and have them desperate to sneak them away from the Halloween party's preparations to eat them!  This is one plate of eyeballs you don't want to run into on a dark dining room table, that's for sure!
Below, we show you how to make our scary Halloween Green Monster Eyeballs with easy to follow step by step instructions. 
Watch this too:  How to Carve a Halloween Pumpkin into a Jack o Lantern
In fact, this Halloween green monster eyeballs recipe is so easy to follow that you can have your older children (age 4 and up) help you make them.  This also allows you to make a huge batch of spooky Halloween edible eyeballs without spending a lot of time on them!  Recruit your helpers to each do one part of the assembly process: little Suzy can be in charge of putting on all the green Lifesavers and little Johnny can put the M&Ms on top.
If you're adventurous (which I know you are or you wouldn't be here looking for how to make creepy Halloween treats!), make these green monster eyeballs and take them to work. Hide them in small clusters throughout the office and watch people's reactions!  Of course, you should be flattered when your co-workers eventually eat your hideous Halloween concoctions.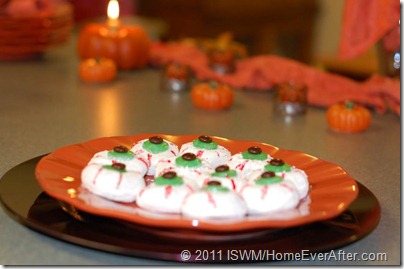 Ingredients for Halloween Green Monster Eyeballs
White powdered mini donuts
Brown M&Ms candies
Green (or blue) Lifesavers candies
1 tube of red cake decorating gel
Several pieces of uncooked spaghetti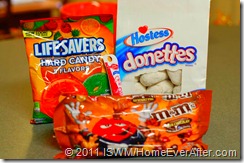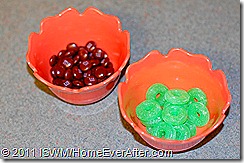 Directions: How to Make Halloween Green Monster Eyeballs
1.  Line a cookie sheet, cutting board, or cake board with waxed paper.

Lay out the white powdered mini donuts with even spacing.  leave yourself enough room to handle and decorate each eyeball (donut).

2.  Place one green (or blue) Lifesaver candy in the middle of each powdered donut.
3.  Push each Lifesaver down into the donut and turn gently to create a depression for the Lifesaver to sink into.

It's okay if this creates small cracks in the donuts – we'll use those later.

4.  Place one dark brown M&M candy on the top of each Lifesaver.  Make sure the M&M logo is face down.


5.  Break a piece of uncooked spaghetti in half and use it to "dig" channels in the eyeball donuts. 

These depressions will hold the red gel for the lines on the eyeballs.

Make as many channels all the way around the eyeball as you would like to color in with red gel.

6.  Squeeze your red cake decorating gel onto the tip of the hard spaghetti stick.
7.  Fill the gel into the channel so that it looks sunken into the Halloween monster eyeball.
6.  Finally, you have your finished Halloween Green Monster Eyeballs to scare and delight your children (and co-workers)!
Your Halloween Green Monster Eyeballs will turn out perfectly!  If you can't wait to prepare more of our terrifying Halloween munchies, read our full list of Halloween recipes here: Scariest Creepy Halloween Food Recipes.
Love printable recipes? Find more at Tasty Tuesday, Tempt my Tummy Tuesdays, and 11th Heaven!