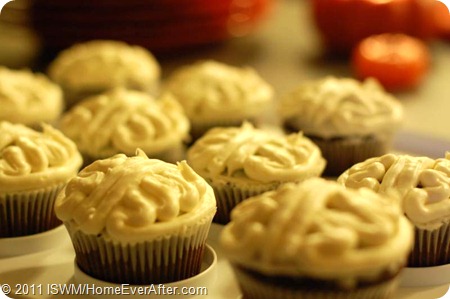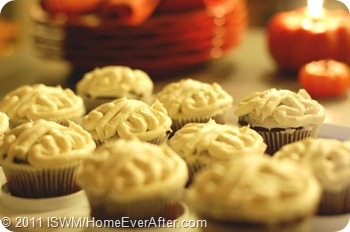 Creepy Halloween Brain Cupcakes
The  Halloween Spooky Brain Cupcakes recipe is hideous and straight out of a horror film's scene of the mad professor's experimental laboratory!
Make your own evil lab this Halloween that will have your kids squirming with delight.  The satisfaction from making truly creepy Halloween food is fantastic!  See our full list of eerie Halloween recipes here: 12 Scariest Creepy Halloween Food Recipes.
These Halloween cupcake brains look very hard to make, but trust me – they're easy.
MAKE IT: Creepy Halloween Recipes: Green Monster Eyeballs (Mini Donuts)
You'll get the hang of it after 2 practice cupcakes (and if you don't, scrape the frosting off with a butter knife, put it back into your piping bag, and re-frost them again for more practice).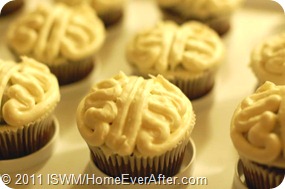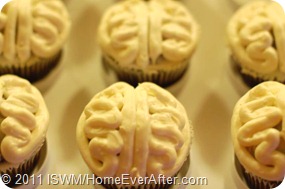 Below, we show you how to make the Halloween Spooky Brain Cupcakes with our easy to follow step by step instructions.  Make sure you have all you materials ahead of time and start when you have the patience to learn a new skill!
MAKE IT: Creepy Halloween Recipes: Lifelike Rabid Rats (Twinkies)
Our Halloween brain cupcakes not only look professional and expensive, but they also taste scrumptious.
Yield: 2 dozen (24) cupcakes

Prep Time: 5 minutes

Cook Time: As directed on cake mix package

Decorating Time: 20 minutes
Ingredients for Halloween Spooky Brain Cupcakes
Chocolate cupcake mix
Vanilla or cream cheese cake frosting
Tools needed:
Cupcake pan
2 dozen cupcake papers
Piping bag
Cake decorating tip, size 12
Directions: How to Make Halloween Spooky Brain Cupcakes
Check out the pictures below which show exactly how to create a brain on top of your cupcake out of white frosting.
| | |
| --- | --- |
| | 1.  Line cupcake pans with cupcake liners. |
2.  Bake chocolate cupcakes as directed on package.
3.  Allow cupcakes to cool completely.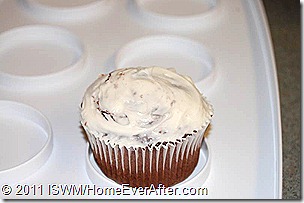 4.  Lightly frost each cupcake with a thin layer of frosting.  This can have cupcake showing through since it is just a quick crumb coat.
5.  Cut the tip off of a disposable piping bag and insert a size 12 tip.  Fill the bag half full of icing.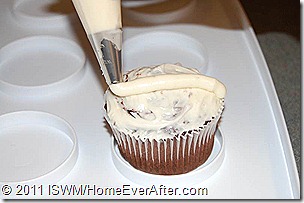 6.  Begin to pipe slow and steady.  Start in the middle of the cupcake and draw a straight line from front to back.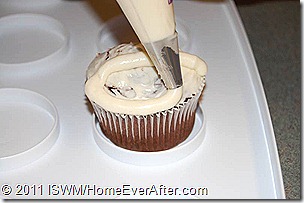 7.  When you get to the back of the cupcake, round the corner and draw the outside of the circle.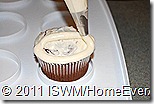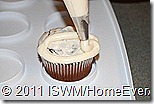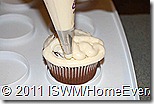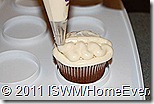 8.  Bring your frosting line back to the starting point, but don't stop there.
You'll now be making small squiggly lines up and down all the way across the cupcake.
9. When you come to the end, slowly stop squeezing and lift the bag away from the cupcake to end the frosting line.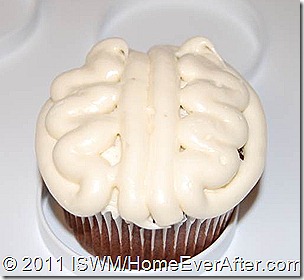 10.  When finished with the first half, repeat the same process for the second half.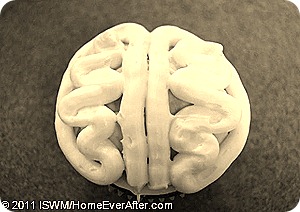 11.  Finally, you have your finished Halloween Spooky Brain Cupcakes!
Our Halloween Spooky Brain Cupcakes are frighteningly fantastic!  Not only that, they also look difficult and expensive (everyone will think you either hired a professional cupcake decorator or purchased the brain cupcakes from a specialty bakery).
VIDEO: How to Carve a Halloween Pumpkin into a Jack o Lantern
Now enjoy your freaky festivities and don't forget to take plenty of pictures of your melon brain before your guests devour it!
If you can't wait to cook more of our disgustingly horrible Halloween munchies, read our full list of Halloween recipes here: Scariest Creepy Halloween Food Recipes.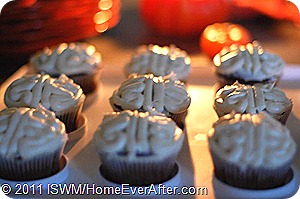 Love printable recipes? Find more at Tasty Tuesday, Tempt my Tummy Tuesdays, and 11th Heaven!