How to Make the Halloween Pumpkin Patch Oreo Chocolate Cake
Want a spooky Halloween cake that's good enough to eat?  Our Halloween pumpkin patch Oreo chocolate cake was created exclusively for Home Ever After by Danelle Ice.  This Halloween cake recipe is a great family baking and craft project that can be done with your kids to wow your Halloween party guests!  This is also a great Halloween treat to bake and take in to your child's classroom for their Halloween party.
Feel free to print this recipe now using the printer icon at the top left of this article and add it to your Halloween recipes cookbook.
This was a super fun Halloween recipe to make, and my thanks go out to my helper and daughter, Hannah, for helping with the pumpkin assembly.  Thanks also to my husband, Michael, for the staging, lighting and final photography.  Now, here are the instructions you'll need to bake and assemble your very own Halloween pumpkin patch Oreo chocolate cake!
Cooking Ingredients Needed
1 box of chocolate cake mix
1 can of chocolate cake frosting
Cooking spray
1 bag of Oreo (or Great Value Twist & Shout) cookies, preferably with chocolate filling instead of white centers
Eggs, vegetable oil, and water as directed in cake mix
11×9 clear glass baking dish
Meat tenderizer
Paper towel
Craft Supplies Needed
Popsicle sticks (also called craft sticks)
Orange, green and brown construction paper
Orange, green and brown felt
Markers
Pipe cleaners
Craft glue, Elmer's glue, or glue stick
Scissors
Glitter
Directions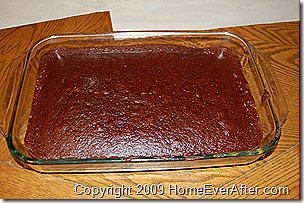 1.  Bake the cake.  Bake your chocolate cake according to the directions on the box.
 2.  Allow cake to cool thoroughly.  Do not remove from glass baking dish.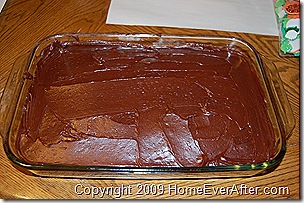 3.  Frost the cake.  Once your cake has completely cooled, you're ready to ice the cake.
When applying the frosting, try to make the surface as level as possible, especially paying attention to fill extra icing into the edges where the cake may have pulled away from the baking dish.
4.  Crush the Oreo cookies into cookie crumbs.  Next, you need to turn your package of Oreo cookies into the crumbs that will form the "ground" in your Halloween pumpkin patch.  The easiest way to crumble Oreo cookies, since they have a sticky filling in the center, is as follows: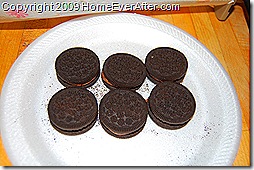 Line up Oreo cookies in a single layer on a plate.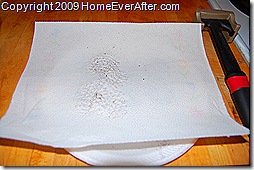 Cover the Oreos with a single layer of paper towel or napkin.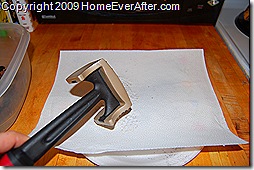 Using the side of the metal meat tenderizer (not the ends with points, but the flat side), gently but firmly smash the cookies through the paper towel.  After finished, removed the paper towel and gently pull the pieces apart with your fingers into chunks.
The icing will hold sections together to give the appearance of "dirt" for your Halloween pumpkin patch.
The finished Oreo cookie crumbs will look like this: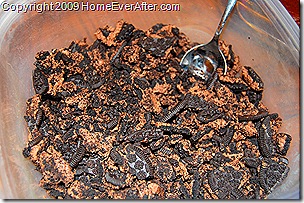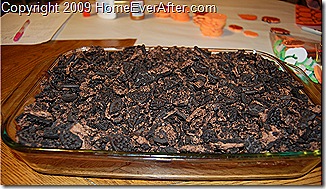 5.  Make the "ground" on your cake.  To create the appearance of soil for the ground of your Halloween pumpkin patch cake, next you need to sprinkle the Oreo cookie crumbs on top of the icing.
You want a solid covering from corner to corner so that no icing is showing through.  This will allow you to hide the popsicle sticks when arranging your pumpkins.
6.  Create the pumpkins.  We were able to use foam glittery pumpkins with sticker backs that were purchased at Walmart in the craft section for our pumpkin patch.  However, you can easily make your own pumpkins out of construction paper, felt, pipe cleaners, markers and popsicle sticks.
To make pumpkins from foam stickers: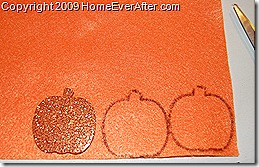 First, trace the outline of your foam pumpkin shapes on orange felt and cut out the pieces.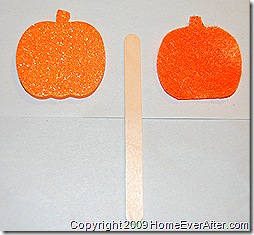 What you'll have when assembling each pumpkin are a foam shape, an identical felt shape, and a popsicle stick.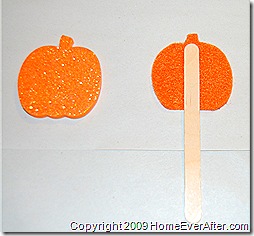 Lay the felt piece flat on the table.  Place a popsicle stick in the center, as high up the pumpkin as possible.
Next, peel the adhesive back off of the pumpkin sticker and press firmly onto felt and popsicle stick.
Your finished pumpkin will look like this from the back: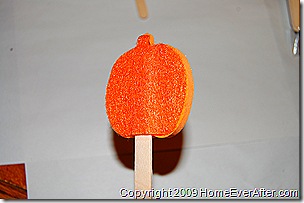 To make pumpkins from construction paper:
If you don't have premade foam pumpkin stickers, you can still make this Halloween pumpkin patch chocolate cake using construction paper for your pumpkins.  It takes a little more time, but can be a great project for you and your kids to do together.
Follow the steps above for making foam pumpkins, only first, draw  and cut out a shape from construction paper to use as your "model" pumpkin.  Once you are satisfied with its size and shape, trace the pumpkin onto construction paper over and over again, then cut out the pumpkins.  On the front of the construction paper pumpkins you can use glue and glitter to create the shimmery effect we used, or just use markers to decorate pumpkins or draw on jack o lantern faces!
Pumpkin stems can be made out of either colored construction paper or pipe cleaners.  To use a pipe cleaner, simply arrange it at the top of the pumpkin before gluing the felt on to the back of the construction paper.
7.  Put your pumpkins in the pumpkin patch!  The last step is the most fun.  One at a time, take each pumpkin and firmly press the popsicle stick into the cake.  You can insert them straight up and down or at an angle for a more realistic look.  We also made a few trees for the back of our Halloween pumpkin patch cake, as well as some leaves to sit on the "ground" next to the pumpkins.  Using smaller pumpkins is a great way to add variety in the front of your cake.  When making small pumpkins and leaves, make sure to break the popsicle sticks in half so they can sit lower.
8.  Eat and enjoy!  Make sure to remove the pumpkins, trees, and leaves before cutting the cake into pieces.  If you choose to leave them in place, make sure to let guests know that the toppings are not edible!
Every finished Halloween pumpkin patch chocolate cake will look different.  Here is the way ours looked when assembled: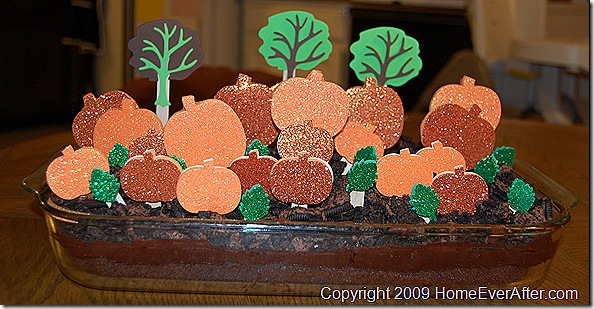 My favorite photo of the Halloween pumpkin patch Oreo chocolate cake is below.  We staged it with prelit ceramic buildings from our Halloween village, as well as a few pumpkin accessories.
We hope you have as much fun as we did assembling this pumpkin patch Oreo chocolate cake.  If you make one, be sure to send us a photo.  Your cake picture could appear in next year's Halloween edition of Home Ever After.
Halloween Pumpkin Patch Cake was originally published on HomeEverAfter.com on October 30, 2009. 
Find more cooking articles at Tasty Tuesday, Tempt my Tummy Tuesdays, and Homemaker Mondays.
Happy Halloween!