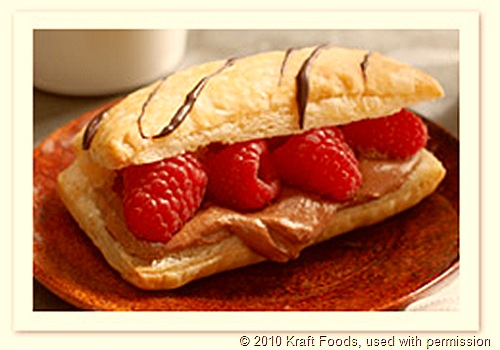 Recipe: Chocolate Raspberry Napoleons
Part breakfast pastry, part decadent dessert,  this Chocolate Raspberry Napoleons recipe was designed for Home Ever After readers by the creative culinary team at Kraft Foods.  Melt-in-your-mouth puff pastry layered with chocolate and raspberries makes this recipe an impressive addition to your brunch dessert tray.
Prep Time: 25 min. | Total Time: 40 min. | Makes: 12 servings.
Ingredients
1 sheet frozen puff pastry (1/2 of 17.3-oz. pkg.), thawed
7 squares Baker's Semi-Sweet Chocolate, divided
1 cup whipping cream
6 oz. (3/4 of 8-oz. pkg.) Philadelphia Cream Cheese, softened
1/2 cup powdered sugar
1 pkg. (6 oz.) fresh raspberries (about 1-1-/2 cups)
Directions
Heat oven to 400ºF.
Unfold the pastry sheet on lightly floured surface; cut along fold lines into 3 rectangles.
Cut each rectangle crosswise into 4 smaller rectangles; place on baking sheet.
Bake 15 minutes or until golden brown.
Remove to wire racks; cool completely.
Melt 6 chocolate squares as directed on package; set aside.
Beat whipping cream in medium bowl with mixer on high speed until soft peaks form.
Beat melted chocolate, cream cheese, and powdered sugar in large bowl with mixer on medium speed until well blended.
Whisk in whipped cream.
Split each pastry rectangle in half.
Spread each bottom half with 3 Tbsp. chocolate mixture.
Cover with raspberries and pastry tops.
Melt remaining chocolate square; drizzle over pastries.
Nutritional Information
Sweets can be part of a balanced diet but remember to keep tabs on portions. To make this recipe in the version with alcohol, add 2 Tbsp. raspberry-flavored liqueur to the mixture.  Nutritional information counts the liqueur as part of the recipe.
Nutrition Information Per Serving: 350 calories, 25g total fat, 13g saturated fat, 45mg cholesterol, 110mg sodium, 28g carbohydrate, 3g dietary fiber, 15g sugars, 4g protein, 10% DV vitamin A, 6% DV vitamin C, 4% DV calcium, 6% DV iron.
Read more of our easy recipes before you go.  We originally published Recipe: Chocolate Raspberry Napoleons on Home Ever After on December 19, 2010.