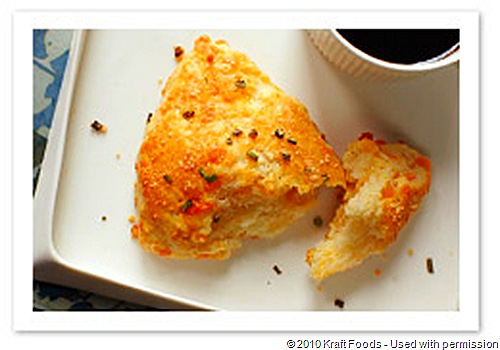 Recipe: Cheddar & Sour Cream Scones
Perfect for your holiday Sunday brunch menu is our Cheddar & Sour Cream Scones recipe designed for Home Ever After readers by the fantastic chefs at Kraft Foods.  Serve the cheddar & sour cream scones warm and tender straight from the oven at brunch. Leftovers are the perfect vehicle for ham and cheese the next day.
Prep Time: 15 min. | Total Time: 27 min. | Makes: 10 servings.
Ingredients
2 cups flour
1 tsp. cream of tartar
1/2 tsp. baking soda
1/2 tsp. salt
1/4 cup cold butter, cut up
1 cup KRAFT Shredded Sharp Cheddar Cheese
1/2 cup BREAKSTONE'S or KNUDSEN Sour Cream
1/3 cup milk
1 egg, beaten
3 Tbsp. KRAFT Grated Parmesan Cheese
1 Tbsp. minced fresh chives
Directions
1.  Heat oven to 450ºF.
2.  Mix the first 4 ingredients in large bowl. Cut in butter with pastry blender or 2 knives until mixture resembles coarse crumbs.
3.  Stir in cheddar.
4.  Make a well in the center of flour mixture. Mix sour cream and milk. Add to flour mixture; stir with fork just until moistened.
5.  Spoon onto parchment-covered baking sheet; pat to 10-inch circle.
6.  Cut into 10 wedges. Gently separate wedges; brush with egg.
7.  Sprinkle with combined Parmesan and chives.
8.  BAKE 10 to 12 min. or until golden brown. Serve warm.
Creative Leftovers
Brown bag lunch leftover:  Store leftover scones in airtight container at room temperature. Split in half. Fill with Oscar Mayer Deli Fresh Shaved Smoked Ham and Kraft Deli Fresh Cheddar Cheese Slices and serve as part of your lunch the next day.
Nutritional Information
Enjoy your favorite foods while keeping portion size in mind!  Nutrition Information Per Serving: 220 calories, 12g total fat, 7g saturated fat, 55mg cholesterol, 370mg sodium, 21g carbohydrate, less than 1g dietary fiber, 1g sugars, 7g protein, 8% DV vitamin A, 0% DV vitamin C, 15% DV calcium, 8% DV iron.