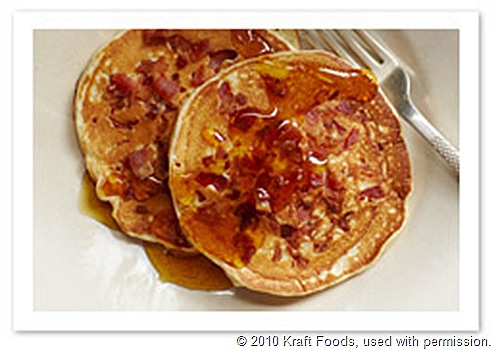 Recipe: Bacon Pancakes with Warm Orange-Maple Syrup
An interesting twist on breakfast comfort food,  the Bacon Pancakes with Warm Orange-Maple Syrup recipe was formulated for Home Ever After readers by the talented chefs at Kraft Foods.  Drizzle the warm syrup over these pancakes and serve with fruit on the side or a yummy fruit salad.
Prep Time: 20 min. | Total Time: 30 min. | Makes: 8 servings.
Ingredients
2 eggs
1-1/4 cups milk
1 cup Breakstone's or Knudsen sour cream
2 Tbsp. oil
2 cups flour
3 Tbsp. sugar
1 Tbsp. baking powder
1/2 tsp. salt
12 slices Oscar Mayer bacon, cooked, finely chopped
1 cup maple-flavored or pancake syrup
2 tsp. orange zest
Directions
Heat large skillet sprayed with cooking spray on medium heat.
Whisk eggs, milk, sour cream and oil in large bowl until well blended.
Mix next 4 ingredients. Add to egg mixture; whisk until well blended.
Ladle batter into hot skillet, using 1/4 cup batter for each pancake.
Sprinkle each with about 1 Tbsp. bacon.
Cook 3 min. or until bubbles form on top, then turn to brown other sides.
Mix syrup and zest in microwaveable bowl.
Microwave on HIGH 1 min. Stir.
Strain into pitcher. Serve with pancakes.
Variations
Prepare using 1 cup each all-purpose flour and whole wheat flour.
Nutritional Information
Nutrition Information Per Serving: 410 calories, 15g total fat, 6g saturated fat, 90mg cholesterol, 590mg sodium, 58g carbohydrate, less than 1g dietary fiber, 34g sugars, 10g protein, 6%DV vitamin A, 0%DV vitamin C, 20%DV calcium, 10%DV iron.
Read more of our easy recipes before you go.  Recipe: Bacon Pancakes with Warm Orange-Maple Syrup is linked to Tempt my Tummy Tuesdays, Tasty Tuesday, and 11th Heaven.