Printable Housekeeping Cleaning Checklists: Kitchen
So many readers have asked, "Where Can I Get Lists of Housekeeping Tasks to Keep my House Clean?"
To help with setting up effective housekeeping plans, I made available my new series: Printable Housekeeping Checklists – Forms for Your Life.  The best part is, these printables are yours for FREE! 
Print this housekeeping checklist now:  How To Clean the Kitchen Checklist
As you go through the list, you'll notice that we clean any room from top to bottom, starting with the highest point and leaving the floors for the last.  The kitchen cleaning checklist incorporates the dining room, which you can put on a separate list if it is not part of the kitchen.
Every house is different, and not all the tasks on our lists will apply to every home.  However, this will give you a great starting point to get your house into shape and customize your own housekeeping plan.  There are even blank lines at the bottom to add in tasks specific to your home.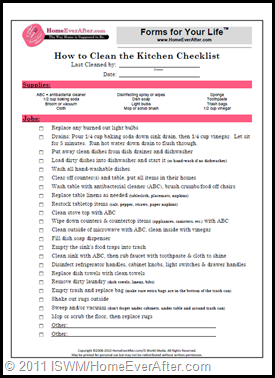 Click on the picture at left to print the How To Clean the Kitchen Checklist.
I recommend printing the checklist then laminating it so it can be used over and over with a dry erase marker.  If you do not have a laminator, you can just print multiple copies.
Our checklists make it easy to delegate housekeeping chores to family members.  If you've ever assigned someone to clean the kitchen and then been asked, "How do I clean the kitchen?," you will see that this checklist is justly named!
Take your children and/or spouse through the list step by step, explaining and demonstrating each job.  Hang the checklist in an accessible place in the room.  (Clipboards work very well for this purpose.)  Insist that the name and date is filled out at the top of the list and each item is checked off by the person cleaning the room.
For the first few times you'll be double checking that each task was completed and done properly, but practice makes perfect.  Our lists ensure that the job will be done the same way every time and no tasks will be missed or forgotten.
You'll never again wonder when a room was last cleaned, and you won't hear "How do I clean the bathroom?" anymore!
Need more help setting up a plan to manage your housekeeping?  Check out our great materials for homemakers: How to Set Up a Housekeeping Plan.
We originally published the Printable Housekeeping Cleaning Checklist: Kitchen on June 16, 2008.  It's been updated since then, so we thought we'd remind everyone to get theirs printed today!