There are certain helpful gadgets and tools that every family needs for their children, parents, and home to keep things running smoothly and efficiently.  Lucky for you, we try everything first so that you don't have to get stuck buying products that don't pull their weight and earn their place in your home.
In preparation for the Black Friday sales, we've got a lineup of tons of handy gadgets that you might want to pick up for your family and home during your discount shopping.
Pre-Black Friday Review Lineup: 14 Must-Haves for Family and Home
1.  Filtrete Water Station.
Review: 3M sent me the Filtrete Water Station water filtration system to check out and I have to say it's not only green, it's just plain cool!  I love that it reuses the same water bottles that can be washed in the dishwasher.  The water filter is good for 3 months, and you can even sign up at their site for automatic reminders to change your filters.
The Filtrete Water Station is a great family Christmas gift for a busy family with kids that are constantly on the go.
Buy the Filtrete Water Station at Amazon for about $37.44 with free super saver shipping.
2. 3M Metallic Coated Command Hooks.
Review: I was sent a metallic coated command hook from 3M to try out, and I love it.  You might remember that I vowed to only use command hooks in my new house instead of putting holes in the wall.  This led me to hang my Christmas stockings with command hooks and my Valentine's Day mail boxes with command hooks.
I love these hooks because they are each weight rated for how many pounds they can hold.  Also, with different designs and finishes, you can match them to your home's décor in any room.
Buy the 3M Command hooks at Amazon.
3. Cuddle Care Stroller Blanket.
Review: This fantastic convertible stroller blanket is a great idea for babies in cold climates this winter.  It converts from a blanket to a sleeping bag to an in-stroller or in-car seat blanket cover.  the extra pocket at the bottom doubles up to keep legs and feet warm, and the blanket zips up so it won't fall out as baby moves.
Cuddle care stroller blanket is available at Babies R Us.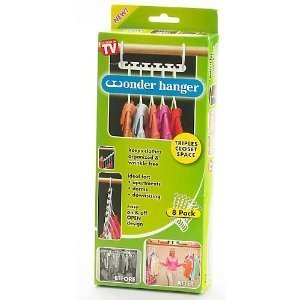 4. Wonder Hanger (as seen on TV).
Review: You know I'm a huge infomercial fan, but I didn't see Wonder Hanger on TV.  A local store had them in the home organizing section and I thought I'd put them to the test making extra room in our closets.
They work wonderfully and are durable (holding my husbands bigger clothes and my babies' tiny clothes).  I use them in every closet in my home ( I know, a closet organization breakdown is in the works!).
Buy the Wonder Hangers 8-pack on Amazon for about $7.5.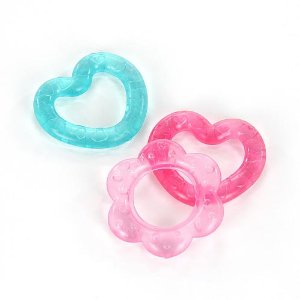 5. Bright Starts Chill & Teethe baby teethers.
Review: These "coolies" as my family calls them are fantastic for chilling in the refrigerator for a teething baby.  The clear plastic is textured and soft enough to chew on while providing resistance.
Hook them onto your stroller bar or shopping cart bar with linky doos so they don't get lost in the store while shopping with baby!
Buy the Bright Starts Chill and Teethe 3-pack at Amazon for about $3.99 with free super saver shipping.
6. Jokari Gift Wrap Organizer.
Review: This hanging plastic gift wrap organizer is a handy tool to keep your present wrapping supplies handy, but out of the way, all year long.  Each side (front and back) has organizational pouches on it, including long ones to hold full rolls of gift wrap on both the right and left sides.
This gift wrap organizer hangs in my spare coat closet and is out of sight, out of mind until I need to wrap a gif.
Buy the Gift Wrap Organizer on Amazon for about $24.08 with free super saver shipping.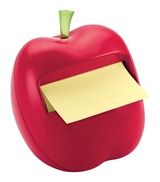 7. Post It Apple pop-up note dispenser.
Review: This apple post-it note dispenser just happens to match the apple décor in my kitchen, so guess where I'm putting it?  Right next to the phone on the kitchen counter as a stylish way to take down quick messages!  It's weighted with something noisy (sand? beans? pebbles?) so that it stays on the counter when you pull out a sticky note.  I love it!
This would make a great present for a teacher's desk for Christmas.
Buy the Apple Post-It pop up dispenser on Amazon for about $8.99 with free super saver shipping.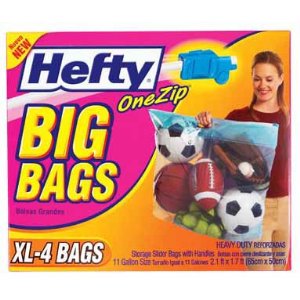 8. Ziploc Big Bags.
Review: I use Ziploc big bags for everything from extra toy storage to sleeping bag storage to hand-me-down clothes.  They are durable and last for years!  I use size XL and XXL to fit a variety of items.
Buy Ziploc big bags at Amazon for about $10 with free super saver shipping.
9. Fisher Price Healthy Care Deluxe Booster Seat.
Review: This booster seat is fantastic and you can just tell it was designed by parents!  All of the important parts that get dirtiest and need full cleaning and sanitizing are removable.  That's right, folks, you can remove them and put them in the dishwasher to kill the germs!  (You can put a lot of things in the dishwasher that you wouldn't expect.)
The tray has a food cover that comes off, plus a carrying cover because the seat is portable.  All of the trays can go in the dishwasher.  It's also portable so you can fold it up and take it to a restaurant and not worry about the germs on their high chairs.
This is the perfect booster seat for an older baby or toddler – we've used it for 2 kids so far and love it!
Buy the Fisher Price Healthy Care Deluxe Booster Seat on Amazon for about $21.97 with free super saver shipping.
10.  Kidswitch light switch extension.
Review: This extender is the perfect way to let your little "big helper" turn on and off the light switches by him or herself!  The KidSwitch extender is 14" long, fast and easy to install of an light switch, and it even glows in the dark (so a child can see it in the dark for a nighttime bathroom break).
We installed this when our son was about  years old and it worked like a charm.  He felt like such a big boy!
Buy the Kidswitch 3-pack on Amazon for about $19.95 with free super saver shipping.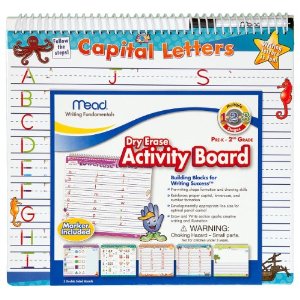 11. Mead letters and numbers dry erase activity board.
Review: This dry erase flip board is perfect for young homeschoolers or just an eager-to-learn toddler getting started with pre-k basics.  It is designed for age pre-k through 2nd grade and is great for repetitive handwriting practice without using up a lot of paper.
Buy the Mead Letters and Numbers Dry Erase Board for about $8.49 with free super saver shipping.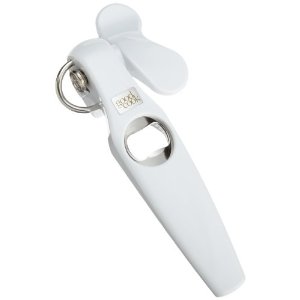 12. Quattro Safe Cut can opener.
Review: When I first saw this can opener, I couldn't imagine how it could really open a can without leaving a sharp edge.  However, it really works and makes it possible for my little cook helpers to throw away can lids for me!
Buy the Good Cook Classic 4 in 1 Can Opener for about $18.13 with free super saver shipping.
13. Safe T Shapes decorative bath tub appliques.
Review: These decorative appliques (we tried the dolphins) add grip to the bottom of any slippery tub to keep your little ones from sliding on the wet surface.  Unfortunately, if you do a lot of baths they only last about a year before the surface starts to peel off.  Still, at about $4 a pack we consider that a pretty good lifespan.
Buy Safe T Shapes with free super saver shipping.
14.  Mr. Clean Magic Eraser.
Review: There's no better way, in my experience, to take off crayon marks from places they shouldn't be (walls, furniture, high chair tables).  I use the Mr. Clean magic eraser almost daily with 3 kids under 4 years old and coloring everywhere!
Mr. Clean Magic Erasers are available at Amazon and grocery stores and mass retailers everywhere.
Disclaimer:  This article has material connections.  IS World Media (ISWM)received no fees for the writing or publication of this article.  This article is a product review written by Danelle Ice and is her honest opinion.  Review copies of items #1, 2, and 7 were provided by 3M and #14 by Febreze to ISWM at no cost to facilitate the review process. This post contains affiliate links and readers may assume that HomeEverAfter.com receives compensation when affiliate links are used.