Review: Pocoyo Swiggle Traks
Recently I tested out the Pocoyo Swiggle Traks
set.  Since my son loves train sets and Pocoyo, I figured this toy racecar set with an adjustable track would be the perfect toy for him!
I'm planning to give the Pocoyo And Friends Swiggle Traks Feature Track With Bridge
to my son as a Christmas present, so I had to try it out myself to see how well the features worked. 
Pocoyo Swiggle Traks: The Good
We've had train sets in the past with my oldest daughter, and I found that they didn't get played with very much because they track mostly made one predictable shape. The curved pieces and switch pieces were hard and permanent. 
The Swiggle Traks are very small pieces, as you can see below, and they are all identical in size and shape.  Because of the way they fit together, they bend back and forth to curve and flex.  This feature is a huge benefit, because it means your child can configure this track into several different layouts.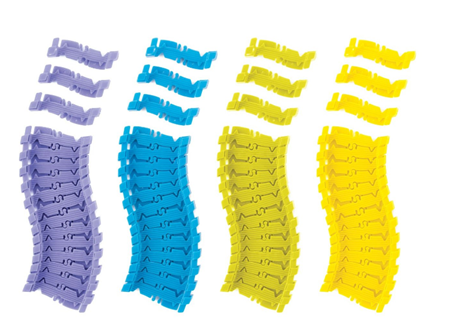 The tracks also come in 4 different colors: purple, blue, green, and yellow, so your kids can keep the color sections together or mix and match for a rainbow look.
The moving bridge piece is shown below right.  The racecar with Pocoyo inside takes 2 AAA batteries so that he can zoom around whichever track your child has made.
The tracks can be configured into a racetrack with the bridge (pictured at top), SwiggleStunt circle (pictured below left), and the SwiggleWheel (pictured below center).
I am certain that the SwiggleWheel will be my son's favorite because he saw them create it on the Pocoyo television commercial and loved it!  The SwiggleWheel looks like a hamster ball for Pocoyo's car to drive around in.  There is also a blue ball that comes with the Swiggle Traks set that can go on the track for Pocoyo to chase over and over!
Pocoyo Swiggle Traks: The Bad
Unfortunately, the Pocoyo Swiggle Traks
individual track pieces are a little hard to snap together.  I know for my 4 year old, they would be too hard for him to put together on his own and mom or dad will end up helping with assembly!
I would like to see accessories and add-ons available to purchase.  I was hoping we could buy an extra set of tracks to make it longer or make more configurations.  It would also be nice to have other friends from the Pocoyo show in cars so they could race.
Pocoyo Swiggle Traks: Take It or Leave It
The Pocoyo And Friends Swiggle Traks Feature Track With Bridge is a fantastic toy that I can't wait to wrap up for my son for Christmas!  I know he'll be begging to bring his Pocoyo in the racecar with him while he watches Pocoyo during TV time!
All in all, Pocoyo Swiggle Traks
is a fun toy with a really cool take on the old standby train set toy.  Plus, for preschooler fans of Pocoyo, it's just what they love!
—
Disclaimer:This article has material connections.  IS World Media (ISWM) received no fees for the writing or publication of this article.  This article is a product review written by Danelle Ice and is her honest opinion.  A Pocoyo Swiggle Traks set was provided to ISWM at no cost to facilitate the review process. This post contains affiliate links and readers may assume that HomeEverAfter.com receives compensation when my referral links are used.