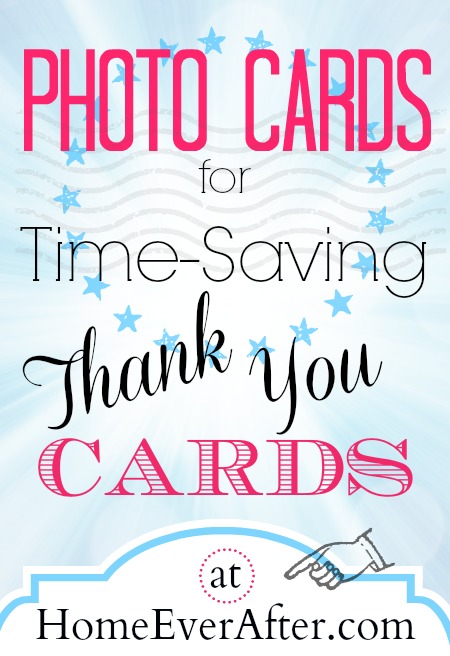 Home Ever After time management tip of the day: Use photo cards for time-saving thank you cards.  Receiving gifts from parties (baby showers, wedding showers, graduations, birthday parties, etc.) is always fun!  However, if you are the guest, the tons of gifts you get come with time-consuming responsibilities: tracking and thank you cards.
Keeping a list of who gave the gifts, cards and cash is a job no one wants to be in charge of during the party!  If you don't have this all-important list, you won't be able to write thank you cards to show your appreciation to the gift-givers.
Even if the person logging the presents is doing a great job, things can go wrong.  They may have to leave to go to the bathroom and miss some items.  They may get some gifts mixed up and write down that a gift was from the wrong person.  The bottom line is, there may be mistakes or omissions in the party gift list that make writing personal thank you cards a headache.
Thank you cards can take a lot of time to write out, address, stamp, and mail. When I had my baby shower, each gift basket or bag was filled with multiple items. In each card I tried to mention as many specific items as possible, because I wanted the giver to know how much I liked everything. However, writing those cards was an enormous project which had to broken down over WEEKS!
Use Photo Cards for Time-Saving Thank You Cards
Solution:  Before you leave your event, gather all the presents, stand behind them and have your photo taken. Use your photo for the front of a custom photo card.  These can be ordered from Walmart or other online photo retailers and are inexpensive.  Write a heartfelt thank you verse for the back side of the card when you place your order.  The front of the photo greeting card will be the picture of you at your party with all the gifts.
When the photo cards are ready, you'll be able to handwrite a quick thank you, include the guest's name, and sign it.  Since all the gifts are pictured on the front, there is no need to mention the specific items you were given by each person.  Plus, everyone likes to see the gifts that other people gave too!
You save the valuable time of having to hand-write each item you were given in your thank you cards and the gift-givers will know how much you appreciated their gifts.  Plus, you'll avoid any embarrassing mistakes from the gift list, like mixedup gifts.
Save time at your next party by using photo cards for time-saving thank you cards!
We originally published Photo Cards for Time Saving Thank You Cards on Home Ever After in 2008.