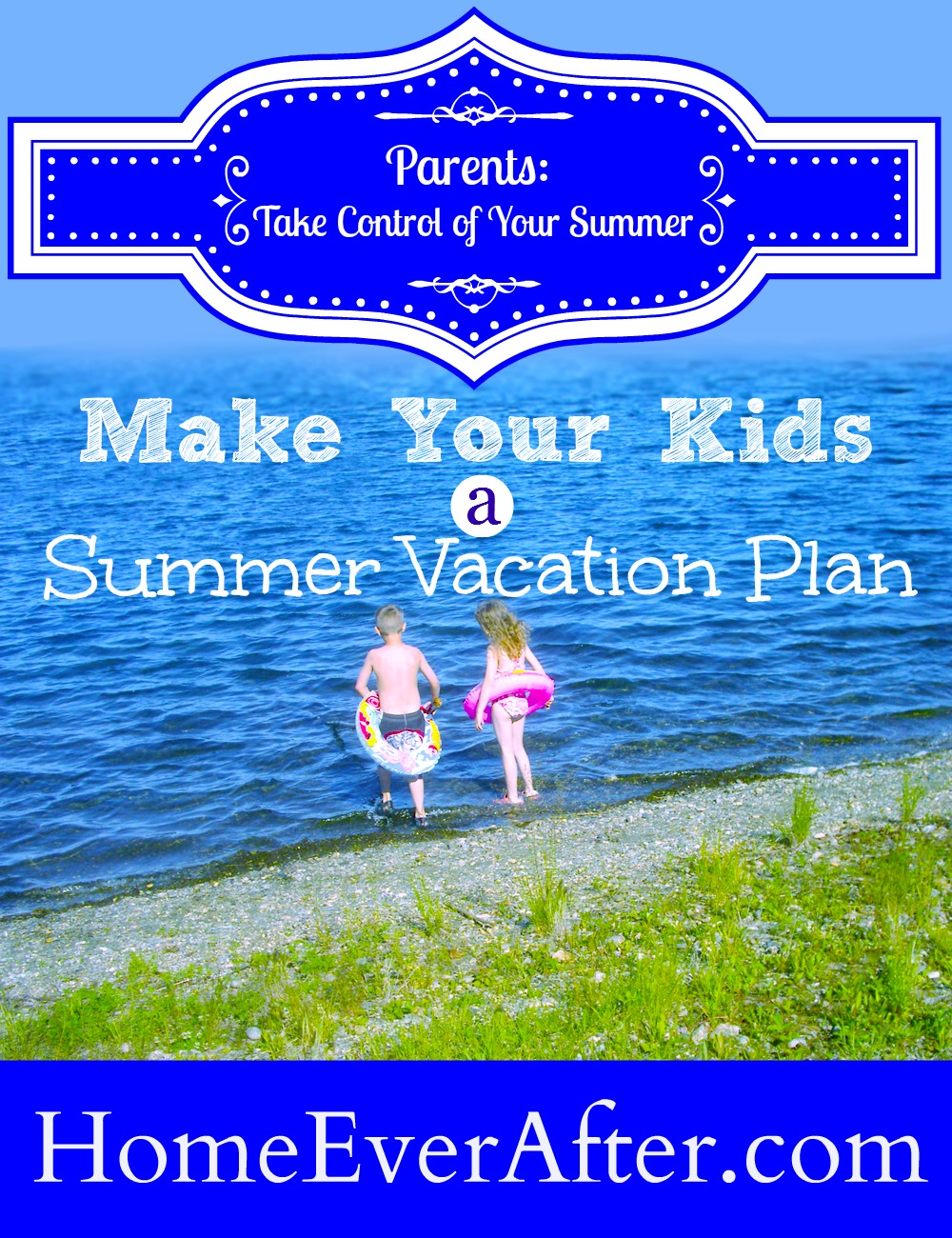 Going into summer vacation with the idea that your kids have free reign and can fill their own time is a huge mistake.  You need to make a summer vacation plan.  There are essentials that will keep your children occupied, entertained, educated, and earning their keep over summer break.  Remember that it's your house, your summer, your life, and your schedule.  Mostly, remember that they are the kids and you are the parent – which means it's your responsibility to keep them on the right track over summer vacation.
If you're filled with the dread of how to keep your kids entertained all summer vacation long, you're not the first parent to feel that way.
Maybe you get tired of your kids staying up late and sleeping in until the afternoon all summer long.  Maybe you're disgusted by the disaster area your house becomes when the kids are home all day.  Maybe you just get irritated as they sit around watching TV or playing video games for hours on end.
Long days and idle time are not a good mixture when it comes to kids and summer vacation if you aren't prepared.  It's time to get your summer vacation plan made and take control of your summer.
Make a Summer Vacation Plan for Your Kids
First, pretend you have all the time in the world with your kids each day.  In 24 hours a day with your kids, you'd have enough time to teach them anything you wanted, do any craft project with them, have them learn any subject or skill, or go on any outings you feel are fun or interesting.
Next, realize that you DO have that much time (because school is out for summer break)!  You can completely design the day-to-day life you want your family to have and your kids to experience.
Remember to plan in free time and play time for the kids to veg out too.  All things in moderation is the key here, especially if you don't want the summer to pass by as wasted time that the kids will later complain about when they go back to school.  ("My summer was so boring!"  and "Summer was so lame – there was nothing to do…")
A Summer Vacation Plan Doesn't Have to Be About Boring Textbooks
Being deliberate with how you use your summer vacation time doesn't mean you have to do detailed lesson plans and be glued to textbooks while it's warm and sunny outside.  To the contrary, think about all the outdoor summer things you wish you had time to do during the school year.  Now you CAN do them!
If you've always wanted to check out old west ghost towns you've seen in movies, get the kids out of the house and plan a weekend roadtrip to check out some historical ghost towns!
If you love hanging poolside, get a summer pass to a nearby waterpark so the the kids can get sun, exercise and swimming practice while you read a good book in your beach chair.  Maybe bicycling becomes a weekly activity for you and the kids.  Scavenger hunts for nature items or insects might be in your top ten plans.  Maybe you vow to try a new recipe every night for dinner for the whole summer.  Maybe you want your kids to learn to cook those recipes!
The point is that every family will have different activities which show up on their summer vacation plan which reflect your priorities and your ideas of fun.  Are you ready to plan your summer vacation so that you can look back on with a sense of accomplishment?
Next, read the 9 essential activities for your kids' summer vacation plan, where we teach you how to make a summer vacation plan for your kids.
 We originally published Parents Take Control of Your Summer – Make the Kids a Summer Vacation Plan at Home Ever after on May 19, 2010.