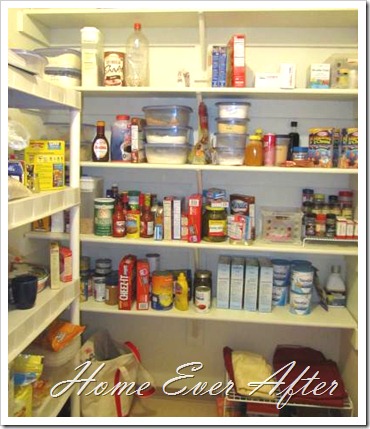 You know I recommend doing frequent grocery shopping fasts during which you don't buy any new groceries and simply use up everything you have on hand.  This is called using up the pantry or the pantry challenge, and if you haven't done it before, it's about time you started!
We've vowed to use up the last of our pantry stockpile to start off the new year (which I'll admit is pretty meager at this point) before we buy any new groceries.  The exceptions to this off-limits grocery shopping are milk, baby food, baby formula, and diapers.
Most of the time we only do a pantry challenge for about 2 weeks, but other times I challenge both my family and our readers to see how many weeks you can go without doing grocery shopping and just living off of the food in your cupboards.  This is one of those times, especially because we have a deep freezer we're planning to sell and we can only do that once it has been emptied of all the food inside.
Pantry Challenge: Week 2 Update
I plan to take it all the way this time and really empty the fridge, freezers, and pantry before shopping again.  Can my family really bear with me through these menu plans to the very end?  I really think we've got at least 3 more weeks on our current supplies.  More empty packages keep hitting the trash can as we use up little bits of this and last crumbs of that.
My family is truly a strong group of troopers, that's for sure, because we've now gotten into the ingredients that most of us don't like eating with very little complaining.  Tonight for dinner we had:
A very tough cut of pork chops that I got on discount (and have been sitting unused in the freezer for quite some time).  I got them to be more "edible" by offering ketchup to dip the meat in, which did make it better…
Hamburger Helper (without the hamburger) as a dinner side (because I have about 20 more boxes to use up that I got on a coupon/sale matchup).
Cooked shredded spinach that had been frozen (my husband got a good deal on it and bought about 5 bags).  We have yet to use up even 2!  This spinach is honestly a better ingredient than stand alone veggie, but we powered through it tonight as the veggie on our plates, and jokingly made our Popeye impressions and muscles as I tried to keep my spinach from coming back up!
Pantry Challenge: Just Do It!
We all have those food items hanging around at the end of the pantry inventory that we keep passing over.  We might even go buy new groceries just to avoid cooking those things that we wish we hadn't bought in the first place!  If you're not a big fan of food wasting (which I'm not, because it's just not frugal), it's time to get over your taste buds and just cook the food you have.
So knuckle down and join me in using up what you've got.  Can you imagine the nice little savings in your monthly budget if you don't have to do grocery shopping for 2 weeks?  Or 4 weeks?  If you're not sure how you're going to pull this off, read How to Use up Food in a Pantry Stockpile and Recession Proof Your Pantry and Food to get you started.  You'll love the feeling you get from seeing your shelves dwindle as you use what you've got and start over fresh for a new year!
Remember to leave a comment below and let us know your Pantry Challenge strategies or how your challenge is going along the way.  We'd love to hear from you!