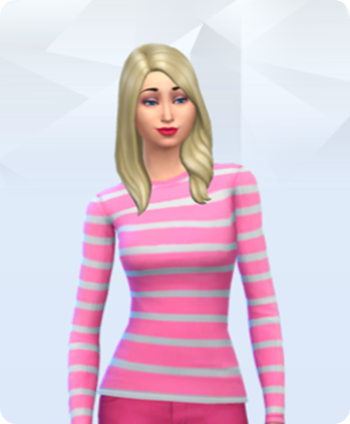 The SIMS™ 4 is ready to pre-order for all of you gaming moms and dads!  The latest PC game in the Sims series will be available at Walmart on September 2, but that doesn't mean you have to wait to build your new sim.
At left, you can see my new sim that I just built in the Create a Sim free demo on the Sims website.
She looks like me, it's true, but I don't name my sims after myself!  This emotionally-aware blonde sim is Alice Ellis.
→  Get your free Create a Sim demo now.
How to Preorder The SIMS™ 4
Make sure you get your copy of The SIMS™ 4 right away!  You can pre-order the game online now at Walmart.com.
When you pre-order The SIMS™ 4, you'll get a free pack of the new Sour Patch Kids gum.
1.  Go to The SIMS™ 4 pre-order page.
2.  Scroll down and push the orange "preorder" button.
3.  Complete checkout.
Your preordered copy of The SIMS™ 4 will ship to you on September 2.