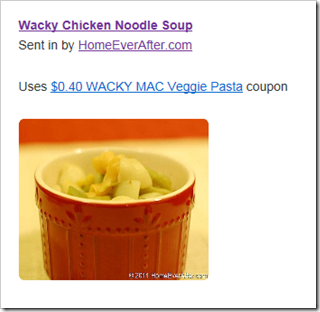 I'm excited to share that our Wacky Chicken Noodle Soup recipe was featured on the SavingStar blog here, along with 27 other yummy recipes from food bloggers like me!
In case you missed the recipe, you can check it out now: Wacky Chicken Noodle Soup recipe.
And if you want to get free e-coupons loaded to your grocery shopper cards, get started here.
You'll be seeing a lot of recipes on Home Ever After which feature ingredients on current coupon deals to help you make the best of your grocery budget.  Like saving money?  We do too!
Disclaimer:  This post contains affiliate links and readers may assume that HomeEverAfter.com receives compensation when my referral links are used.