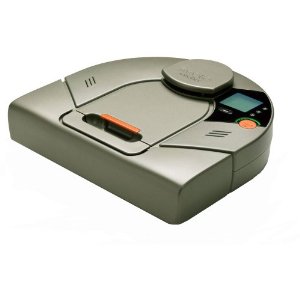 My family has had the chance to test out the Neato robot vacuum this summer.  We received this little robot helper from Neato Robotics to see what we thought about his capabilities and helpfulness around the house.
I fully understand that the Neato vacuum is supposed to save people time because it automatically does the vacuuming for you.
However, it is so much fun to watch a robot cruise around your house eating fuzz and dust bunnies off the floor that we often found ourselves watching Neato as entertainment!
Obviously, watching the vacuum work was not a way for us to save time. Several times, we piled the entire family onto the couch so we could stay out of Neato's way and watch him vacuum.
I videotaped the Neato robot vacuum vacuuming my living room, which you can watch in the video below.  (Subscribers will have to click this link to watch the video.)
Neato XV-11 Robot Vacuum: The Good
Robots are neat:  If you grew up watching the Jetsons cartoon like I did (I know I'm on dangerous ground now, showing just how old I am by my references to childhood pop culture), you'll understand what I'm about to say. There's just something about having robots to do your bidding – especially household cleaning and chores bidding – that makes you feel so millennial! Remember the Jetsons' robot housekeeper, Rosie? She kept everything clean, was always there to serve, and even wore a little maid apron! Better still, she was like part of their family.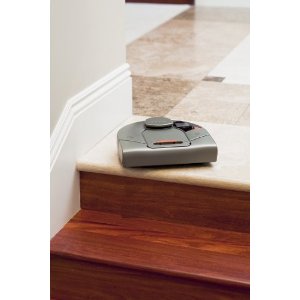 Now, household robotics may not have quite evolved to the point of Rosie yet, but that doesn't mean that cleaning robots aren't just as helpful and endearing. I had all these thoughts running through my mind as I waited for our very own Neato robot vacuum to arrive so I could try him out as a housecleaning helper. Little did I know that Neato would end up becoming our new family pet. Let me explain.
Neato is part of the family:  Those times of the whole family sitting on the couch watching the Neato robot vacuum made me realize that the kids didn't look at Neato as a household appliance. Instead, they thought of him as our new family pet! He has a cute name, he's little, and he drives around the house like he owns the place. What's not to like?
Far be it from me to spoil the fun, I started referring to him as our pet also. Soon the entire family was calling him "little Neato". When we sent Neato out to vacuum, I didn't tell the kids he was going to clean the floor. Instead I told them we were going to feed Neato and he was going to go eat up all the dirt for us!
Not only was this the best possible family pet that I could have asked for, but it also cleaned up after itself instead of me having to clean up after it!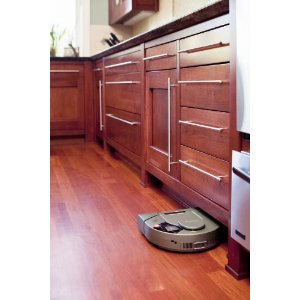 Programmable days and times
: The LED window on Neato is the main method of communication between you and your Neato robot vacuum. It allows you to program which days you want Neato to vacuum and then what times of those days he should start.
When the programmed time comes, the robot turns his own power on, drives off of his charger and heads to the center of the room, and makes his vacuuming plan. The Neato robot vacuum maps the first room, then systematically vacuums the entire floor before heading onto the next room.
You can also put Neato in any room you want cleaned right away and push the start button for him to do a quick clean at a time that isn't scheduled.
The Neato robot vacuum's smart technology allows him to know the difference between a wall and a doorway and allows him to recognize ledges and stairs so he won't fall down.
Keep Neato out of off-limits areas:  The Neato robot comes with magnetic rubber strips which act as barriers to tell Neato not to go somewhere. You can cut these strips and put them on the floor across doorways to keep Neato from going in places where it may be too messy for him to vacuum.
In our case, we had several areas that had too many power and electrical cords in the floor and we needed to make sure that Neato didn't drive over the cords.  We just put the barrier down and Neato turned away from it like a kid from a clown at a carnival!
Neato gets into small places:  As you saw on the video above, Neato can get really close to small items to minimize the areas left unvacuumed.  He's able to clean under my Graco pack n' play playpen and under the kids' beds!  Plus, the Neato robot vacuum works on floors, tiles, and carpets with equal ease.
Super cleaning power:  The first time you use Neato in your house, you have to run him several times in a row through the whole house to get all the extra debris you can't see in the carpet. We ran him three times in a row and emptied the dirt cup several times, showing us just how much dirt there was in our carpet that we didn't know about.
The Neato Robot vacuum's dirt cup is moderately sized considering how small the robot is, which means you don't have to empty the dirt cup as frequently as you might think.
He knows how to go to his home:  From wherever in the house Neato stops his vacuuming job, he can drive himself back to his charger, turn around, dock himself, and power down to charge. 
Neato XV-11 Robot Vacuum: The Bad
He works alone: Unfortunately, Neato really needs to be alone in a room (without moving people) or he gets confused.  When we stayed up on the furniture or just outside the room, he didn't have any problems.  The mapping functions for the robot need to make sure that nothing is moving around in the room, like an animal or a person, so that they can really make an accurate picture of where Neato needs to go.
If you need to get something out of the room, you're better off to wait until Neato is done and out of the room.
He's still a machine: Just like all machines, robots can break when things go wrong. After only 2 weeks, our poor Neato vacuum's LED screen (which is where you program his cleaning times and set options) stopped working completely. Without the communication center, the Neato couldn't really help me any more. He didn't know what I wanted him to do or when, and I had no way to tell him.
Luckily for me, the customer service department was incredibly helpful.  They let me know that this is a very rare problem which does not happen to many customers.  They were quick to help me diagnose the problem over e-mail.  Next, they offered me a toll free number where I could call to get a replacement Neato robot right away.  The Neato robotics customer service is shipping out a brand new replacement robot to me and a call tag so that I can send the broken Neato back to the company.
I couldn't have asked for a better resolution or nicer people to be dealing with to fix the problem.  Neato Robotics' customer service is fantastic.
He gets stuck: Neato got stuck on a few items in my house which were confusing and impassable.  One in particular was the baby jumper.  Neato tried to go over the metal tube, but he got stuck on top of it after getting his front over it.  He couldn't go forward, he couldn't go back, and he didn't really know what to do.  I gave him some time to see if he could figure it out, but after a while he just sat there and did nothing.  After I took the Neato robot vacuum down from the tube, he managed to figure out where he was and go back to his vacuuming job.
It was very rare that Neato got stuck, even in areas where I thought he would.  This was very impressive, as he can lift himself up over some pretty tall things.  Also, his wheels are rather large and rugged and make it easy for the Neato robot vacuum to navigate terrain.  But remember, he's just a machine and he may need a little help every once in a while.
Neato XV-11 Robot Vacuum: Take It or Leave It
Must Have Appliance of the Year: I can't say enough good things about the Neato robot vacuum, and at around $350 he is well worth the money spent.  My kids are so in love with that Neato vacuum that I've decided to take the family pet idea a step further. 
I'll be heading to the craft store to buy some large adhesive googly eyes to affix to Neato's front and some kind of material to make a smiling mouth.  Yes, my Neato robot vacuum is getting a face, mostly because my children still insist on hugging and kissing him good night before they go to bed!
Where to Buy Neato XV-11 Robot Vacuum
You can purchase the Neato robot vacuum from Amazon with free super saver shipping. 
—
Disclaimer:  In compliance with the FTC Guides, updated 10/5/09, this article has material connections.  IS World Media (ISWM) received no fees for the writing or publication of this article.  This article is a product review written by Danelle Ice and is her honest opinion.  A Neato XV-11 robot vacuum was provided to ISWM at no cost by Neato Robotics to facilitate the review process.