Hold on to your tiaras, moms of princesses everywhere!  If your daughters have already been after you to go shopping for princess Halloween costumes, you'll want to mark this special #DisneyBeauties event on the calendar.  Find a store in your area hosting the princess party on this list.
Sleeping Beauty Retailtainment Party at Walmart
On October 11 at a Walmart near you, there will be a royally fun (and free) Sleeping Beauty Retailtainment princess party for your girls to enjoy!  Dress up your girls in their favorite Disney princess costumes, outfits, or gear and bring them down for sweet snacks and activities.
Between the hours of 10am and 4pm, you'll find an enchanted Disney Princess party in Walmart's toys section to celebrate the Sleeping Beauty movie coming out of the vault.  Bring your girls to join in on all the festivities:
Have fun coloring with Disney Princess activity sheets.
Eat yummy Disney Princess cupcakes.
Have your picture taken with a cardboard Sleeping Beauty.
Buy Disney Princess balloons.
Shop through all the amazing Disney Princess costumes and accessories to complete your Halloween costume or dress-up collection.
Plus, you can finally add the Sleeping Beauty DVD or Sleeping Beauty Blu-Ray movie to your Disney collection with the release of the special Sleeping Beauty Diamond Edition exclusive gift set. It comes with a Blu-Ray, DVD, and digital copy, plus a bonus DVD called "Disneybound: Sleeping Beauty Style". 
There will also be a special coupon available at the princess party.  You can get a $3 off $10 coupon towards any Disney-themed party goods at Walmart. 
I'll be at the Sleeping Beauty Retailtainment party with my girls, dressed up to celebrate in true Princess Aurora style.  You can follow along with all the fun using the #DisneyBeauties hashtag.  You won't want to miss this!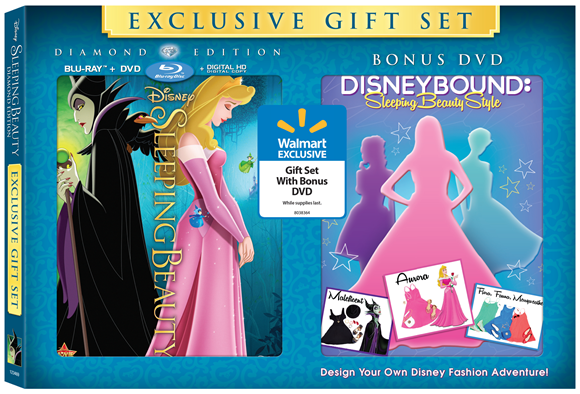 Princess Halloween Makeovers with Seven and Prynne!
My girls, Seven and Prynne, are also going to be hosting a special Princess Makeover Academy next week on Home Ever After and on the Home Ever After facebook page to add to the fun.  They'll be showing how to do an easy princess makeover for trick or treating or the school Halloween carnival.  Watch them show fun transformations with Princess costumes and accessories like tiaras, gloves, wands and more.  Plus, learn how to talk and act like a princess!
Make sure you're subscribed to our free emails so you don't miss the upcoming Princess Makeover Academy.  Thanks to Walmart, #CollectiveBias and Disney for the fun princess party next week at Walmart.  See you there!
—
Disclosure: This is a sponsored post and Danelle Ice has been compensated by #CollectiveBias #cbias and Disney to create content to promote the release of the Sleeping Beauty Diamond Edition DVD gift set. Only Danelle's honest opinions are given.