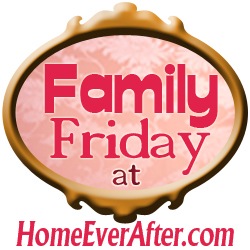 When kids share bedrooms, a family can benefit in many ways.  But it's not as easy as putting them in a room and having everything go perfectly… when your children are sharing bedrooms, you can run into some difficulties as well. 
These mom tips for kids sharing a bedroom will help you to work through some of the possible problems to make the best of the situation!
Kids sharing a bedroom is good in a lot of ways.  It can be a great opportunity for kids to bond with each other, as well as learning to share space and having to work through compromises and conflict resolution. 
Having your kids share bedrooms can also be helpful on your family budget, especially if you have a large family but the budget for a small house.
On the other hand, when kids share a room, it can also lead to constant squabbles and you will need to intervene to give guidance from time to time. Here are some mom tips to help you set up a shared bedroom for the kids.
Mom Tips for Setting Up a Shared Kids' Bedroom
Since the kids are going to share the room, they should at least be given the opportunity to select the color and décor of their side of the room. This way they feel they have designed their own side and be proud of it, while not interfering with the other's section of the room.
Have room rules finalized with the kids and put them up somewhere in the room. Some examples of room rules can be:
Knock before entering the room, but don't lock the door unless it's necessary.
Don't mess with each other's things.
Be tidy and don't give the other a chance to complain about your messes.
Ask for permission before using the sibling's things.
Always return borrowed things in time and in good shape.
Ask before bringing friends into the room.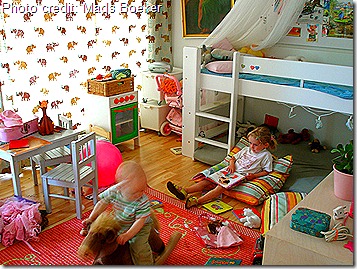 These rules will bring a certain amount of self-discipline to the children, as they'll be able to police themselves and each other to make sure the rules are followed.
Give each kid a special area or something like a basket for storing their secret treasures. Instead of finding their things all over the place, if you give them a defined location they will make sure that they place important things only here.
Give them each a responsibility regarding the maintaining and cleaning up of the room, such as making the beds, picking up their dirty clothes and putting them in the laundry, etc. Switch the responsibilities from time to time, or make it so they each maintain their own sides.
Intervene when the children have issues, but only to teach them methods to constructively figure out solutions themselves. Explain to them the importance of respecting each other's likes and dislikes and remind them of the golden rule.
Give each child a desk (if possible) and an area in the room where they can study, read or do other solitary activities they wish. Don't push them to do all activities together just because they are sharing a room. Let them choose their own schedules (with your approval, of course), but let them have a say too.
If you have your kids share rooms, set up a good environment, and provide necessary guidance every now and then, the kids will learn to enjoy each other's company and how to work through difficulties.  This can be a valuable experience before having to share a dorm room in college, or even for learning to live with a spouse or roommate as an adult later in life.
We originally published Family Friday: Mom Tips for When Kids Share Rooms on May 28, 2009.  Photo credit: Mads Boedker .
Family Friday: Time to Share!
Now it's time for you to share your Family Friday post with the rest of us!  If you're not sure how it works, read the directions and guidelines for Family Friday here.  Feel free to grab the badge at left for you post or sidebar if you want!
Please add your family-related blog post below in the Mr. Linky. Remember, you MUST link your post back to HomeEverAfter.com.