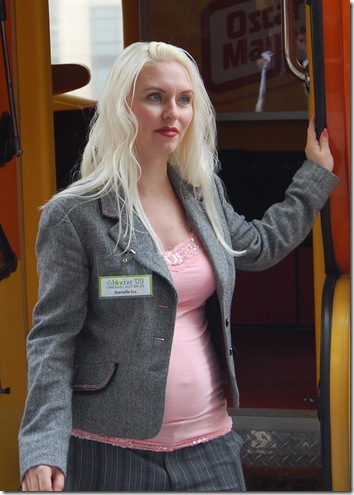 As bloggers and women, we all want to look our best when we go to network and meet up in real life with people we've only interacted with online.  Are you headed to BlogHer in New York City in a few weeks?  We've developed a countdown to BlogHer 2012 conference makeover timeline that you can follow to ensure you're looking your very best before August!
The Countdown to BlogHer Beauty Makeover
Things that might need to be addressed in your complete Countdown to BlogHer 2012 Conference Beauty Makeover:
Hair color, cut and style:  Going for a brave new you with a completely different hair cut, color or style is not something you want to jump into the week before the conference.  The hair overhaul should be done at least 6 weeks before you leave for the conference.  That way, if you don't like the style, it will have time to grow out a bit.
Also, the 6 week time frame lets you test out a new color without risk.  If you like the new color, you can get your roots touched up a few days before your plane leaves.
Diet and exercise:  Whether you need to lose the last few pounds to fit into a special dress for one of the official BlogHer parties or want to do a complete overhaul and lose a lot of weight, you'll need to consult your doctor first.  Have your doctor okay the diet and exercise plan you want to use.
Healthy looking skin: If you haven't been treating your skin nicely or paying much attention to your skincare regimen, there is still time to get your face into tip-top shape!  Never get a professional facial (which can bring out blemishes, breakouts, and even allergic reactions to the products used) during the final week before the conference.
If you choose to have a professional give you a facial (Mary Kay consultant or salon), plan it at least a month before the conference.  This will give you an opportunity to use the new facial products the facialist recommends for your skin type and give them a chance to show results.
Healthy nails:  For many of us moms, growing and keeping beautiful nails is a challenge with kid care and frequent hand washing.  A little attention to upkeep and maintenance will give you fabulous nails in time for BlogHer!
White smile:  Teeth whitening is easier and more affordable than ever before!  There's no reason not to show off a bright white smile in your BlogHer photos.
Choosing the perfect outfits: For many of us, wardrobe is an important part of the BlogHer conference experience!  If you don't have anything in your closet you'd like to wear, it's time to start shopping.  Shop early so that you have a chance to look for sales or free shipping deals from your favorite clothing stores.
If you're starting a diet and exercise plan also, take into account that you may be a few sizes smaller by the time the BlogHer conference rolls around.  Don't buy too small of a size, in case you don't make your weight loss goals.  It's still easy to have a loose garment taken in with a few quick alterations.
Daily
Skin care every morning and every night.  Cleanse, tone, and moisturize twice a day.  Use eye cream before bed.
Drink at least 8 8-oz. glasses of water to keep your skin hydrated and moisturized.
Massage cuticle cream or oil into your nails before bed.
Weekly
Give yourself a mini-facial at home by using a facial mask after cleansing.
Do a foot soak while you shower by filling up the bath tub.  Use a loofah or pumice stone to remove dead skin.  After you get out of the shower, apply a heavy foot moisturizer and socks immediately to lock in the hydration.
Deep condition your hair to add moisture and shine and help repair split ends or damage.
Every Two Weeks
Do a quick manicure and pedicure by removing polish, pushing back cuticles, then applying base coat, 1 coat of a light color, and top coat.
3 Months Before
Start a diet and exercise plan.  Make a doctor appointment to get approval for your new plan.
Remove the junk food from the house and go shopping for healthy ingredients.
Make up an exercise schedule, listing which activities you will do on which days of the week.  This could be from 3-5 days per week, depending on your weight loss and fitness goals.
6 Weeks
Make an appointment with a salon for a hair cut, color, and/or new style.
1 Month Before
Make an appointment for a facial.  Purchase new facial products (cleanser, toner, mask, moisturizer, eye cream, etc.) for your skin type.
Try on outfits you'll be wearing to BlogHer.  Choose all accessories for each outfit, including shoes.
If you need to purchase outfits or specific pieces, start shopping.
Break in new shoes by wearing them around the house for 1 hour per day with socks on.
2 Weeks Before
Make an appointment for any hair removal or hair bleaching you need.  This includes eyebrows, upper lip, legs, and bikini area (if you plan to be sporting a swimsuit at the hotel swimming pool!).
Do an at-home microdermabrasion treatment on your facial skin or use a facial scrub (such as a natural apricot scrub) to remove the top layers of old skin and reveal new younger looking skin.  Follow this treatment with a heavy moisturizer or night cream.
Whiten your teeth.  Depending on which teeth whitening product you choose, it could take 2 weeks or 2 hours to complete.  Make sure you start early enough to give your teeth time to recover in case of sensitivity.
1 Week Before
Make an appointment with the same hairstylist to touch up your roots or give you a trim for your new hairstyle.
Try on all outfits you'll be wearing at BlogHer and make note of necessary alterations.  Make the alterations yourself or drop off your clothing at the tailor.
3 Days Before
Pick up clothing from the tailor.  Make sure you try on the items before you leave the tailor's to make sure they fit correctly.
1 Day Before
Have an at-home steam in your bathroom (to add moisture to skin, hair and nails).  Turn the shower onto hot and close the bathroom door.  Allow steam to fill up the room, then sit in the steam for as long as you are comfortable.
Give yourself a full manicure and pedicure.  Include a hand and foot scrub before doing your nails with 2 coats of color.
Take a shower and deep condition your hair.
Apply scented moisturizer after showering.  Follow up with a body spray of the matching scent.
Before bed, spritz your hair and pillow case with your favorite perfume.
Have a great trip to BlogHer 2012 in New York City!
We originally published our "Countdown to BlogHer 2012 Conference: Complete Blogger Beauty Makeover" on Home Ever After on July 14, 2011.