This is a Sponsored post written by me on behalf of Moen, Incorporated. All opinions are 100% mine.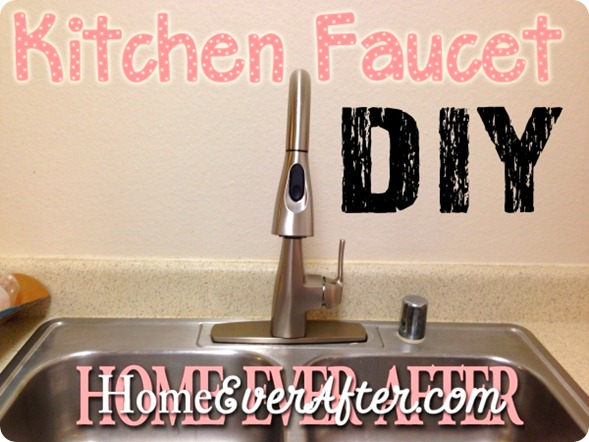 I'm no stranger to home DIYs, but there are certain projects I've never done before.  Included in my list of DIYs I haven't conquered are installing and replacing kitchen faucets.  I normally ask my husband to install faucets for me when I review them, but Moen assured me that installing their new Kiran kitchen faucet is so easy that anyone can do it!
Since I love experiments, I figured the Moen kitchen faucet DIY would be a great test of the ease of installation.  Here is my journey of installing my first ever kitchen faucet!
Here is a picture of the new Moen faucet I received, still in the box. It's the Moen 87599SRS Kiran Spot Resist one-handle pulldown kitchen faucet.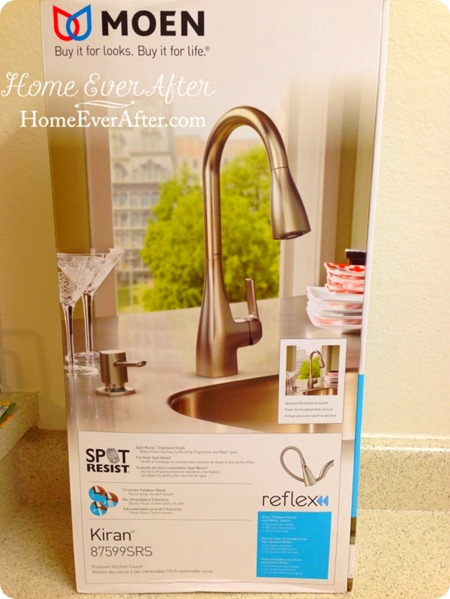 I opened the box and identified all the included faucet pieces inside.  Here is what was included with the Moen Kiran kitchen faucet: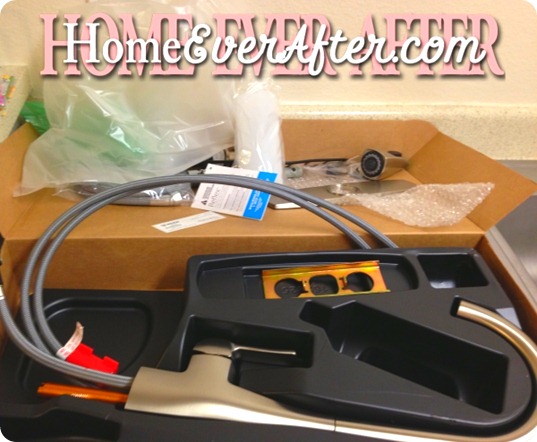 Tools and Supplies:  To install the Moen Kiran faucet, I used a wrench, a flashlight, pliers, an apron, and nitrile gloves.
Total Time:  The entire project took me about 2 hours from start to finish.  I don't know how that time compares to someone who has installed a faucet previously!
Here is a before picture of my old kitchen faucet: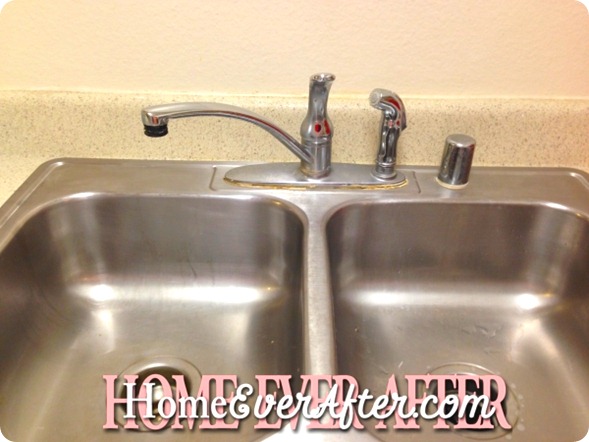 Can you see how gross and dingy it is?  Here's a closer shot so you can see the yellowed separated caulking: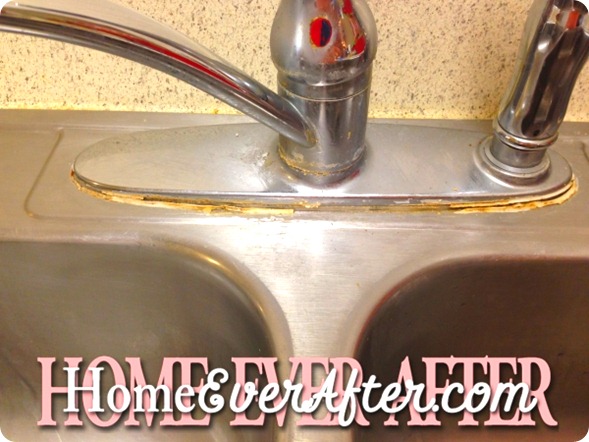 Kitchen Faucet DIY: How I Installed My First Faucet
Step 1:  Remove the existing faucet.
This would probably be an easy step for someone who has replaced a faucet before.  However, since I have never done anything like this before, removing my existing faucet took me longer than any other part of this DIY project.
I was incredibly frustrated that the faucet installation directions did not tell how to remove the old faucet.  Instead, they started with step 1 assuming you were installing the faucet into an empty sink!
I had to do numerous web searches to find information about how to remove my old faucet.  There were still pieces which I couldn't figure out how to take apart (brute strength didn't work, neither did pulling, unscrewing, or anything else I tried).  Step 1 was a very frustrating step to say the least.  If I didn't have to complete the project, I honestly would have stopped the entire process at that point.
Side point: I will probably be doing a DIY tutorial for how to remove a faucet after this for all the other people who haven't done it before!
Once I finally got the water hoses, sprayer, and everything else disconnected, I was able to pull the old faucet up and disconnect additional pieces.  This is what it looked like: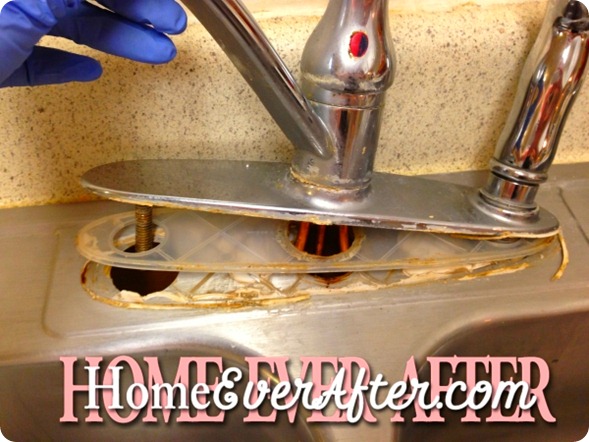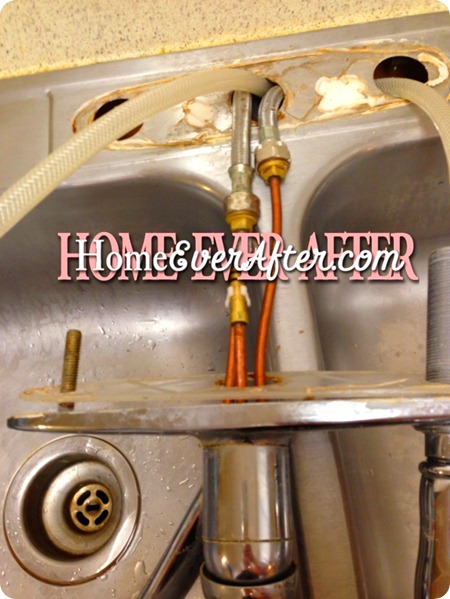 Step 2: I pulled out the old faucet and all tubing and was left with only the holes of the sink basin.  They needed a serious  cleaning: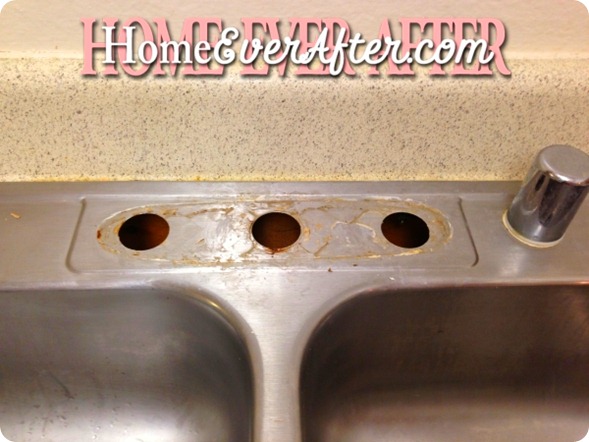 Step 3:  Unpack the new faucet.
Step 4:  Install the plate to cover up the extra unused holes, then feed the tubes from the new faucet down through the hole: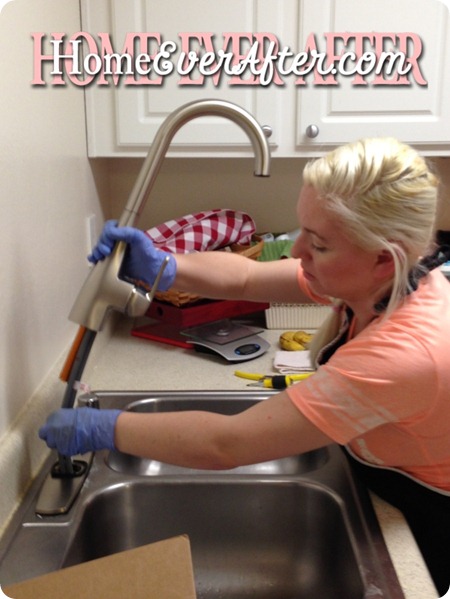 Step 5:  Secure the faucet to the underneath of the sink, install the hose and sprayer nozzle and the weight that keeps it returning smoothly.
Step 6:  Hook up the water hoses to the valves at the wall.  This is another time where the flashlight (and being able to fit into small spaces) comes in handy!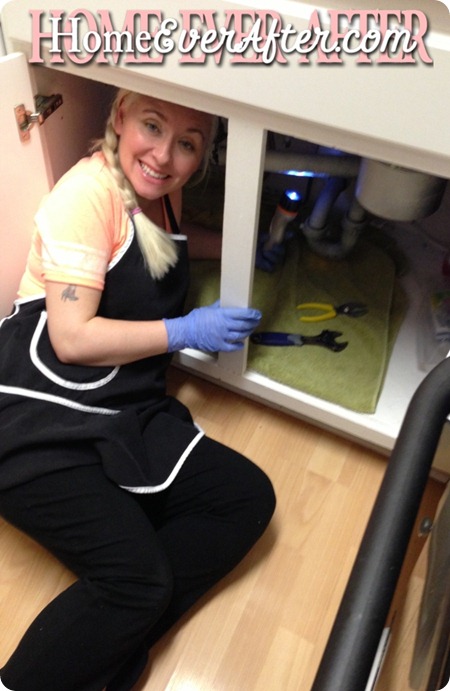 Finally, here is the finished product – a brand new beautiful Moen Kiran kitchen faucet!
See how much better the new 1-handle faucet is than my old generic faucet?  Not only is it spot and fingerprint resistant to keep it looking like new, but the stainless finish makes it a complementary design choice if you have stainless steel appliances.
The Kiran pulldown faucet has the Reflex™ system (that's what the weight we installed on the hose was for), which keeps your retractable sprayer moving smoothly and docking securely without falling out of place.  The 3 function pulldown wand has these abilities: pause, spray, and aerated stream.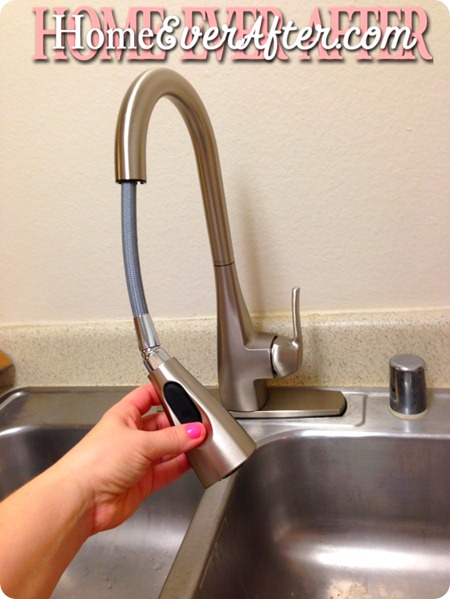 The Kiran's high arch design is a must for those of us who need to clean crockpots or pressure cookers in the sink without the faucet being an obstacle.
I definitely have a sense of accomplishment at having completed this whole DIY faucet project by myself!  I'm a #MoenDIYer now!  If you want to check out Moen on facebook, here is their facebook page.  If you can't wait to get your hands on this elegant Moen Kiran kitchen faucet, head to your local Lowe's home improvement store and purchase it for around $250.  Happy installations, fellow DIYers!
—
FTC DISCLAIMER: This sponsored post has material connections. Danelle Ice was compensated for conducting this DIY and publishing this post. Moen provided Danelle with a Kiran faucet to facilitate the installation process. Only Danelle's honest opinions are given.