The minimalist purge continues, and I tackled the coolies (baby teething toys).  Now only does my youngest show a very uncommitted interest in chewing on these, but we had so many you'd think she used them 24 hours a day!
Before Minimalist
Before the minimalist teething toy purge we had 16 coolies (only 14 are pictured because 2 were in the dishwasher). Several in the photo are duplicates of the same exact toy!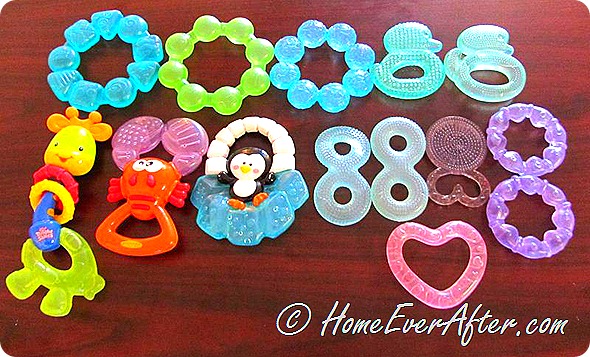 During the Minimalist Process
I pared it down to what I thought would be a smaller but functional selection of 6 coolies and, satisfied with the elimination of 10 unneeded teething toys, I took this photo: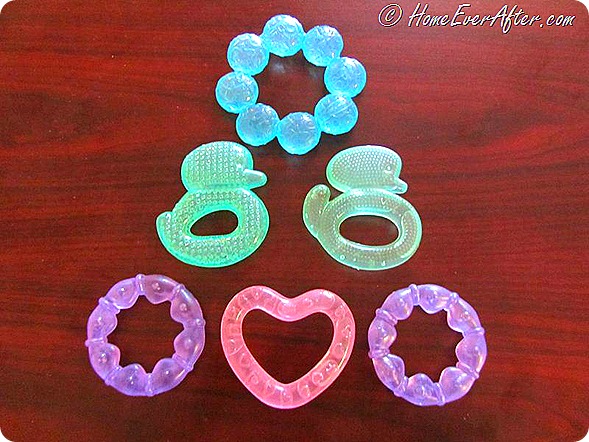 After Minimalist
One thing about minimalist purging, however, is that the more you let go of, the easier it is to get rid of a few more!  After I took the "after picture" I got rid of the 2 green ducks that made up the middle row.  yes, that's right, our final statistics are as follows:
Before – 16
After – 4
Total eliminated – 12 items (75%)
We eliminated 75% of our coolies and still have more than my daughter will want!  Start purging today if you're still toying with the idea of going minimalist.  You'll see right away how freeing it is to live with less stuff!