This was our first giveaway running Rafflecopter, the snazzy widget you see below that allowed you to put your entries in each day.  We think it went pretty well, but please tell us in the comments if you liked the Rafflecopter better or the old method of entering by commenting.
The winner of the drawing for our LG Come Dine With Me giveaway is:
#299 – Wendy
Congratulations!  Wendy has won a $250 American Express gift card, donated by LG.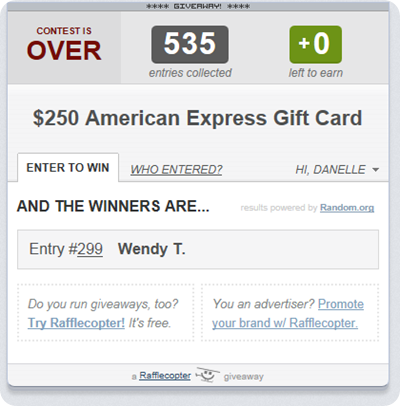 Above is the screenshot of the rafflecopter dashboard where the drawing through Random.org was conducted.  If for any reason the winner does not respond within 3 days of notification, a new winner will be drawn.
Thanks for entering, and please stay tuned for an amazing giveaway from HP that will be starting tomorrow!
Disclaimer: This article has material connections. IS World Media (ISWM) has been compensated for posting about this campaign and the winner will receive a free $250 gift card provided by LG.