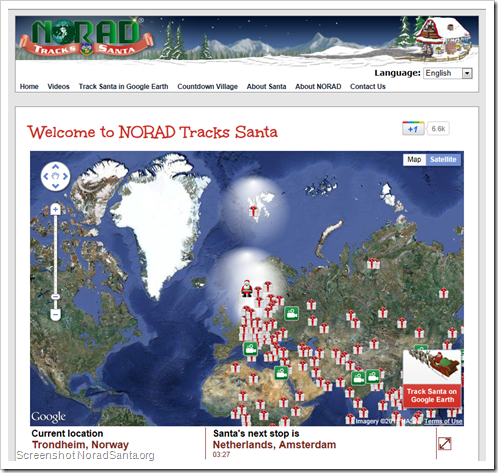 Every year we have had our kids watch and track Santa's journey around the world on Christmas eve at the NORAD site.  It is so much fun, and as technology has evolved, so has the Santa-spying!
You can see in the screenshot above what the front page looks like.  All of Santa's stops are logged on the Google map and you can watch Santa with Google Earth too.  At the bottom it tells you Santa's current location and next stop and even when he'll get there with a countdown timer!
The green video boxes can be clicked on to show a live reporter "spotting" Santa in a news clip.  The reporters are real service men and women from the US military.  You can also watch Santa and the reindeer flying through the air on the Santa Cam!
Each Christmas it adds an extra layer of fun and excitement as the kids hurry to get in bed before they see Santa heading towards us in Alaska.  I wanted to share in case you wanted to give it a whirl with your kids tonight.  Merry Christmas!