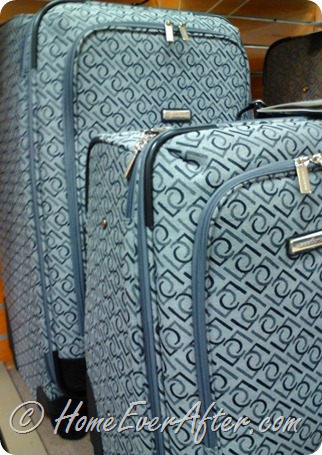 Luckily, knowing how to pack your luggage to save money comes in handy no matter what airline you travel on.  Follow our tips below to learn how to pack luggage to save money on baggage fees.
Back when the recession started in 2008, we all knew the day would come when learning how to most efficiently pack our suitcases would save us money. Looking back, we know now that we were right!
Almost all airlines now charge luggage fees for suitcases which used to be included in the price of your ticket.  Airlines are still looking for ways to cut their costs by cutting out services which have previously been free by industry standard, such as in-flight meals.
We parents know that it often pays to travel with children, since our baggage restrictions are somewhat looser (ability to bring strollers and child car seats for free on certain airlines, etc.).
Despite baggage fees, we can still make an effort to keep our travel costs low. Thankfully, our organizing skills come into play to keep us packed in as few bags as possible with these great frugal packing tips!
Tip #1: Pack Your Free Samples
Pack free samples to save money on baggage fees.  Don't take full-size products if you don't have to! If you're a free samples collector like me, you have tons of free samples lying around your bathroom.  This means you have plenty of  trial size shampoos, conditioners, baby products, pain relievers, etc., which you can pack instead of your regular beauty products. 
Free samples don't take up much space and they fit into TSA's rules for flying with liquids.   Best of all, after you use your free samples during your vacation, you can throw away the empty free sample package and not have a half-used bottle to pack for the trip back home!
Tip #2: Roll Your Clothes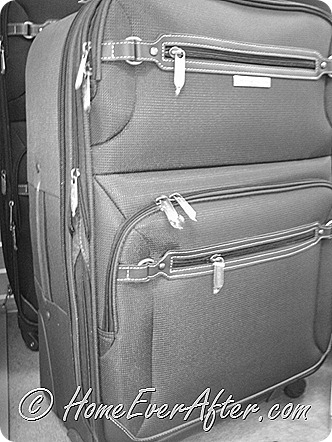 Roll your clothes instead of folding them to save money on baggage fees.  We've all heard that rolling the clothing in your suitcase takes less space, and it allows you to fit more clothing in a suitcase.
An added bonus to rolling clothes in suitcases is that rolled clothing unpacks at your destination with much less wrinkling and creasing!
Tip #3: Take Clothes that Mix and Match
Instead of taking complete outfits, take tops and bottoms that can coordinate to form several days' worth of outfits to save money on baggage fees.
Here are a few ideas for outfit-building clothing pieces to extend your packed clothing:
Solid colored t-shirts
White and black tank tops for layering
Dark wash jeans
Khaki pants
Black pencil skirt
Black flats
Basic black boots
Not only will you save money on baggage fees, you'll also have more outfit options and end up with fewer clothing items in your luggage.
Tip #4: Diapers Provide Extra Space
If you are traveling to a location where a drug store will be accessible, don't pack disposable diapers and pull-ups in your luggage. Just take enough diapers in your carryon to last during your flight, then purchase diapers when you arrive.
If you must pack diapers in your suitcases, don't worry about leaving extra space in your luggage to bring back purchases.  As the diapers are used up, they provide the space you need! Make sure you calculate your per-day diaper use closely so you don't end up bring home a lot of extra diapers.
We originally published "Learn How to Pack Your Luggage to Save Money" on Home Ever After on March 11, 2008. 
Next: Print out our checklist for how to pack a carry on suitcase.