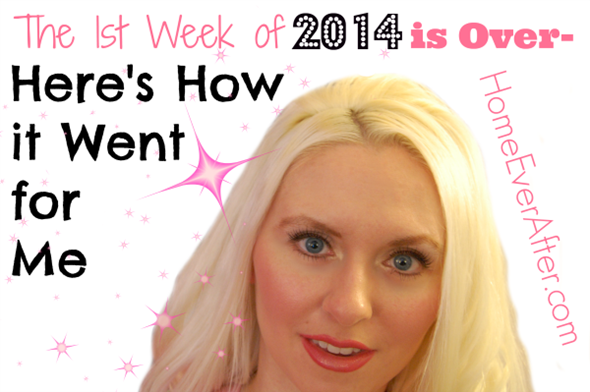 The first week of the new year has come to a close and for many of us, we still haven't had a full week back at work (even though today is the 8th).  Is 2014 living up to your expectations so far? 
The first week of the new year always has that magical sparkle to it.  It's the time where all new things are achievable, the impossible is possible, and surprises lurk behind every hour.
Christmas is Over!
I admit it to myself now and I have agreed to move on to spring and Valentine's Day on the horizon! 
I managed to get all of my Christmas decorations taken down and put away (today), and now my house looks bare and institutional with its white walls and lack of holiday colors everywhere.
New Year, New You Plan
Plus, I've been working through our New Year, New You 2014 Plan along with the readers for my own personal development.  January is the best time to be introspective and really do some soul-searching for both your personal and professional dreams.
The big thing is that I've vowed to post every day this year.
What?
A Post a Day Keeps the Doctor Away
It's true, I'm going to make sure that not a day goes by without publishing at least one blog post on Home Ever After.  Am I crazy to undertake this?  I used to do this and way more, but that's when I had only 1 child and a much smaller company.
Isn't this a huge commitment?
Yes, but here's why it's important to me:
Because you guys are important to me and I don't want to hear echoes in the hallways around the site!
Because it forces me to stay creative even when I'm feeling blah.
Because  it makes me stay motivated to write great posts, create great printables, take awesome photos, and design great graphics for all of our fantastic readers, even when I'm not feeling motivated!
You don't want to miss any of this steady stream of posts, videos, posters, printables and more this year – trust me.
–> Make sure you click this link now: subscribe and go get our free email updates either by email or RSS feed. 
How was your first week of 2014?  Let me know in the comments!