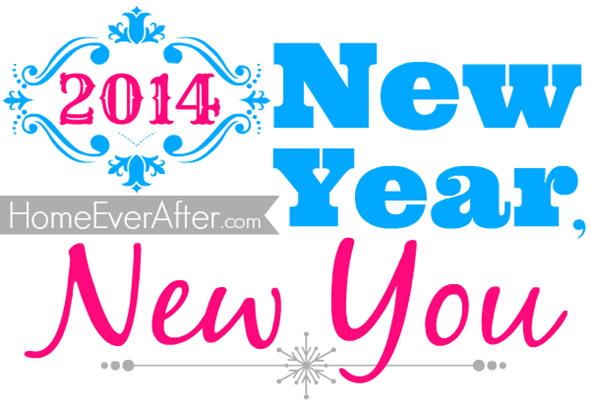 If you're ready to start on the New Year, New You 2014 Life Overhaul Plan, this is the all-important step 1: commit to a new start.
---
Did you miss the beginning of the series?  Go to the New Year, New You 2014 Plan
---
The decision to change things with new year's resolutions and really mean it can be the sticking point for a lot of us, because committing to a new way of doing things means hard work.  It takes diligence and hard work to break old habits and form new ones.
Whether the hard work of your new year's resolutions is physical (like exercise) or mental (like breaking a habit of negative thinking), the effort that you put in will be worth it.
Luckily, I know you've got what it takes to make this commitment because you've already started this series.  You wouldn't be here if you weren't serious about changing your life!
Make Your New Year, New You 2014 Plan Binder
Before you can start the plan, we need to get organized.  It's time to make the home where you'll be storing all of your worksheets from the New Year, New You Plan.  Choose either a 3-ring binder or a folder to put these pages in so you can keep them in order as you work through the plan.
I'm going to ask you to do two things next:
1)  Decide right now that you will commit to the New Year, New You plan and actually complete the entire thing.
2)  Print and sign the printable Commit to a New Start letter (shown below) and have an accountability partner sign it too.
Print the Commit to a New Start Letter
Once you've decided to commit, the next step is to print this letter, choose your accountability person, and get the letter signed.  Click on the letter below now to print or download your copy.  Get this letter signed and 3-hole punch it right away to put in your binder.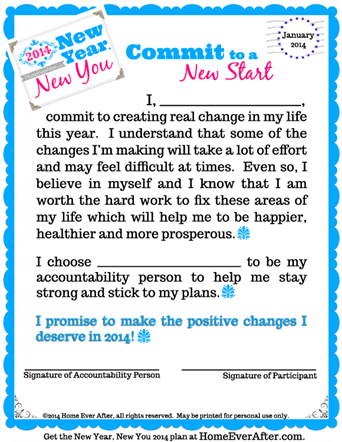 Why Do I Need an Accountability Partner?
Your accountability person is someone you trust to help you stay strong when you feel like giving up.  Your accountability person can be your husband, wife, sister, brother, parent, grandparent, boss, coworker, friend, pastor, or anyone else who will help keep you on track.
It's important that the person you choose isn't now (and hasn't been in the past) someone who enables you to be destructive with bad habits.  Don't pick your enabler to help you with a fresh start.  This means no one you used to have late night ice cream binges with and no former smoke break buddies from work.
Don't pick someone who will coddle you or give in to you when you feel weak.  If you say, "I could just have one little brownie and then I'll be good on my resolutions tomorrow, I promise," you need to know that they'll say "No"!
Make sure you are subscribed to our free email updates so that you get each new installment of New year, New You 2014 delivered right to your inbox.
Now you're ready to move on to the next part of the plan – congratulations on completing this important first step!
Next, read New Year, New You: New Year's Resolutions.