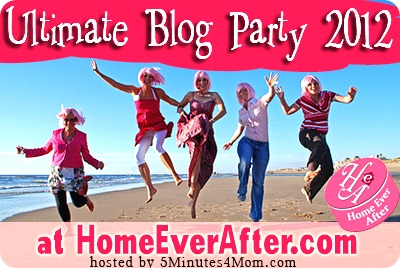 Welcome visitors from the Ultimate Blog Party 2012!  Bookmark this page now so you can come back later during the party.
Get our free RSS subscription or free email updates now so you never miss out on any tips on homemaking, saving money, frugal living, minimalist lifestyle, cooking,  and much more!  Please leave us a comment below to say hi before you leave.  Want to write for us? Submit your guest post here.
What is Home Ever After?
HomeEverAfter.com is an online magazine that strives to be the most comprehensive home and how-to resource online, filled with expert tips, tricks, life hacks, checklists, how-to articles, and personal development tools to help you along the way.  
Danelle Ice is a proud wife and work at home mom of 3 kids under age 4.  When she's not blogging, she is a social media consultant, Christian minister, and frugal homemaker. She and her husband, Michael, live in Fairbanks, Alaska, USA. 
The Beginner's Guide will show you what types of articles you'll find here.  Or, see some popular articles below.
Food & Kitchen: 
Frugal Living:
Home & Housekeeping:

Family & Kids:
Mommy Style:
Thanks for coming by!  Now it's time to get back to the party and visit some other new friends.
What is Ultimate Blog Party?  The Ultimate Blog Party is an online blog party running from April 13-20, 2012. Check out other Mom websites participating in the blog party by visiting the 5 Minutes 4 Mom site. 
Pink photo taken by Hans Vink.