Recently I tested out the Infantino Front 2 Back Rider baby carrier and backpack.  We purchased it used (with the box and manual) for $12 from Once Upon a Child.
Is the Infantino Front 2 Back Rider a stellar enough baby carrier to replace your others?  Read on to find out its good points as well as its shortcomings.
Front 2 Back Rider: The Good
Wide weight range:  The Front 2 Back Rider baby carrier fits a wide range of children, since it can hold 8-32 pounds.  My toddler son is 3 years old and in this range, as is my 8 month old daughter.  In theory, this means we could only take one carrier with us when leaving the house and it could be used for either child.
Memory foam straps: The memory foam shoulder straps on the Infantino Front 2 Back Rider are more comfortable than plain straps, but wearing this carrier for 2 hours straight will still leave your shoulders aching.
Versatile: The Infantino Front 2 Back Rider can be worn as a front pack baby carrier (baby facing in or facing out) or a back pack baby carrier.  It grows with your child.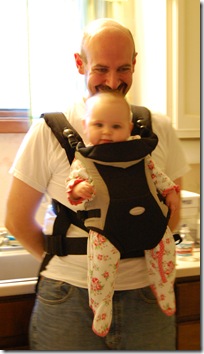 Headrest flap snap:  The Infantino Front 2 Back Rider carrier has a flap snap to hold the head rest down for older babies.
This is a big improvement over other carriers which are supposed to have the flap folded down but no velcro or snap to keep them in place.  The folded down headrest rarely stays down, and can flip up and hit your child in the face.  The Infantino's snap makes it impossible for the flap to come up unless you want it up.
Mesh:  The stretchy BreatheMesh material makes the carrier much more stretchable than other carriers (made of solid or denim material).  The mesh material seems to fit baby better than other fabrics.
Lumbar support strap:  The strap that goes around your low back does make this carrier a little easier on your back than those without it.  It provides a little more support, but not enough to stave off the next-day-backache.
Front 2 Back Rider: The Bad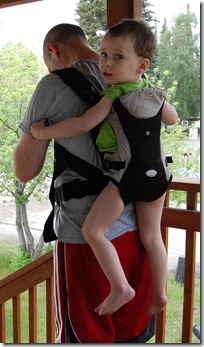 Not big enough: My husband put our son in the Front 2 Back Rider on his back and while Truett did fit in it, it was very tight and looked extremely uncomfortable.  Let's just say the carrier gave him the wedgie of the century (pictured at left)!  While it may hold the weight of a 3 year old, it certainly wasn't designed to fit the larger body of a toddler.
Hard to put on:  The buckle in the back is very difficult to get hooked together if you're wearing the carrier as a front pack.  It's hard to get this carrier on yourself unless you have another adult nearby to help you.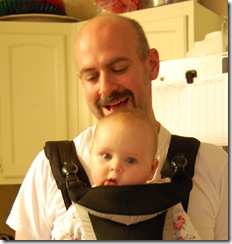 Outside pocket:  The mesh pocket on the front of the carrier is big enough to put your hand in, but you couldn't dream of fitting a pacifier in there.
The Front 2 Back Rider packaging suggests you put keys or a wallet in the pocket.  I don't think that would be very comfortable for the little guy in the carrier!
Too tall when folded down: The headrest flap doesn't go down far enough for an outward-facing baby.  The flap hits them in the mouth and gets drooled all over as pictured at right)!
Top straps not adjustable: The top straps are not adjustable and can really squeeze your child with uncomfortable pressure.
Non-standard top hooks: It took my husband and I quite a while to figure out how to attach the top hooks on the Front 2 Back Rider.  They don't seem very reliable, and I find myself afraid that they will come open while I'm  babywearing.
Front 2 Back Rider: Take It or Leave It
The Infantino Front 2 Back Rider baby carrier has as many good points as bad points.  It's a lot better than many baby carriers I've tried, but I'm not stopping my search for the perfect babywearing system yet.   The Infantino would need a lot of improvements to make it my everyday choice for toting my babies hands-free.  It's inexpensive and certainly works for short spells of hand-free time to get household chores done, but not long outings (like grocery shopping).
Take it or Leave It?  If you don't have a better baby carrier already, take it.  It will get you by while you keep looking.
Where to Buy Front 2 Back Rider
The Infantino Front 2 Back Rider baby carrier is available at Amazon for between $22-$28 with free super saver shipping and free returns (or low shipping if from a 3rd party vendor).  Click here to buy the Infantino Front 2 Back Rider baby carrier at Amazon.
You can also find this carrier at Walmart stores, Fred Meyer, and Target.
—
Disclaimer:  In compliance with the FTC Guides, updated 10/5/09, this article has no material connections. IS World Media (ISWM) received no fees for the writing or publication of this article.  This article is a product review conducted by Danelle Ice and is her honest opinion.  The Infantino Front 2 Back Rider was purchased by ISWM to facilitate the review process.  We cannot make claims as to the typical results users should expect from this product, as we are trying it out and have no way of knowing other users' experiences.  ISWM / We Try Everything does not endorse the companies mentioned above.