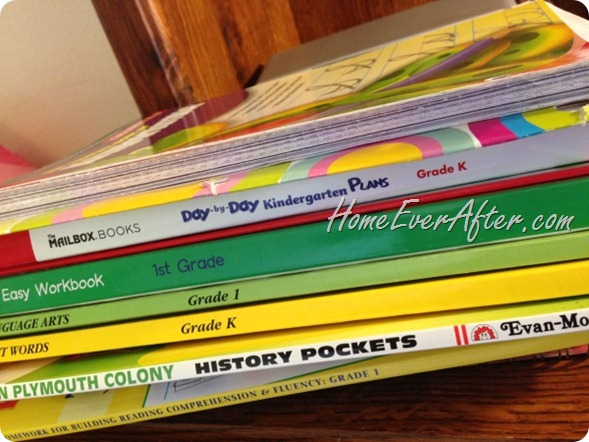 After a 7 month try with public school (that did not meet our standards for many reasons), we're back to being a homeschool family!  I'll go into the details of the public school kindergarten experience in a separate post soon and detail the challenges of having a child with ADHD in an unsupportive public school classroom.
For now, I can tell you that I am absolutely buried in homeschool setup as I'm hurriedly putting together my home school curriculum in the middle of the school year.  We've been finishing kindergarten over the last week for my 5 year old and will be starting 1st grade at the start of next week (as long as I can get my lesson plans finished before then!).
My days and nights have been a blur of updating calendars, perusing workbooks and ordering text books, making master workbooks and more.  I can actually see progress now as the piles and bags of supplies are dwindling and things are being put into their proper places. 
It really seems like no time has passed in my job as homeschool teacher!  I'm glad to get back to the books and wanted to let everyone know how things are going with our schooling.  Have you ever withdrawn a child from public school midyear?  Let us know your experience in the comments below!