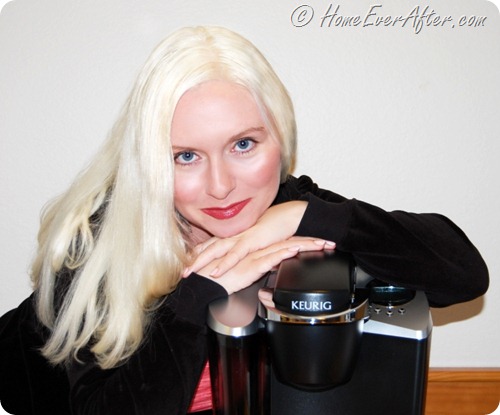 I can't wait to tell you the news so I'm just going to say it: I'm a Keurig K-Cup Ambassador!  I'll be showing you the latest single serve coffee flavors from Green Mountain Coffee Roasters and the other great brands that make K-Cups.
As a necessary part of the job, look what came in the mail: my new Keurig!  Watch the video below, and remember to subscribe to my YouTube channel SimDanelle.
I also get to share money saving Keurig promo codes with you each and every  month so you can get a discount on your favorite coffee! 
Now, by the way, I will give you the August code right now before I forget.  The August K-Cup promo code  is YUMMY-8158.  This promo code will get you 15% off all Green Mountain Coffee® flavored coffees available in K-Cup® packs at the Green Mountain Coffee store.  The code expires September 12, 2012, so go stock up on your favorite K-Cups now!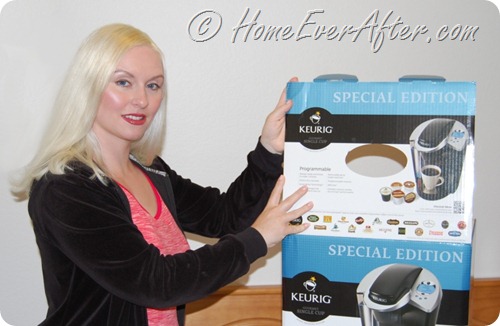 In my Keurig unboxing, I got to open:
Keurig Special Edition single cup coffee brewer
Brew Over Ice K-Cups by Donut Shop Coffee in both regular and hazelnut flavors
Brew Over Ice cold cup for travel
Stainless steel Keurig travel coffee mug with Contigo AUTOSEAL™ technology (it's super spill-proof)
Huge K-Cup sampler pack filled with a variety of coffees and teas
I can't wait to show you what Keurig has planned for Fall!
Disclaimer: In compliance with the FTC Guides, this video has material connections. I have an ongoing relationship with Green Mountain Coffee Roasters, Inc. (GMCR) to represent their products to the public as a K-Cup® Ambassador. I received no fees for the publication of this post or video. GMCR provides me with products and equipment at no cost so that I may accurately represent their products.