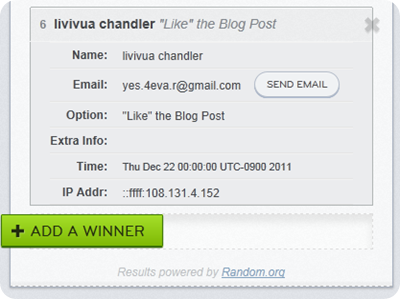 We had fun using the printable HP Christmas gift tags when wrapping our kids presents last week.  We hope you all tried out the fun HP Inkology Widget too for printing great holiday and organizational goodies!
The winner of the drawing for our HP $50 gift card giveaway is…
#6 – Livivua Chandler
Congratulations!  Thanks to everyone who entered this awesome giveaway for quality HP ink.
Above is the random number drawing, provided by Rafflecopter and Random.org.  If for any reason the winner does not respond within 3 days of notification, the next eligible runner-up will be declared the winner.
Disclaimer:  This article has material connections.  IS World Media (ISWM) was compensated for publication of this article.  HP also provided a $50 gift card free of charge as a prize for the giveaway.